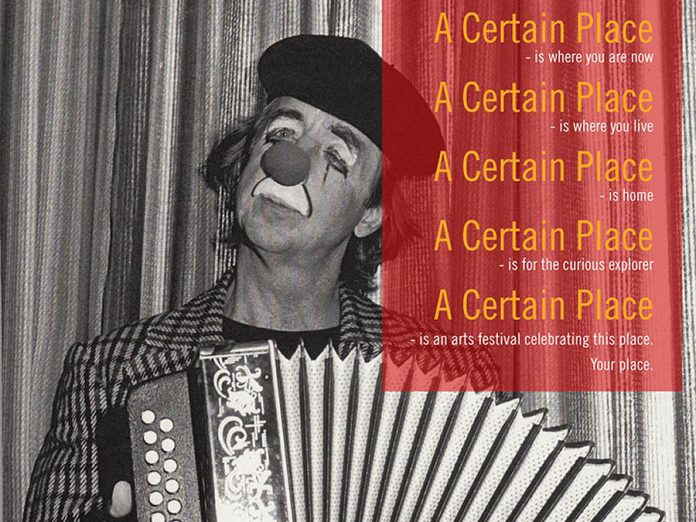 A new arts festival celebrating the legacy of the late Bernie Martin takes place in downtown Peterborough this month.
Organized by Kate Story and Ryan Kerr of Fleshy Thud, A Certain Place: The Bernie Martin Festival celebrates both the legacy of Martin as well as new work, and is organized by discipline: visual arts, spoken word, music, film, and theatre.
The festival features 75 local artists and performers, including Lester Alfonso, Ziy von B, Brad Brackenridge, amy m. cummings, Su Ditta, Jon Lockyer, Brian Mitolo, Victoria Mohr-Blakeney, Janette Platana, Andrew Root, Wes Ryan, Brian Sanderson, David Tough, Victoria Ward, and the Peterborough Poetry Slam Collective.
Many people may not have heard of Bernie Martin, who was a much-respected and influential playwright, actor, and songwriter in the Peterborough arts scene during the early 1990s. He was diagnosed with throat cancer in 1994 and passed away in 1995, leaving behind a remarkable legacy of music, painting, writing, film, and theatre.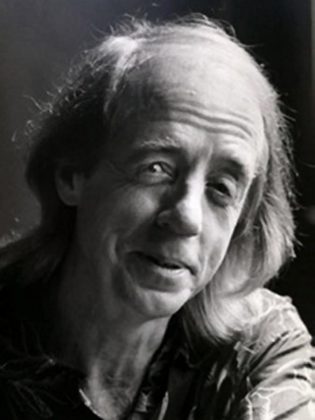 "Today, he is barely known outside of a select few in and around the Peterborough region," Story says. "As an artist living and working here, it makes you wonder about who gets to assign cultural significance, and why."
The desire to acknowledge Martin's contribution to the arts community in Peterborough (and beyond) led Story and Kerr to approach Bill Kimball of local arts presenter Public Energy to organize a festival. The festival is also supported by the Peterborough Theatre Users Group, the City of Peterborough, The Ontario Arts Council, and Theatre Trent.
"The festival is a celebration — not only of Bernie, but also of this place," Story explains. "How and why do we make art here? That's the heart of the festival."
Besides being a prolific multi-disciplinary artist, Martin demonstrated a strong spirit of mentorship throughout his career, encouraging other artists to produce their own work.
"We've also reached out to youth and emerging artists," Kerr says. "Bernie was a significant mentor of younger artists, and we wanted to honour that."
Throughout the festival, Story and Kerr, along with musician Benj Rowland, are mentoring four youth in theatre direction, theatre tech, and music.
The festival takes place in downtown Peterborough November primarily at The Theatre on King, with two events at the Spill Café and Evans Contemporary Gallery. The festival is supported by the Peterborough THeatre Users Group, the City of Peterborough, The Ontario Arts Council, and Theatre Trent.
kawarthaNOW has all the events listed on our website, and they are also listed on The Theatre on King's website at ttok.ca/a-certain-place/. But here a summary for your convenience:
"Do It Yourself" and "The Disgusting Old Man from Kartoon"
When: Thursday, November 3 – Saturday, November 5 at 8 p.m.
What: Two one-act plays by Bernie Martin, interpreted by amy m. cummings ("Do It Yourself") and Andrew Root "The Disgusting Old Man from Kartoon"
Where: The Theatre on King (159 King St., Suite 120, Peterborough)
How much: $15 or pay what you can
Songwriting in the Round
When: Wednesday, November 9 at 8 p.m.
What: A songwriting workshop featuring Benj Rowland, Jill Staveley, Cris Cuddy, Winona Wild, and Ali McCormick, as they discuss their craft and play some tunes.
Where: The Theatre on King (159 King St., Suite 120, Peterborough)
How much: $10 or pay what you can
"Meat and Potatoes" and "Life Comes To Resemble Unimaginative Literature: Or, The Moment Of My Death"
When: Thursday, November 10 – Saturday, November 12 at 8 p.m.
What: Two one-act plays by Bernie Martin directed by Skylar Ough ("Meat and Potatoes") and an adaptation of a Bernie short story by Brad Brackenridge and Kate Story ("Life Comes To Resemble…")
Where: The Theatre on King (159 King St., Suite 120, Peterborough)
How much: $15 or pay what you can
Words on Fire! Spoken Word for Youth presentation
When: Monday, November 14 at 8 p.m.
What: Spoken word artist Ziysah von Bieberstein has been working with youth through the festival, teaching spoken word techniques. Come see the results! In partnership with New Canadians Centre, Niijkiwendidaa Anishinaabe Kwewag Services Circle, Rainbow Youth Program at PARN, and others.
Where: The Theatre on King (159 King St., Suite 120, Peterborough)
How much: $15 or pay what you can
"Bernie Martin" and "Faltan Mas"
When: Wednesday, November 16 at 8 p.m.
What: The world premiere of "Bernie Martin", an original documentary by local filmmaker Brian Mitolo, and a screening of Bernie Martin performing "Faltan Mas", his evocative monologue about violence and justice inspired by his visit to Guatemala in 1993.
Where: The Theatre on King (159 King St., Suite 120, Peterborough)
How much: $10 or pay what you can
Regional Artmaking: Myth and Reality
When: Thursday, November 17 at 8 p.m.
What: A critical panel discusses the mobilization of the concept of "regional" in artistic practice and production. Arts funders love the word. But what do artists who live there think? With panelists amy m. cummings, Dave Tough, Kate Story, Victoria Ward. Moderated by Su Ditta.
Where: The Theatre on King (159 King St., Suite 120, Peterborough)
How much: Free
Opening reception: Bernie Martin – Of Another Place
When: Friday, November 18 from 6-10 p.m.
What: Opening reception of an exhibition of Bernie Martin's visual artworks, with a talk at 8 p.m. by curators Jon Lockyer and Victoria Mohr-Blakeney contextualizing Bernie's work as a regional artist. Charcuterie, wine and refreshments will be served. Show runs through to December 17.
Where: Evans Contemporary (129 1/2 Hunter St. W., 3rd Floor)
How much: Free
Weekend at Bernie Martin's
When: Friday, November 18 at 8 p.m.
What: Interpretations of Bernie Martin's songs featuring Benj Rowland, Jay Swinnerton, emerging musician Ben Bruns, and friends, with an appearance by Words on Fire. An all-ages event.
Where: The Spill (414 George St. N., Peterborough)
How much: $10 or pay what you can
Wordplay Cabaret: Bernie Remixed
When: Saturday, November 19 at 8 p.m.
What: The Peterborough Poetry Slam Collective will interpret some of Bernie Martin's poetry and feature original and exciting works of spoken word reflecting on the themes in Bernie's poetry.
Where: The Theatre on King (159 King St., Suite 120, Peterborough)
How much: $10 or pay what you can
Spoken Word: Transforming Trauma to Resilience through Narrative
When: Monday, November 21 at 8 p.m.
What: Spoken word artist Wes Ryan has been working with members of the group Healing from Within at the John Howard Society, as part of the festival, offering tools for creating original spoken word. Come see the results in this public performance.
Where: The Theatre on King (159 King St., Suite 120, Peterborough)
How much: $10 or pay what you can
Film Workshops Showcase
When: Tuesday, November 22 at 8 p.m.
What: Filmmakers Lester Alfonso and Brian Mitolo have been leading two separate filmmaking workshops through the festival: Lester has been working with senior citizens on Creative Nonfiction filmmaking (in association with ReFrame Film Festival); Brian has been working with local performing artists to create Cinematic Stories. Come see the works in progress and meet Peterborough's newest emerging filmmakers in this casual showcase.
Where: The Theatre on King (159 King St., Suite 120, Peterborough)
How much: $10 or pay what you can
Dark Passage
When:Friday, November 25 at 8 p.m. and Saturday, November 26 at 2 p.m.
What: Juno Award winning musician Brian Sanderson presents his interpretation of one of Bernie's most difficult and engaging works.
Where: The Theatre on King (159 King St., Suite 120, Peterborough)
How much: $15 or pay what you can
Remembering Bernie
When: Sunday, November 27 at 8 p.m.
What: Open to all friends and admirers of Bernie Martin. Come share a story, a memory, a reflection, a song, a poem, a wish. Refreshments provided. Featuring Pat Walsh and his guitar.
Where: The Theatre on King (159 King St., Suite 120, Peterborough)
How much: Free
Myrmidon
When: Wednesday, November 30 to Saturday, December 3 at 8 p.m. and Sunday, December 4 at 2 p.m.
What: Presented by Public Energy, this remount of last year's wildly successful presentation of Bernie's poetic play "Myrmidon" features performers Kate Story and Curtis Driedger. Directed by Ryan Kerr, designed by Martha Cockshutt.
Where: The Theatre on King (159 King St., Suite 120, Peterborough)
How much: $15 (or pay what you can on opening night only)