Tonight (November 3) at The Theatre on King (TTOK), the much-anticipated Bernie Martin festival kicks off with a double header of plays written by Martin and presented by some of the Peterborough's most respected talents.
Andrew Root directs Dan Smith in The Disgusting Old Man From Kartoon, and Amy Cummings brings together Naomi Duvall, Michael Moring, Robyn Smith, and Meg O'Sullivan in Do It Yourself. As TTOK's artistic director Ryan Kerr points out in his introduction, it's been as many as 30 years since these productions — dark but quirky with moments of humour — have seen the light of day.
Artist, poet, playwright, and musician, Bernie Martin acted as a mentor to Peterborough's arts community during his very active artistic career of continuous output. Now, over 20 years after his death in 1995, Peterborough is finally celebrating his legacy with a month-long series of events put on by both those who knew him and by others who recognize the impact of his influence in Peterborough.
The first two performances at TTOK are a powerful jumping-off point to get the festival started.
In The Disgusting Old Man From Kartoon, Dan Smith plays a mortally wounded man spending his final moments battling death, flies, and his lustful memories of a younger woman. Fluctuating between comedy and tragedy, the piece is filled with passages that go from erotic to vile. The result produces a mix of strong emotions.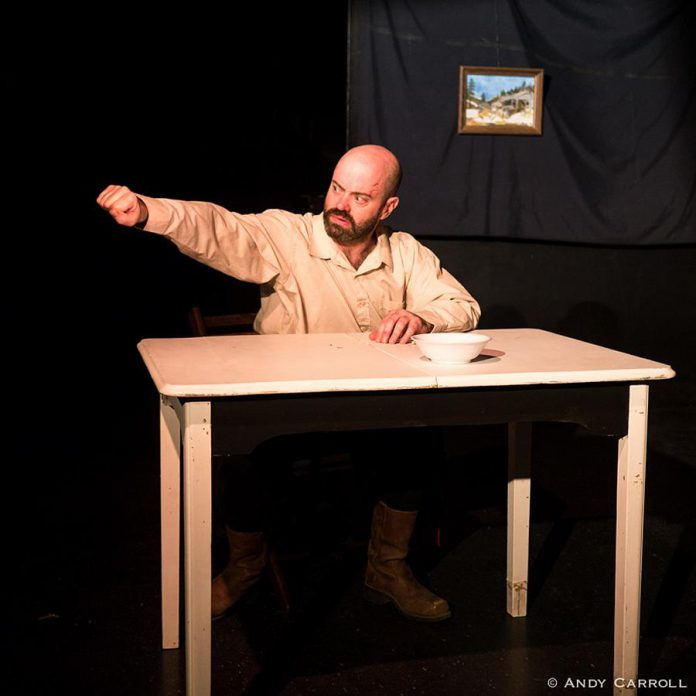 As an actor who does both comedy and drama equally well, Smith is the ideal performer to bring this odd, yet surprisingly touching, short piece to life. Andrew Root and Dan Smith work well together, with Andrew providing the perfectly timed sound effects as Smith pits himself against the flies that buzz around him.
A strong collaboration between two great local performers, The Disgusting Old Man From Kartoon is a perfect start to discovering the disturbing mirth of Bernie Martin.
The second performance of the night, Do It Yourself, is a well-crafted thriller disguised as a comedy. Playing like a local version of the classic Japanese drama Rashomon, Bernie substitutes a drunk and a plumber for the samurai warriors with a downtown bar as their battleground.
Michael Moring and Naomi Duvall play two men in clown noses sitting at a bar. Michael watches as Naomi makes call after call, timed carefully in repeated intervals, to a mystery woman who never answers the phone. As the two men banter, the audience slowly discovers that all the characters present (and not present) are closer than they may think, and that not all that's told is exactly how it really happened.
Meg O'Sullivan and Robyn Smith perform a series of supporting roles, from wives and lovers and bartenders, and fleshing in the parts beyond that of the two men in the bar. However, it's when Robyn takes over near the end of the show — in which she reveals the disturbing reality behind what the audience has already watched — that turns the entire production on its head.
Naomi Duvall is an odd and bold choice for her role in Do It Yourself. She is cast as a man who is leaving his wife for another woman, but does not play the role in a feminine or masculine way, resulting in a a sexually ambiguous performance. But Naomi's flawless portrayal of a confused and pathetic man makes the audience forget, or perhaps not even care, what gender she is trying to portray. It just seems to work.
As the audience's perception of her character continues to change with story revelations, Naomi's performance becomes continuously more disturbing — but somehow she manages to maintain the audience's sympathy for her character. It's an interesting role for an actress who has quickly become one of my favourites in Peterborough.
Both funny and terrifying, Do It Yourself is a well-crafted production by Amy Cummings and her company of players. Do It Yourself is a great script that shouldn't be lost in time — thank goodness this festival has given Amy the opportunity to bring it back to the Peterborough stage.
The Disgusting Old Man From Kartoon and Do It Yourself comprise the first of two sets of Bernie Martin plays at TTOK, and run from Thursday, November 3rd to Saturday, November 5th. The second set of plays — Meat and Potatoes directed by Sklyer Ough and Life Comes To Resemble Unimaginative Literature: Or, The Moment Of My Death featuring the talents of Brad Brackenridge and Kate Story — runs from Thursday, November 10th to Saturday, November 12th. All performances begin at 8 p.m., with admission $15 or pay what you can.
After falling into the dark mind of Bernie Martin while watching the first two shows, I'm truly looking forward to discovering more of his works in the weeks to come. The Bernie Martin festival is an amazing way to not only rediscover the life and work of one of Peterborough's truly influential artists, but to come together to celebrate our collective artistic community through the memory of a cherished local performer. The Disgusting Old Man From Kartoon and Do It Yourself are your first stop into the world of Bernie Martin.