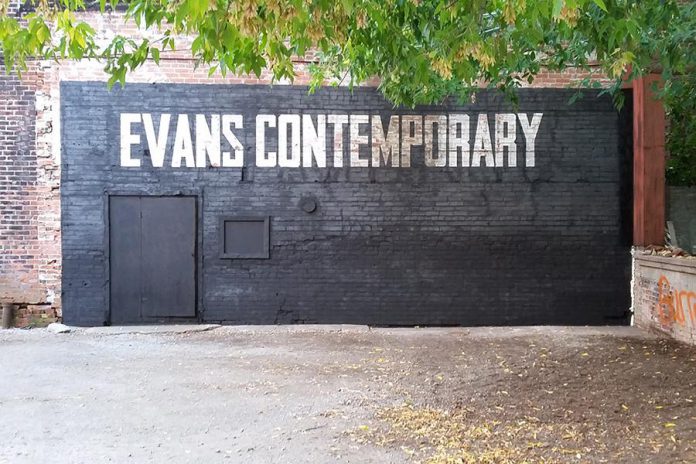 Arts and culture engage communities. Participation in the arts creates opportunities for people to connect with each other and results in stronger more diverse social networks. Basically, an arts scene is a healthy sign.
In the Kawarthas, we see a network of galleries and arts organizations working together to foster a growing arts community. There are new galleries and studios springing up in previously unused or under-used spaces.
For example, the arts community in Peterborough works together to create themed evenings and coordinated arts events, such as the Bernie Martin Festival and the art crawls that happen periodically as galleries schedule openings and events to coincide with one another.
This area boasts many arts organizations and independently maintained spaces for the arts. We are fortunate to have so many motivated individuals and collectives working for the arts. They create and maintain spaces and provide services and opportunities that enable work of artist of local and international standing to be shown to the wider community.
---
Evans Contemporary unveils new gallery space featuring painter Brian Rideout and participates in Bernie Martin Festival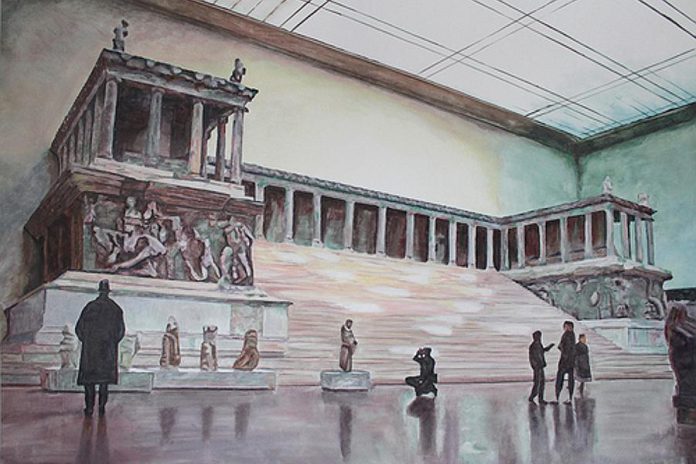 Brian Rideout is a contemporary Canadian painter based in Toronto. His paintings, described as bold and thought provoking, draw on art history and contemporary culture and have been exhibited throughout Canada and in the States.
This inaugural opening at Evans Contemporary's new ground-level gallery space will be held on Friday, November 18th from 6 to 11pm. The opening festivities will feature DJ William Joel Davenport and some delicious mulled cider. Rideout's work will be on display until Saturday, December 17th.
The new gallery space is located in the courtyard of the Commerce Building, the "Bankers Common". The entrance to the Bankers Common is on Water Street, through the carriage underpass (Passage des Arts) between Catalina's and Needles in the Hay.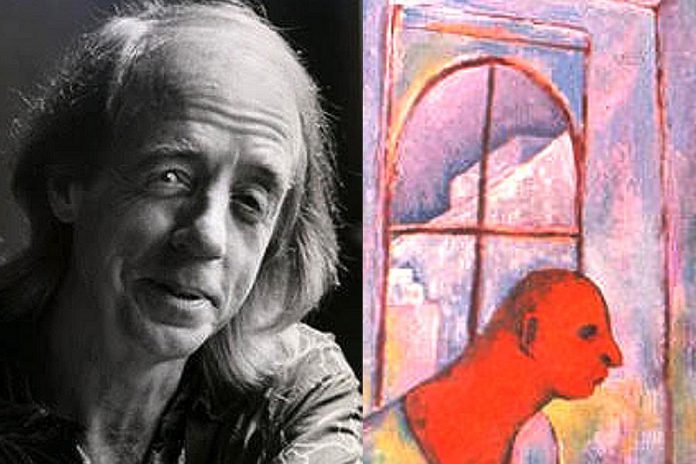 Evans Contemporary will also be participating in the Bernie Martin festival by featuring "Of Another Place", a show of Bernie's paintings co-curated by Jon Lockyer of Artspace and Victoria Mohr-Blakeney. The opening reception for "Of Another Place" also takes place on Friday, November 18th, with a curators' talk at 8 p.m. The exhibit will be on display in the existing Evans Contemporary gallery until Saturday, December 17th.
Evans Contemporary is located at 129 1/2 Hunter Street West, 3rd Floor, in downtown Peterborough. The gallery is open from 12 to 6 p.m. on Saturdays. Viewings can also be made by appointment by contacting evanscontemporary@gmail.com.
---
The Monocle Centre for the Arts, a premium rehearsal/studio space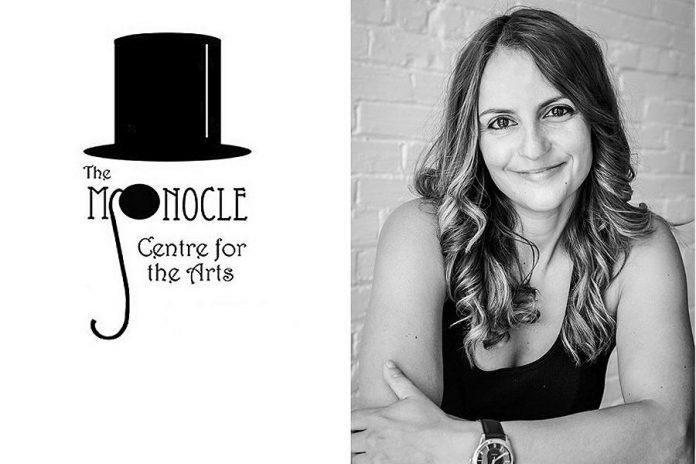 Another arts-friendly space you may not be aware of is The Monocle Centre for the Arts. Owned, operated and kept meticulously tidy and stylish by Vicky Paradisis, this stunning studio space, which is available for rent, features a dance/yoga and photography studio as well as a gallery, performance theatre, and small event venue.
The Monocle also hosts workshops and arts events and is a great example of using a space to the fullest and working hard to create space for the arts to flourish.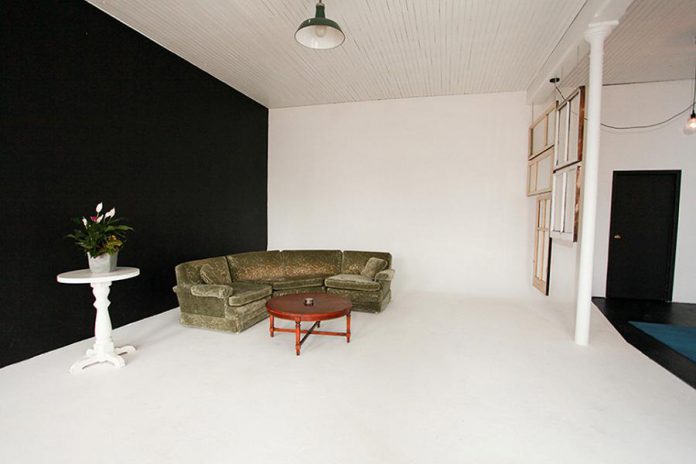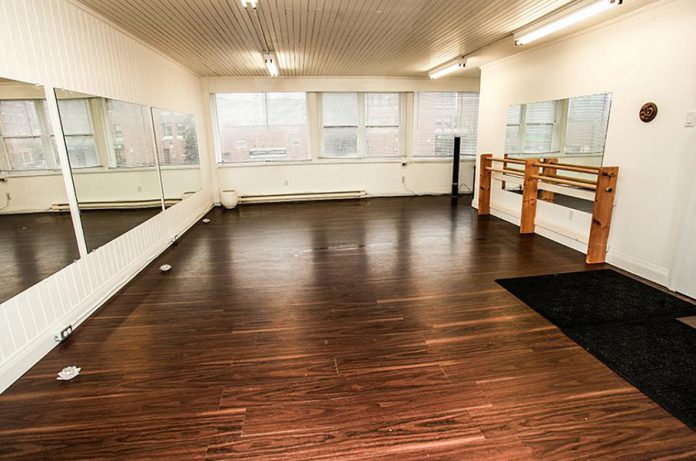 The Monocle is located at 140 Simcoe St. (upper) in downtown Peterborough, and is open from 10 a.m. to 3 p.m. Monday to Friday and 12 to 4 p.m. on Saturday and Sunday. Studio rentals by appointment only (call 705-875-5442). To find out more or see the schedule of workshops and events, visit themonoclecentreforthearts.com.
---
Acme Art and Sailboat Co. presents John Boyle and Joe Stable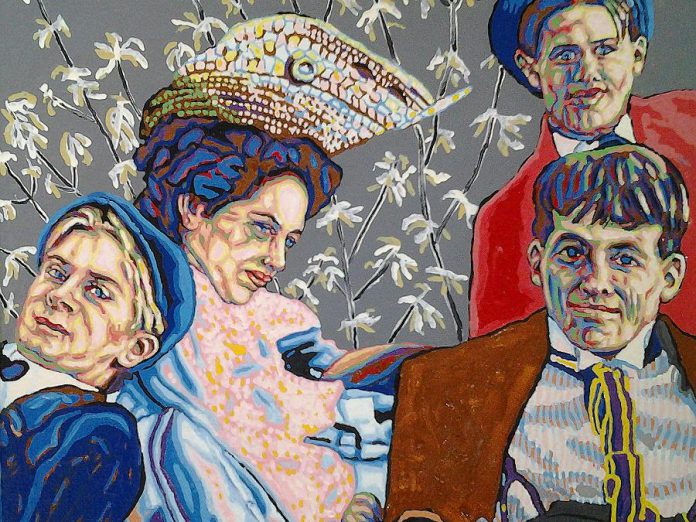 If you are out and about on the evening of Friday, November 18th, don't forget to visit Joe Stable's new gallery space, The Acme Art and Sailboat Co., which will feature the Peterborough-inspired drawings and paintings of John Boyle.
John Boyle has been active in the arts since the '60s. A self-taught artist, he has developed a consistent body of work throughout his career with an emphasis on strong colours and patterns worked into stylized figurative work. His work is represented in the National Gallery of Canada, the Beaverbrook Art Gallery, the Art Gallery of Ontario, Hamilton Art Gallery, the McMichael Canadian Collection, and the Art Gallery of Peterborough.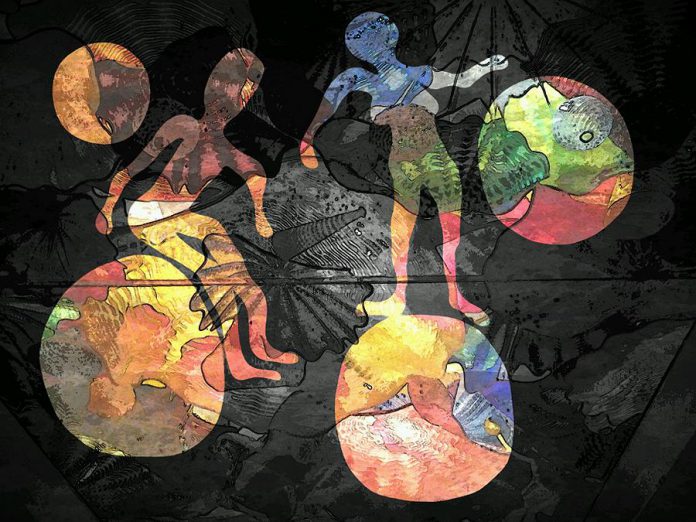 The Acme Art and Sailboat Co. (129 1/2 Hunter St. W., Peterborough) now features two gallery spaces: a main gallery and a smaller adjoining room, The Copper Closet, where Joe's recent work is frequently on display. They are in the same building and floor as Evans Contemporary, so you can drop in when attending the opening of "Of Another Place" on November 18th.
---
Christensen Fine Art presents Rebecca Padgett and Christy Haldane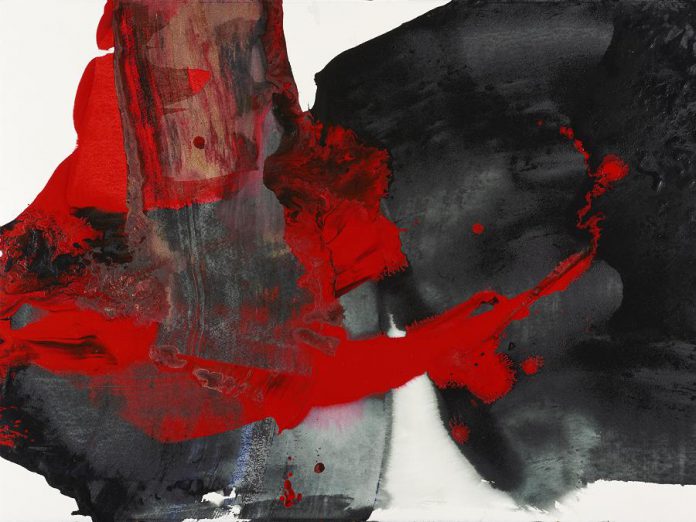 Bringing together non-objective painting and modern sculpture, Christensen Fine Art is presenting works by Rebecca Padgett and Christy Haldane. Padgett's vibrant compositions and Haldane's sculptural forms of fused glass and stone will be on display in the gallery for the month of November.
Texture, form and the play of light through glass are key elements in Haldane's work, while Padgett creates striking, compositions in her intuitive and original painting style.
This show emphasizes form and composition, colour and texture, which are key elements in the work of both Haldane and Padgett.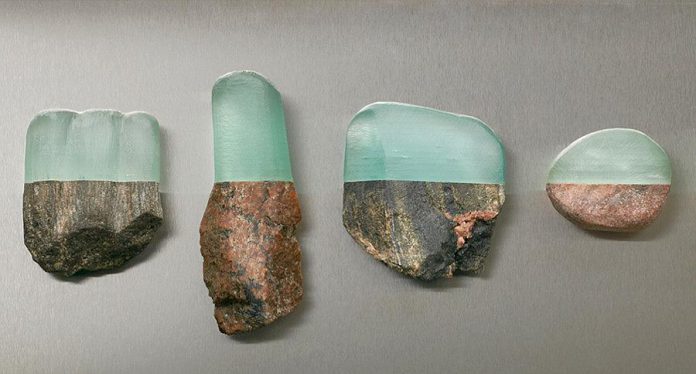 The exhibit opens on Saturday, November 5th, with an artists' reception from 6 to 9 p.m., and continues until Saturday, November 26th.
Christensen Fine Art is located at 432 George Street North in downtown Peterborough. Gallery hours are 10 a.m. to 5:30 p.m. Monday to Friday, and 10 a.m. to 4 p.m. on Saturday. For more information, visit www.christensenfineart.com.
---
The Art Gallery of Peterborough has a successful fundraiser and focuses gallery gift shop on local artists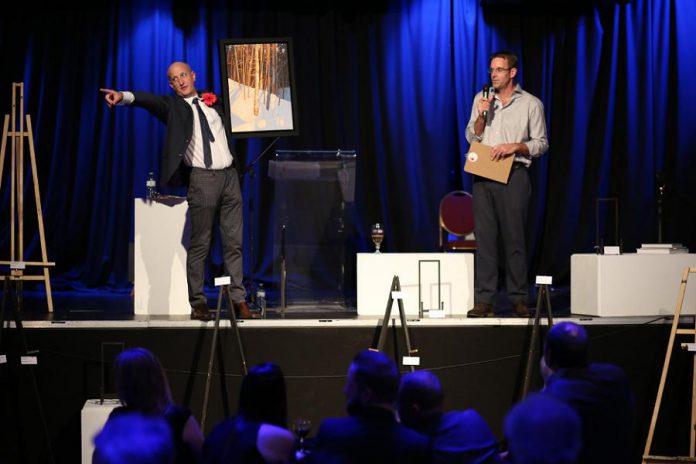 "It's All About Art!", the Art Gallery of Peterborough's annual fundraiser held on October 22nd at The Venue in Peterborough, was a huge success, grossing $42,000.
With beautiful pieces by both local and international artists, bidding wars were inevitable and many of the works sold for over market value. The Art Gallery of Peterborough is a champion of local artists, and works hard to promote them.
"We launched the entirety of the auction by focusing on local artists," says curator Fynn Leitch. "Wayne Eardley, Sarah Gibeault, Rebecca Padgett and Patrick Moore have all had solo exhibitions at the Art Gallery of Peterborough this past year. In addition to these and other regional artists, we included special guests from out of town such as Keita Morimoto and Megan Macdonald who drove from Toronto to attend the event and had a spectacular time in Peterborough. A surprise work by Ann Beam was also auctioned drawing attention to the gallery's current exhibitions and long standing relationship with contemporary Indigenous artists."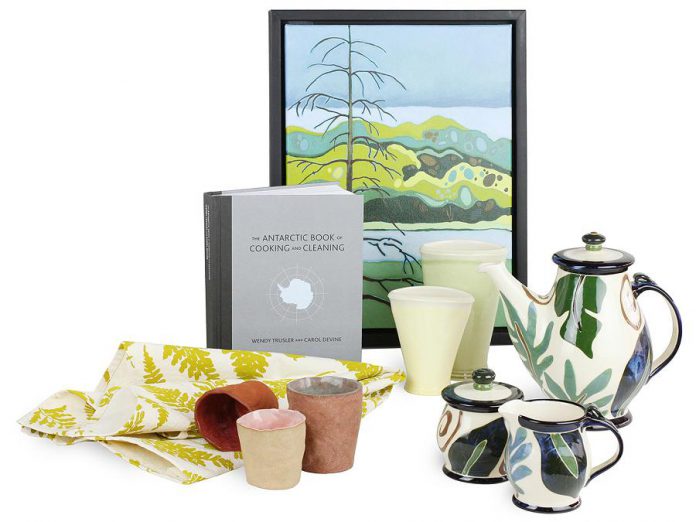 The Art Gallery of Peterborough is also revitalising its Gift Shop to make more room for local artists and is hosting a "Shop for Joy" event from 2 to 9 p.m. on Thursday, November 17th.
"This season we're focusing on shopping local and drawing attention to the range and depth of talented artists in the Kawarthas," Leitch says. "Once a year we expand our selection to include gourmet treats and specialities bound to please. There will be chocolate tasting from Naked Chocolate and some delicious goodness from Wendy Trusler in the form of mulled wine and baking from the Antarctic Book of Cooking and Cleaning. Come to savour these delights and find the perfect gift for everyone on your list.'
Members of the The Art Gallery of Peterborough will receive 20% off during this event.
Throughout the year, the Gift Shop includes a fine selection of artworks by artists from, or closely connected to, the Kawarthas region. "Local Colour" features larger scale works by these artists, celebrating the talent in the community and creating new space designated for artists represented by the gallery shop. All works are for sale and a price list will be available.
The Art Gallery of Peterborough is located at 250 Crescent Street in downtown Peterborough and is open from 11 a.m. to 5 p.m. Tuesday to Sunday. It offers free admission, barrier-free access, and a gallery shop. For more information, call 705-743-9179 or visit agp.on.ca.
---
Painter JoEllen Brydon gains acclaim and further international representation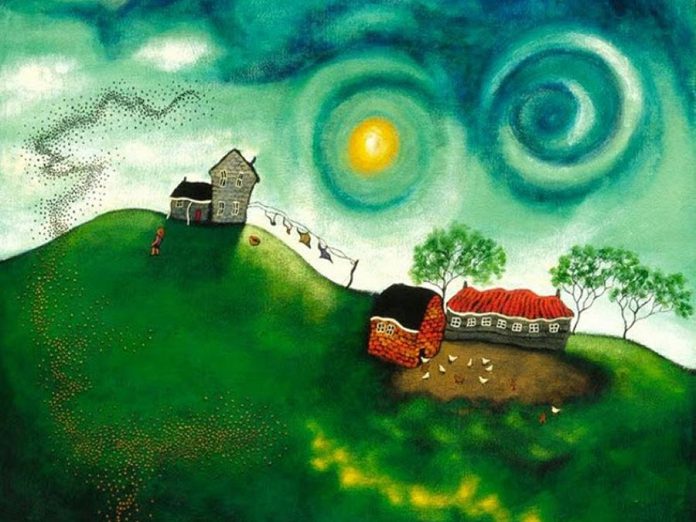 Speaking of regional artists, JoEllen Brydon's eye-catching and whimsical paintings have been getting some attention.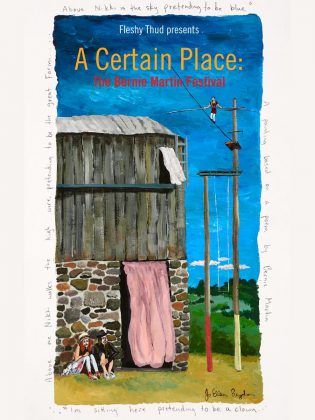 Brydon has been taken on by Chicago's Michael Laconte Gallery and recently received a award for her painting "My Grandmother was a Beekeeper". It was chosen as the first place winner in the Acrylic/Oil category at the 2016 Toronto West Art Collective/Canadian National Exhibition Juried Art Show.
JoEllen was born in Toronto and grew up in the farming community of Cavan Township. Her vibrant and engaging paintings tell stories from her day to day life, and of times gone by. Family history has provided JoEllen with inspiration, and informed a lot of her painting. Some of her other historical work, "Lost Histories: The Gypsies of 1909", was recently referenced in the academic textbook Writing the Roma by Cynthia Levine-Rasky, professor of Sociology at Queen's University.
JoEllen is currently represented in Canada by Christensen Fine Art in Peterborough, in the U.S. by the Michael Laconte Gallery in Chicago, and in Europe by Black Canvas Gallery in Ireland.
---
Curated hosts spoon carving workshop on November 19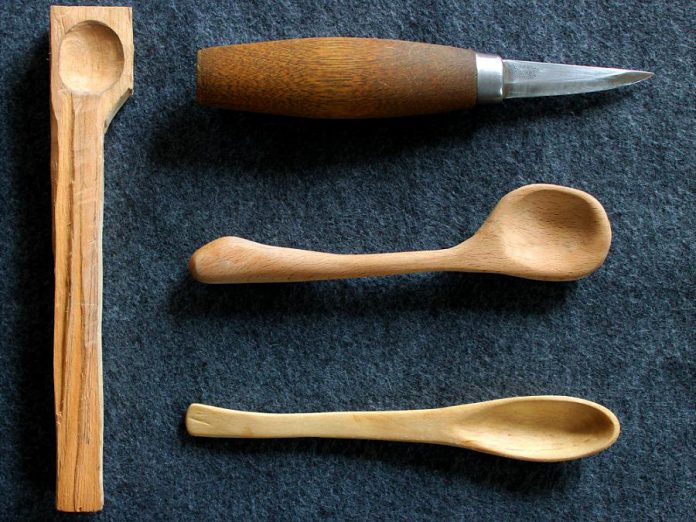 David Fry and Tom Doughty are getting ready to teach the ancient art of spoon carving in their upcoming workshop at 1 p.m. on Saturday, November 19th at Curated in downtown Peterborough.
Spoons have been used as utensils for at least 10,000 years, but have you ever made one yourself? Odds are the answer is no. Well, now's your chance to learn! Perhaps you can make a Christmas present or two. After all, everyone who loves to cook knows the charm of wooden utensils, with the old wooden spoon being a common fixture in many a kitchen. Well, how about a brand new wooden spoon?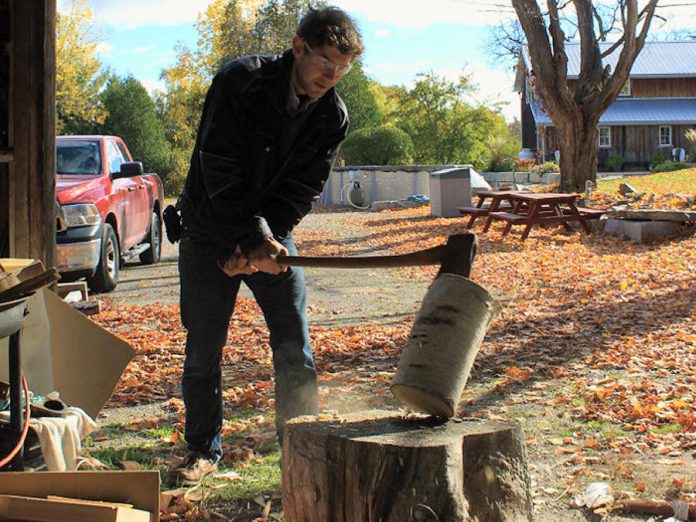 Part of the work has been done for you; in fact, quite a bit when the splitting of logs and hewing of spoon blanks is taken into consideration. All you will need to bring is yourself and $60 (the cost of the workshop).
Knives will be provided. If you want to bring your own knife, make sure it is a whittling or "sloyd" knife. Pocket knives and fixed-blade knives ranging from 1″ to 3.5″ with a flat ground edge are also acceptable. Some history and safety instructions will be provided.
The workshop will be followed by a soup tasting where participants will try out their new spoons. Space is limited, so register at www.curated-peterborough.ca to reserve your spot.
Curated is another independently owned and operated arts-friendly space within the city of Peterborough. Owner and operator Melinda Richter hosts workshops and is a certified appraiser with the Canadian Personal Property Appraiser's Group. Appraisals are available through Curated for insurance, donation, estate sale, or for reference.
Located in the Schandry Building (459 George St. N., Peterborough), Curated's drop-in hours are Tuesdays from 10 a.m. to 4 p.m. To book an appointment, call or text 705-917-3630 or e-mail curated.peterborough@gmail.com.
---
Art School of Peterborough hosts fused glass workshops and The Art of Gifting show and sale
The Art School of Peterborough is now giving workshops on fusing glass, using a special newly acquired kiln for that purpose. The kiln was purchased with funds awarded the school through a grant from the Peterborough foundation.
Susan Stevenson will be leading a workshop on fused glass plates on Sunday, November 6th from 10 a.m. to 2 p.m., which continues the following Sunday from 10 a.m. to 12 p.m.
She will also be leading a fused glass Christmas decoration workshop on Saturday, November 19th from 10 a.m. to 2 p.m., which continues on November 20th from 10 a.m. to noon.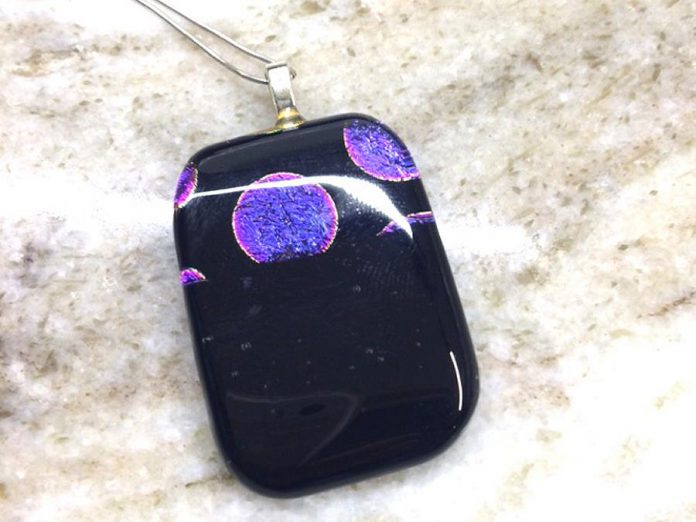 On Saturday, November 26th from 10 a.m. to 4 p.m., a collection of artists featured in the Art School of Peterborough's LAUNCH Gallery will be participating in a show and sale. Artists will be in attendance and will be bringing more of their work to display for the day.
This will be a great opportunity to meet some artists from the area, check out the LAUNCH Gallery, and get some early Christmas presents while you're at it.
The Art School of Peterborough is 174A Charlotte Street in Peterborough and is open from 10 a.m. to 5 p.m. Tuesday to Saturday. For more information, visit artschoolptbo.org.