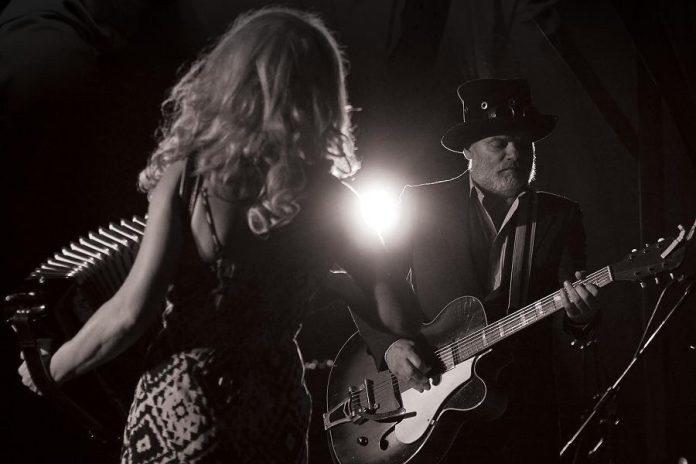 For someone who has travelled and worked as long and hard as southern Ontario songwriter Fred Eaglesmith, it's no small wonder that he still enjoys being on the road.
He knows this continent and beyond like the back of his hand, and yet this time it was a run in often passed-over northern Ontario that wowed Fred and his wife and bandmate Tif Ginn.
"It was great to play these towns in the North that don't have too much going on," Fred tells me from his Waterford home. "People were so happy to have music. They were all bringing us food and things."
People from towns like Schreiber, Bruce Mines, and Gore Bay came out in droves to see Fred play. Stenciled signs lined remote parts of Highway 17 advertising his shows at small town legions and community halls. Fred likes playing these sorts of gigs a lot.
VIDEO: "Lucille" – Fred Eaglesmith and Tif Ginn in Bruce Mines

"There's something special about a show where you set up the chairs yourself," he says.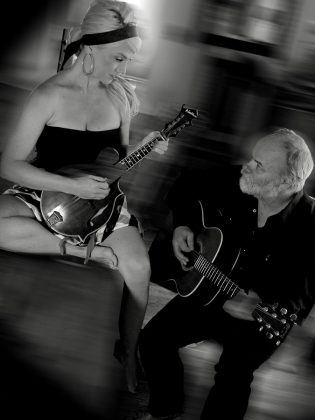 When Fred returns to Peterborough on Saturday, November 12th, he will be joined by his wife and bandmate Tif Ginn. The couple will play at Showplace Performance Centre (290 George St. N., Peterborough) for the first time.
Though he has not been here a lot recently, Fred's musical history definitely runs through Peterborough.
"Me and Peterborough go way back," he says. "I remember I first started coming down there when Reverend Ken and Washboard Hank were still playing together, and of course I used to play shows with your dad."
My dad (Daniel Fewings) did indeed play shows with Fred. I recall being in The Only Cafe for breakfast with them once and having Fred hand me a two-dollar bill to get change for pinball.
Of course, another of Fred's connection to the city is the late great songwriter Willie P. Bennett, who lived in Peterborough until he died in the city in 2008. He was a bandmate of Fred's for over 20 years.
If you've seen Fred perform before, you can expect to hear something a little different at his November 12th performance in Peterborough. Fred's show changed recently from a full-band lineup to a duo, with Tif singing harmonies and accompanying him on multiple instruments including mandolin, accordian, and more.
VIDEO: "49 Tons" – Fred Eaglesmith and Tif Ginn

"We're finding a place where the two of us land," Fred explains. "She's from Texas, so of course she's got country and roots in her. So we're finding this place to go and it's interesting. It's still a great show."
When he says "show", he means something a little more than a concert. Strip away the instrumentation that accompanied Fred for years and you find that at the heart of it all are his really great tunes and a genuinely funny stage presence with a lifetime of great stories from the road.
It's also a departure from his latest record, 2013's Tambourine, which has a vintage rock and roll and RnB sound.
In some ways Fred has come full circle in his career.
"I'm digging into some old stuff," he says. "Playing a little more bluegrass like I used to when I was younger."
VIDEO: "Kansas" – Fred Eaglesmith & Tif Ginn

That return to his roots has been accompanied by a recent swell in brand new material.
"We're playing brand new songs," Fred explains. "We're probably playing five new songs a night just by accident. Just because people like them and because I have a new record coming out in January. I don't know how it happened, but all of a sudden these songs are part of the line-up."
If you have seen Fred Eaglesmith before, then you know he's a great songwriter and showman. Big acts like Alan Jackson, Miranda Lambert, and Toby Keith have covered his tunes, and according to Fred more and more singers are picking up his songs.
For those who have yet to see him perform, I suggest you get tickets. When you see him you're not just seeing a concert — you're seeing a show full of stories, laughs, and ultimately great songs spanning Fred's 42-year career.
The Showplace concert on November 12th begins at 8 p.m. Tickets are $31 and are available at the Showplace Box Office, by calling 705-742-7469, or online at www.showplace.org.
Peterborough's own Mayhemingways (Benj Rowland and yours truly) will be playing pre-show and intermission sets at the bar in the Nexicom Studio.
VIDEO: "Wilder Than Her" – Fred Eaglesmith and Tif Ginn