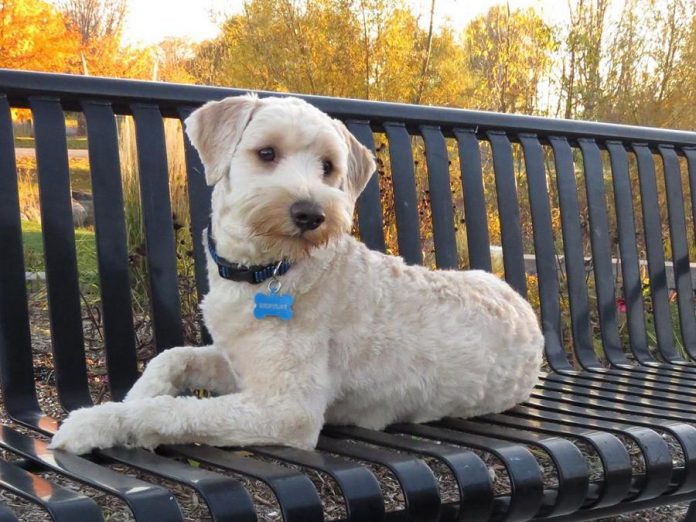 Don Finlayson, Funeral Director at Lakeland Funeral & Cremation Centre in Lindsay, has recently expanded his staff team to include Bentley, a one-year-old Wheaton Terrier Poodle mix known as a "whoodle".
"Comfort dogs" like Bentley are becoming more common in settings where stress and anxiety runs high, including nursing care residences and child therapy groups. Being comforted by a loving animal is known to provide both physical and mental benefits, and often brings a smile, a sense of relief, and a little joy despite the loss that a grieving person is experiencing.
Lakeland staff began talking about the benefits of a comfort dog about six months ago. They discussed what kind of dog would best suit their environment and the families they serve, how to manage the day-to-day routines, and where the dog would live when not at Lakeland.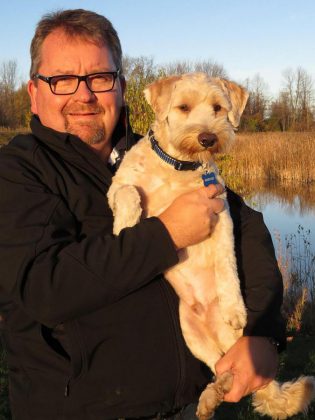 Don and his family were keen to be the forever home for a comfort dog, and he took the lead to find the "perfect dog" for Lakeland. He walked down the road to the shelter at the Humane Society of Kawartha Lakes and asked if they could keep the funeral home in mind should the right kind of dog came into their care.
A couple of weeks ago, Lakeland got a call about a rather shaggy "whoodle" who had been given up by his previous owner, who was unable to manage her multiple pets. Just one year old and still full of puppyhood fun — but also gentle, loving, and undeniably cute — Bentley seemed like the perfect candidate for a comfort dog.
For the next few weeks, Bentley's role at Lakeland will be primarily behind the scenes. Along with his handlers, Don and Lynn from Lakeland, Bentley is currently taking behaviour lessons to ensure he understands his important role within the business.
"He will be trained to be more than just a cuddly pup," Don explains. "He's got a real purpose. He is learning, as we are, how to develop him into an integral part of our caring team and an emotional benefit to those families in need."
Courtney Bryans, manager of the shelter at Kawartha Lakes Humane Society, thinks Bentley will be a great comfort dog.
"When Bentley came in to the Humane Society he was in rough shape, but still a lovable guy," Courtney says. "He was just a pup and his previous owner just misunderstood him. Lakeland Funeral Centre took him into their care as foster to adopt, and they got him groomed and he looks wonderful. We are sure he will be wonderful at the funeral home."
Jill Sadler, executive director of Hospice Kawartha Lakes, says dogs have a special way of providing comfort to people who are stressed and dealing with grief.
"They have the ability to connect with people of all ages in a unique way that can have a calming effect," Jill says. "Dogs can provide warmth and relief from the intense grief feelings that one is carrying during an emotion-filled time surrounding the death of someone you love. I think it's wonderful that Lakeland Funeral Home is providing this added comfort to your families during one of their most difficult times."
Lakeland Funeral & Cremation Centre is a division of Little Lake Cemetery Co., and CEO Mary McGee says that Bentley will also improve the well-being of employees at Lakeland.
"Our workplace can sometimes be a difficult and emotional environment for staff as well," Mary says. "Taking Bentley out for a walk-about is a welcomed task; a great reason to take a short break, breathe some fresh air, and be mindful of the small joys within each day."
Don says that Bentley is also making the funeral home more accessible to the community. Neighbours, suppliers, and families are welcome to drop by to meet Bentley and say hello — it all helps to reduce the fear and anxiety associated with bereavement services.
All photos courtesy of Lakeland Funeral & Cremation Centre.