A sad story to report this week: the bee hive at Ecology Park experienced colony collapse disorder this fall and the entire bee colony has died.
In its first year, the GreenUP Community Bee Keeping program attracted 12 local beekeepers who stewarded six honeybee hives at five locations in Peterborough, including GreenUP Ecology Park, Liftlock Community Garden, Lock 20 – Parks Canada, Greenwood United Church, and Holy Cross Secondary School.
Along with the registered beekeeping program, GreenUP held four free "Open Hive!" events that introduced more than 100 community members to the world of honeybees through experiential, hands-on sessions at the GreenUP Ecology Park hive.
This season, the program collected 40 500-gram jars of honey from our five hives.
Members of the program, along with their family members, helped extract the honey in the Holy Cross school kitchen. Jars of honey were given to the community beekeepers along with hive site hosts, and to B's Bees, the chief donor of this unique program.
These were some of the many great successes in the first year of the program. However, community beekeepers also witnessed some devastating yet important observations: the Ecology Park beehive experienced colony collapse disorder this fall, with the entire colony mysteriously and suddenly dying off.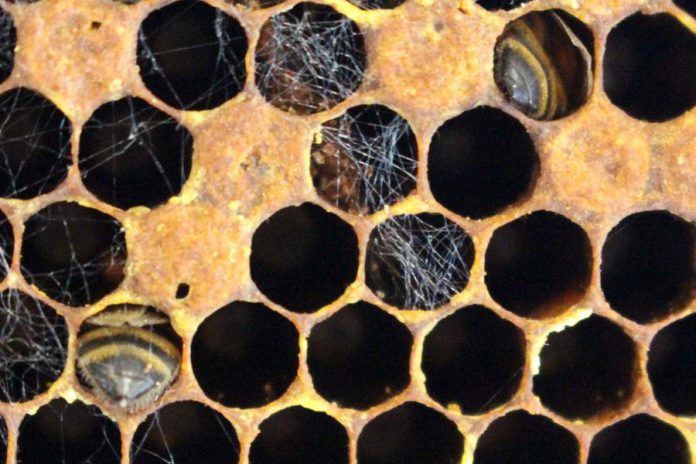 Evidence left behind in the Ecology Park hive shows that new honeybees died while emerging from their cells as adults. Others died while depositing pollen, and while feeding on honey. With various stages of bees dying in the hive, this suggests that the collapse happened quite quickly.
One frame from the hive shows that the colony attempted to create a new queen. Worker bees will do so when the existing queen is sick, old, or has died. Unfortunately, not enough workers were able to finish the "queen cell" — needed to create a new queen for the Ecology Park hive — before the colony collapsed.
What is the cause of hive collapse and what caused this hive to collapse, right in our own city?
Evidence has shown that a group of pesticides called neonicotinoids used on corn, soy, and other crops, have contributed to a major decline in honeybee populations across the globe. Some of the most recent studies show that other pesticides including fungicides, insecticides, and herbicides can all have an effect on honeybee health and can increase their vulnerability to stressors such as pathogens, disease, and infection.
Pesticides are banned in Peterborough for cosmetic use but are still used in some commercial applications. Also, despite the known harm to humans and to ecosystems, many pesticide products are still available on the store shelves.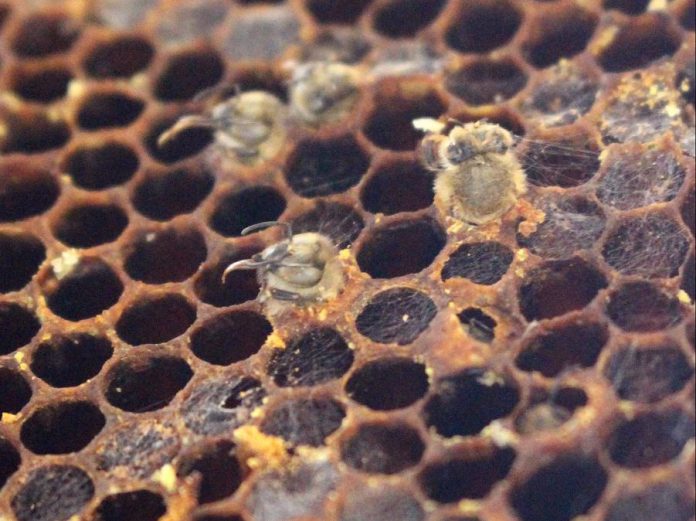 Honeybees feed up to a five-kilometer radius around their hive; the collapse of the Ecology Park hive suggests that the bees may have been feeding on pollen within their feeding range that had been exposed to chemicals.
"Pollen is required by honeybees in order to develop normal physiological characteristics to maintain and grow a healthy colony," explains Marcy Adzich, GreenUP's Manager of Landscape programs and resident beekeeper. "In order for honeybees to obtain the necessary nutritional value from pollen, it must contain at least 20% crude protein and 10 specific amino acids. Honeybees need to forage on an array of pollen sources to make up for lack of protein content or amino acids."

Bees are the most common pollinator, with more than 700 native species living in Canada. Other pollinators include butterflies, moths, wasps, flies, beetles, and hummingbirds. Honeybees (Apis mellifera) are an introduced, managed species that exists as a superorganism, evolving over 135 million years with highly sophisticated communication and organizational characteristics.
Pollinators transfer pollen between flowers while visiting a plant for food, to mate, or for shelter and nest-building materials. Pollination and is responsible for 85% of the world's plant biodiversity.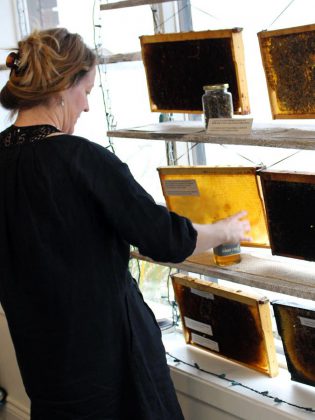 "Improving the health of bees and other pollinators is an urgent necessity," continues Adzich. "Without pollinators, much of the food we eat and a diversity of terrestrial ecosystems would not exist."
Insect pollinators are facing major challenges to their survival and populations have rapidly declined, up to 58% in some provinces.
As we face the pollinator crisis in Peterborough, without rapid changes to the use of harmful pesticides, GreenUP continues to expect that one out of every six of our local hives will face colony collapse disorder.
The collapse of our own local Ecology Park hive brings this issue very close to home, but allows us to recognize that pollinator health and well-being is dependent on us. Taking action now to learn about pollinators, reduce our use of toxic pesticides, and restore natural habitats are positive steps we can take for our environment and our future.
Starting this week, an installation including frames from the Ecology Park hive and the collapsed colony are on display at the GreenUP Store & Resource Centre at 378 Aylmer Street North in downtown Peterborough. Please come and view the various ages of honeycomb from the hive, and see the diversity of pollen sources that honeybees are finding right here in Peterborough. Increase your understanding of honeybee behavior by viewing the inside of the hive, and see evidence left behind by the collapsed colony.
Donations to the GreenUP Community Beekeeping Program are welcome and help to support education, equipment, and tools required to build and maintain healthy honeybee colonies throughout Peterborough. For more information and to donate, visit www.greenup.on.ca/donate-now/.