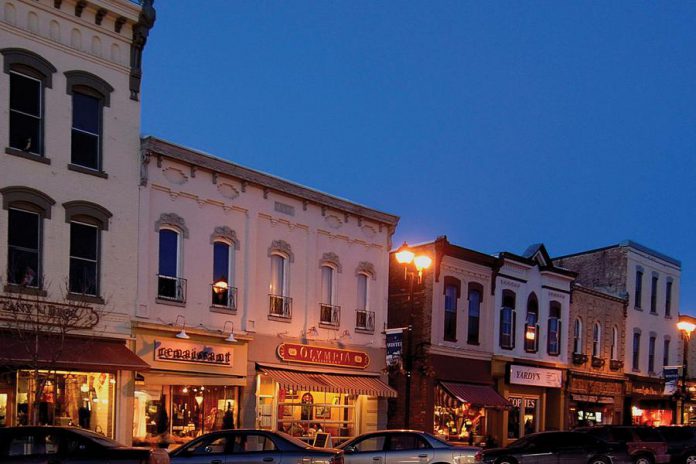 When was the last time you went to downtown Lindsay? With 185 shops and services, beautiful historic buildings, and friendly shop owners, there are plenty of options to enjoy in Lindsay's downtown. There's even free parking.
We are profiling four businesses in downtown Lindsay that offer services that are hard to find in Ontario, let alone Lindsay. There's a jeweller who buys diamonds directly from merchants in Belgium to bring to their customers, and a fashion boutique on the cutting edge, bringing in clothing lines new to Canada. There's a decorating centre with the largest selection of wallpaper in central Ontario, and a Greek restaurant with its own dedicated Spartan olive farm.
---
The Olympia Restaurant Cafe and Bar serves Greek food with local flavours
The Olympia Restaurant Cafe and Bar wasn't always a Greek restaurant, although the name makes it seem as if it might have been fated. The 110-year-old restaurant has been an important part of Lindsay's downtown for decades. Co-owners Nicki Dedes and husband Costas serve authentic Greek food with a local twist, and a deep respect for tradition.
Classic Greek food made with local ingredients
The spanakopita is made with spinach, ricotta, feta and bright dill, with a generous portion of tzatziki on the side. One of Nicki's favourite memories is watching her grandmother make this dish. The lamb souvlaki uses locally farmed meat, drizzled with an olive oil sauce, and served with a greek salad. The balsamic chicken is topped with tomatoes, fresh basil, feta and kalamata olives from Nicki's parents own olive farm.
Nicki tells me that all of the olives used at the Olympia Restaurant Cafe and Bar are grown by her parents in Sparta. "We have about 800 to 900 trees. It's a winter crop, so it's a December harvest. We buy all of their crop and it gets shipped here and we use it all year long. It's in our marinades, recipes, and we use it in our salads as well."
There are a variety of Greek wines on the menu, including varietals that can be hard to find. "We have a red wine called Agiorgitiko, also known as St. George's grape," says Nicki. "It's an ancient noble wine, written about in Homer's Iliad."
Nicki says that the Greek wine industry has recently experienced a resurgence, and there are many quality wines from Greece that pair perfectly with Mediterranean food. "Greek wines are fruity yet dry, perfectly complementing what's on your plate."
Try an authentic 1950s burger
In addition to authentic Greek cuisine, The Olympia Restaurant offers traditional favourites, like roast chicken and steak. Nicki says that The Olympia's customers span generations, and many have been coming for decades. "This is a place of continuity, it's a meeting place, it's a hub. It's a place where you can bring any age."
Some menu items have remained unchanged since the 1950s. That's a good thing. The hamburgers are an example, made with freshly ground local beef, a bun baked by a local baker, and fresh-cut fries made with local potatoes.
This past August, the restaurant was mentioned as a destination in a story from Expedia.ca called 9 Must-See Stops on an Ontario Road Trip, which included Kawartha Lakes.
The Olympia Restaurant is located at 106 Kent Street West in Lindsay. You can find them online at www.olympiarestaurant.ca and on Facebook.
---
Unique decorating services offered at Scott's Decorating Centre
Scott's Decorating Centre has been a fixture in Lindsay's downtown for over 61 years.
Owner Martin Scott remembers working in the store as a kid when his parents owned it. "My job was to shovel the snow from inside the store back out onto the street at Christmas time. Back in those days everyone left Christmas shopping to the last minute."
Now Martin thrives on being a problem solver. His store features unique decorating services that he has developed to make his customers projects go more smoothly. Here are some of the harder-to-find services that Scott's Decorating Centre offers:
Tinted caulking
This may not seem like a big deal, but anyone who has tried to paint a thin bead of caulking knows that it's not a fun project. Martin takes a controlled amount of the same paint that he uses for the walls and mixes it in with the caulking. The result is a product with a colour almost identical to the paint, which makes it a lot easier for contractors or DIYers. "When you run a bead of caulking around the kitchen counters or a vanity it's the same colour as the wall. They don't have to fuss."
Tinted spray paint
Using a similar process to the caulking, Scott's Decorating Centre will tint spray paint to match the wall paint. It makes it easy to do quick touch ups. "You don't have to pull out all of your equipment." Martin notes that the spray paint also works well on hard to paint surfaces, like metal radiators or louvred doors.
Colour matching wood stain
Another unique service offered by Scott's Decorating Centre? They will create wood stain to match an existing stained surface. That means you can build your desk from pine and stain it to match an existing walnut bookshelf. Creating custom stain isn't a straightforward job, according to Martin. "Every wood, even in the same stick of wood it will take the stain differently. It just depends on the porosity."
Martin thrives on solving problems like these, and customers come from a wide area to take advantage of his expertise. "I have a lady who comes from Mississauga because of this," he notes.
Nearly 500 different wallpapers
As I add them up I am surprised to find nearly 500 different wallpapers available for sale. Martin is less surprised. "We have the largest selection of wallpaper in central Ontario," he notes, "and just about every pattern is different from the next."
Neatly stacked in racks throughout the store there are wallpapers in almost every colour in designs that range from traditional to contemporary. There are elegant wallpapers and those geared more towards children, intricate toiles and modern geometric designs.
It is clear that Martin thinks carefully when choosing his wallpaper. "We've always concentrated on traditional because for a long time there were mostly older homes in the area. Now that newer homes are being built we are doing more contemporary." He is buying for the community.
Scott's Decorating Centre is located at 88 Kent Street West in Lindsay. They can be reached by phone at 705-324-5651, via their website and on Facebook.
---
Pretty Little Threads: fashionable boutique shopping close to home
Jillian Trider of Pretty Little Threads, has always wanted to own a boutique. "It didn't matter what job I had, I always had this dream."
When she found a location in Lindsay's downtown last March, Jillian moved quickly. "I met my landlord in March, signed the lease in April, took six weeks to renovate, and got it open on June 28th." Her clothing store dream had become a reality.
Unique and modern store design
Jillian recognizes that "atmosphere's a big thing," and Pretty Little Threads is striking. Exposed brick walls and a minimalist black-and-white colour scheme underpin a store with incredible attention to detail. Tables of beautifully displayed accessories and home accents are nestled amongst neatly organized racks of clothes.
Across one wall four chairs, painted in black and white, are used to hang clothing. Jillian inherited them and the table that acts as a cash counter from her grandma. "We were very close. She was always very supportive, a proud grandmother."
Never cluttered, Pretty Little Threads has a curated and ever-changing selection of clothes. Jillian buys in small runs, so there may only be one of your size available. This means that you're not likely to see someone walking down the street in your outfit. Jillian often gets requests from people on Facebook or Instagram who would like their size set aside.
Jillian has found success by sourcing garments that aren't just fashionable, but that offer good value. "Affordability is one of the top things on my list when I'm looking for new suppliers. Also good quality."
Fashion that's first of its kind
Pretty Little Threads was one of the first stores in Canada to carry clothing by Cupcakes and Cashmere, a clothing line started by Los Angeles based fashion blogger Emily Schuman. Other top lines include Z supply, which makes fashionable basics that Jillian has a hard time keeping in stock — "these sell out really fast." You can also find clothes by Pink Martini, a vintage-inspired line, among others.
In addition to clothing and accessories, Pretty Little Threads also carries a variety of Canadian-made gifts. These include cards, candles, art prints, recycled bags, and soaps.
Pretty Little Threads is open seven days a week at 113 Kent Street West in Lindsay. You can find them online at www.prettylittlethreads.ca, or look for them on Instagram and Facebook.
---
Johnson's Jewellers brings Antwerp's diamond district to Lindsay's downtown
Janet and John Gennaro, owners of Johnson Jewellers in downtown Lindsay, have logged a lot of kilometres for their customers. Whether travelling to Belgium to buy diamonds or to the world's largest jewellery show in Las Vegas to find new lines of jewellery for their store, they are committed to bringing their customers well priced and beautiful jewellery.
As you walk into the store — a fixture in Lindsay's downtown for the past 70 years — you will see glass cases filled with fine jewellery. Rows of watches by Seiko, Fossil, and Citizen. Silver fashion jewellery from Elle and platinum-plated sterling silver jewellery with simulated diamonds by Lafonn. Distinctive silver pieces by Philip Gavriel and stylish pieces by Pandora. At the end of the counter is a glittering case of diamond jewellery, heirlooms in the making.
When I asked whether Janet and John had planned to go into business together they shook their heads. "We were just falling in love and having babies," says John. He started in the jewellery wholesale business. As their family got older, Janet could spend more time on the business with John.
They bought Johnson's Jewellers five years ago, and their careers shifted from wholesale to retail. It's a change that they have embraced. John says that they now get to see the jewellery they sell take on a new life. "When I was wholesaling I never saw the end user, I just dropped off somebody 10 rings and I never knew where they went. But now with those 10 rings, I see every finger each goes on. I see each relationship, and that's something that I really enjoy: being a part of somebody's story."
Your key to Belgium's diamond district
Twice a year the Gennaros travel to Antwerp, where they shop for diamonds. Although the diamond district is only about a square mile in area, John says that this is the heart of the world's diamond commerce.
"Seventy to eighty percent of all diamonds go to Antwerp, whether they're rough or finished. At some point, almost every diamond I have has gone through there."
John goes directly to the siteholders, often comparing hundreds of diamonds to find the best one. "If you wanted a 1.5 carat roundstone I would go and pick you the biggest, nicest carat and a half stone that fits your budget."
Design your own heirloom
Johnson's Jewellers can also create custom jewellery. They have a partnership with a goldsmith who has 30 years of experience. John describes him as "wildly talented."
Beginning in January, they will enhance their custom jewellery service with a new computer design service. This will allow customers to test out design elements and instantly see how widening or narrowing or adding an etching will change the look of the finished product.
Johnson's Jewellers are located at 157 Kent Street in Lindsay. Visit their website at www.johnsonjewellers.com and find them on Facebook and Twitter.
---
For more information about the businesses and events of downtown Lindsay, visit www.mylindsay.com.