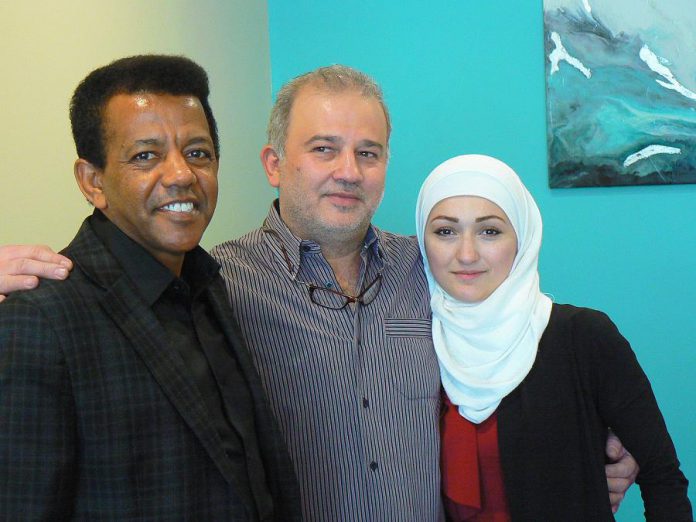 With the support of the community, new Canadians Mohammad and Randa Alftih have opened a new restaurant in downtown Peterborough.
OMG — Oasis Mediterranean Grill — at 460 George Street opens for business today (November 28), with an official grand opening set for Monday, December 5th.
For the Alftihs, this has been an unforgettable year. From their heart-breaking and harrowing decision to leave their Syrian home in Aleppo to the arrival in their new Peterborough home, their lives have changed in many ways.
Far away from their family and friends in Aleppo, this could have been a very lonely and isolating experience for the Alftihs. Yet through the support of their sponsorship group, Safe Haven for Refugees, and through the new friendships they have forged with neighbours and members of their faith community, the family has blossomed.
Now, almost a year later, the family has opened a new restaurant. With 20 years of expertise in running two successful businesses in Aleppo, Mohammad has many skills to bring to the table — not the least of which is his incredible spirit of entrepreneurship and the desire to give his family a good life in Peterborough.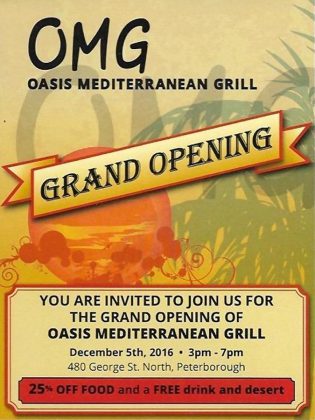 Mohammad and Randa's story is similar in many ways to the stories of other new arrivals. Their first year of getting settled in their new country is made possible through the sponsorship groups that have brought them. But the financial support will run out in the next few months for many, and finding employment in Peterborough, especially for new Canadians can be very tricky. Most of these families have spent their life savings just to get here, and they bring with them only what they can carry in suitcases.
For Mohammad and Randa, opening a small restaurant would have been impossible if it weren't for the fact that, late last spring, long-time Peterborough resident Kenzu Abdella (a mathematics professor at Trent and the President of the Kawartha Muslim Association) offered to become a partner to make their dream of opening a business a reality.
Abdella hopes that their business partnership might serve as a model for the business community of Peterborough and for other recent arrivals. As a member of The Refugee Taskforce, Abdella is only too aware of the fact that sponsorship money will soon end.
"New Canadians bring the skills and experience to really enrich our city," Abdella says. "The last thing they want is to become dependent on social services. They have a strong work ethic and a strong desire to give back to the community. But they can't do it alone."
The grand opening takes place at 460 George Street in downtown Peterborough on Monday, December 5th from 3 to 7 p.m. During the grand opening, the restaurant is offering patrons a 25% discount on food along with a free drink and dessert.
Menu – December 2016