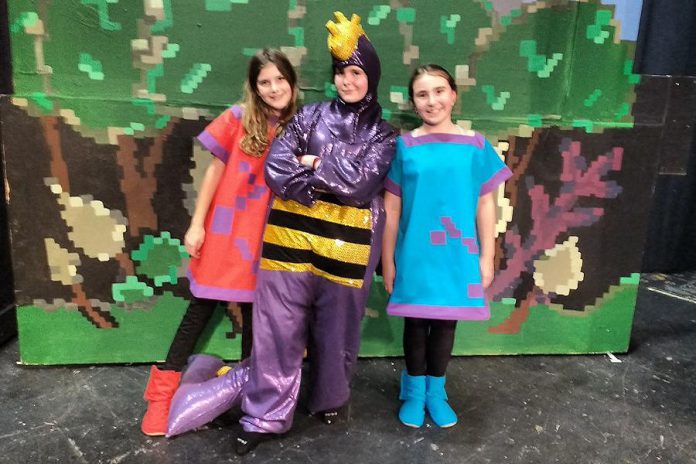 For the past number of years, the Peterborough Theatre Guild has pushed the envelope in creating intelligent and well-produced family theatre for their annual December show.
However, this year director Derek Weatherdon is planning to push the envelope even more when he presents a brand new high-concept version of Kathryn Schultz Miller's play The Reluctant Dragon, based on the book by Kenneth Grahame.
Featuring a cast of more than a dozen young performers joined by three adult actors, Derek is reimagining the story in the form of an 8-bit video game that will appeal to audiences of all ages.
"We were really lucky that we selected a script that came with editing rights," Derek says. "That gave us the opportunity to make all the changes that we wanted to"
"I didn't rewrite the plot or the dialogue," he adds. "The story is the same. You've got a kid, a dragon, and a knight. That doesn't change. But how we present the story is a little more novel. Our story takes place inside of a video game. This is our big clever hook."
In the spirit of video games like The Legend of Zelda and Final Fantasy, Derek and his company create a magical world of villagers and shepherds, knights and soothsayers, and a misunderstood dragon.
When video game characters Widget (Katherine Mason) and Hairytoes (Emily Keller) discover a friendly dragon named Mortimer (Samuelle Weatherdon), their discovery soon alerts the town's cruel Prince Scumworth (Issac Maker) who calls upon the fabled dragon slayer Saint George (Josh Butcher) to come out of retirement for one last battle.
With their new friend in peril, Widget and Hairytoes must find a way to save Mortimer, who has little desire to fight for her life.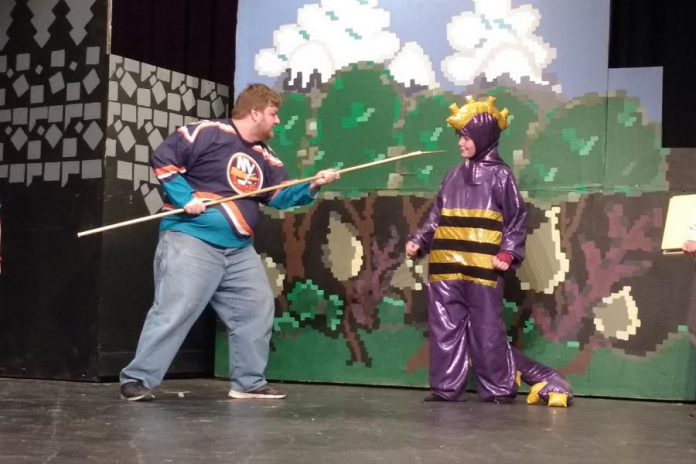 As an added element to the drama, the play takes place inside of a video game controlled by a character called Gamer Girl, played by Aimee Gordon. Described by Aimee as being unlike any of the characters within the play, Gamer Girl was developed as a unique way to create multiple points of contact between the audience and the actors.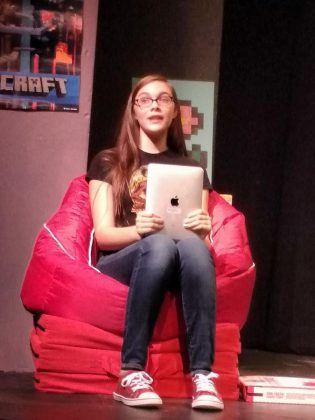 "While everybody else is in the video game, I'm the one who's playing it," Aimee explains. "So I watch what's going on and I make commentary that has nothing to do with the plot. I'm the character the audience can relate to, because they really can't relate to video game characters."
This is a departure from the original script, which calls for five narrators who tell the audience what is happening.
"I don't like narrators," Derek says. "It takes you out of the moment of the drama. So what I did was bring all of those narrators together and give the lines to a character who is playing the game."
Aimee explains why she enjoys her role as Gamer Girl.
"I've always played characters that are sweet girls who are nice to everyone," Aimee says. "I like this role because she's sassy and she just says what she's thinking."
Although this is his first year directing the Guild's Christmas family show, Derek has also directed a number of productions at Queen Elizabeth Public School where he teaches. In fact, Derek convinced a number of students he worked with in past productions, as well as adults who worked on sets for the show, to come work on The Reluctant Dragon.
"One of things I wanted to do in directing this play was bring some of the talented youngsters I have worked with at Queen Elizabeth Public School with me to the Guild," Derek says. "Young talent deserves the chance to shine and grow, and working on a larger scale like this is the logical next step."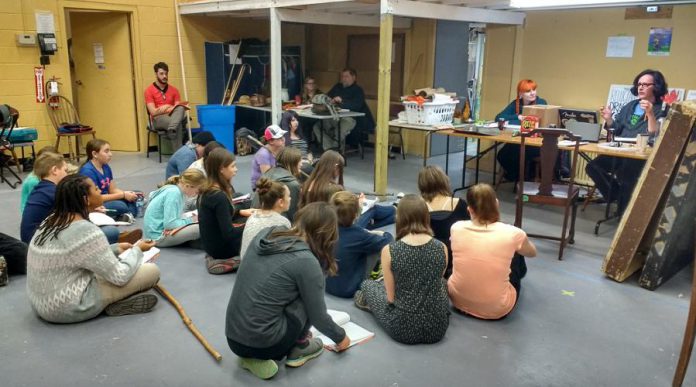 Katherine Mason and Emily Keller, who plays the show's two central characters Widget and Hairytoes, are not only former students of Derek's, but they've worked together on his previous shows and are real-life best friends. This makes for a natural chemistry between these two young performers making their debut on the Theatre Guild stage.
"I'm a kid with an unfortunate name," says Emily of her character Hairytoes. "Basically I meet the dragon and I think he's pretty awesome. I like the dragon because he plays Scrabble."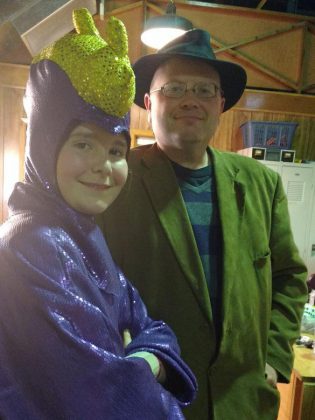 "The dragon isn't so keen on me though," adds Katherine. "She likes Hairytoes more than me, and I don't like that I'm losing my friend to the dragon."
In the role of Mortimer the dragon is Samuelle Weatherdon, who takes on different voices as well as engaging in stage fights to perform the role.
"To become a dragon you have to abandon all sense of humanity," Sam says with a coy grin. "You just can't be human. You just have to be a dragon. You walk weird and you talk weird."
What is different this year is that adult actors, who were absent in the past two previous shows, are returning to the stage for this production. Although greatly outnumbered by the young actors, The Reluctant Dragon features the talents of local favourites Josh Butcher, Kelsey Gordon-Powell, and Sylvie Dasne.
"If you're going to have children playing adults, that's great in an elementary school," Derek says. "But when you've got access to adults, let them play the adults. There are also great opportunities for mentorship there, and you create a more realistic theatre experience for new actors."
"I've always loved working with a younger cast, and this bunch is one of the best casts I've ever worked with," says Josh Butcher of his young co-stars. "They are very focused, very attentive, and very talented, and lots of fun to work with."
"I think we really lucked out with some of our casting," Derek adds. "We have a variety of experience, from multi-page resumes to having never been on stage before, and everyone has done a great job of buying in to what we are trying to do."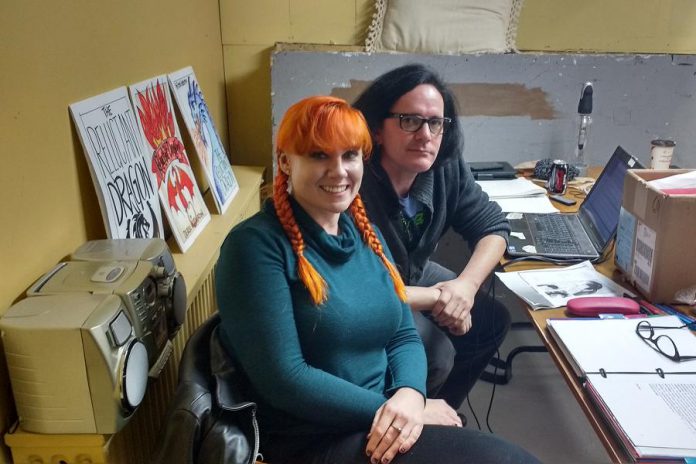 Derek and his company are seeking to create a theatrical experience that's not considered a family show, but a piece of theatre that families can enjoy together.
"Despite the fact we are the family show at the Guild, and that traditionally means an all or mostly youth cast, we don't see this as a kid's show," Derek points out. "It's a show, period. It's for kids and by kids, but it's a show. We don't want anyone leaving saying 'That was a great show … for a bunch of kids'. We want them saying 'That was a great show.' Full stop."
Both Aimee and Samuelle agree with Derek.
"Usually when people think of a children's show, they think of people bringing in their own costumes and not having a set and being done on a school stage," Aimee says. "This is not like that."
"In most children's shows, nobody grows and nobody changes," Samuelle adds. "This isn't a kid's show. This is just a show that has kids in it."
"It has ups and downs. People grow. People change. That's what you want from a good play. You don't want a character to do a bunch of stuff and then nothing changes. You want a group of people who do stuff and make changes. You want to feel for the characters. You want to understand their challenges and how they create the solutions to those problems. You want to see that happen."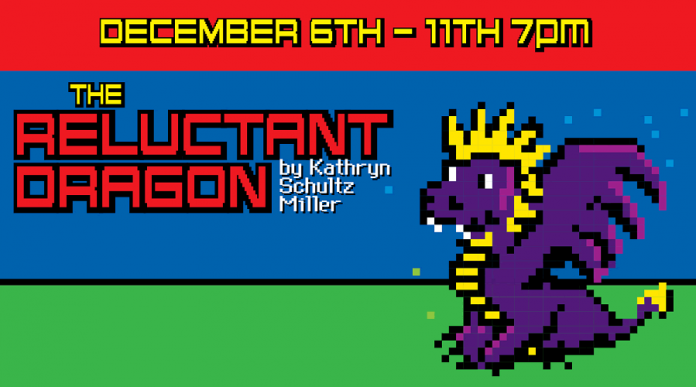 Filled with clever dialogue, inside gamer jokes, and a young and vibrant cast of new faces, The Reluctant Dragon is a smart and highly original show that both adults and children can enjoy together.
"This is going to be a fantastic show," Josh says. "It's not going to be just laughs and funs and video game lulz. This is going to have everything in it. It's going to be an emotional rollercoaster ride."
A favourite holiday tradition for families in the Kawarthas, the Peterborough Theatre Guild's family show always delivers and this year is no exception. Derek and his company have created something pretty fantastic.
Tickets for the annual show go fast, so make sure to purchase your tickets from the box office as soon as possible. This is a show that you don't want to miss out on.
The Reluctant Dragon runs from Tuesday, December 6th to Sunday, December 11th at The Peterborough Theatre Guild. Shows start at 7 p.m., except for 2 p.m. matinees on Saturday and Sunday. Tickets are $5.