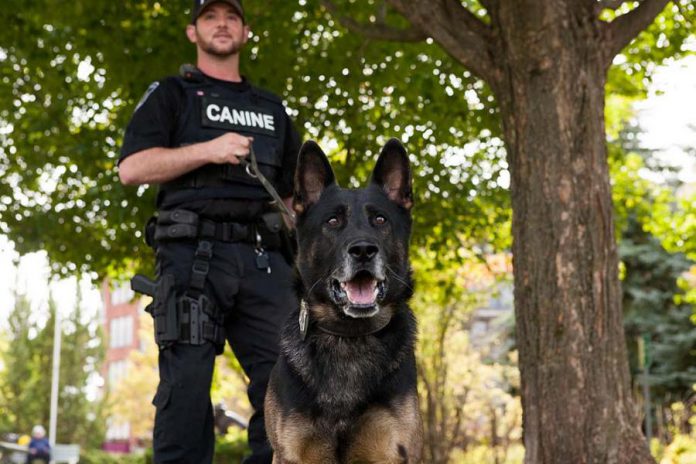 Wolfe, a police service dog (PSD) with the Peterborough Police Service K9 Unit, had a busy Saturday.
Following a weekend break-in at a local medical clinic, PSD Wolfe located two male suspects hiding in a snowbank in the early morning hours of Saturday, December 17th. Later that evening, he located large quantities of illicit drugs in a suspicious vehicle police pulled over.
In the first incident, police received a call at around 1:30 a.m. on regarding an abandoned truck in front of a Medical Drive address.
The investigation revealed that two males had stolen the truck from the driveway of a Downie Street home, broke into the Peterborough Medical Clinic located on Hospital Drive, stole four cash trays from the ATM machine inside, and then attempted to flee the area in the stolen truck.
The truck became lodged in a snowbank and the two males then fled on foot. Officers and the K9 Unit were dispatched to the area and began a search for the suspects.
Following a track by the K9 Unit, Wolfe located the two males hiding in a snowbank in the area of Murray and Reid Streets at around 2:20 a.m. The two males were arrested on scene.
As a result of the investigation, Robert Lemieux, 52, of Melbourne Road in Strathroy, and Christopher Campbell, 53, of Culver Drive in London, were each charged with break and enter, possession of break-in instruments, two counts of possession of property obtained by crime over $5,000, and theft of a motor vehicle.
Later on Saturday, at around 8 p.m., officers conducted a suspicious vehicle stop in the Brookdale Plaza parking lot located on Chemong Road. Previous information provided to police indicated that the accused had threatened a woman known to him then fled the area.
During the incident the K9 Unit was called to attend. During a search of the vehicle, PSD Wolfe located a large amount of cocaine and marijuana in the vehicle. A large quantity of Canadian currency was also located.
As a result of the investigation, a 39-year-old male of no fixed address, Peterborough, was arrested and charged with possession of a schedule II substance for the purpose of trafficking X2 (marijuana under 3kg, cannabis resin under 3kg), possession of a schedule I substance for the purpose of trafficking (cocaine), possession of proceeds of property obtained by crime over $5,000 (Canadian currency), and intimidation.
Due to the domestic nature of this incident, police are not releasing the name of the accused.