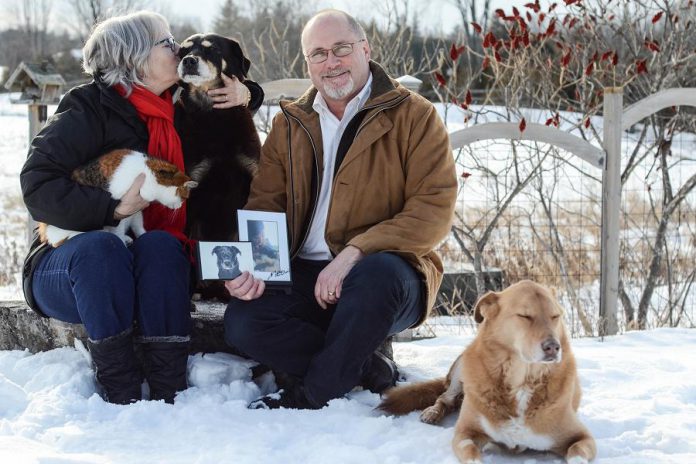 Signe Harrison's eyes light up — she can't resist the opportunity to share the story of her three rescue dogs: Sadie, Luke, and Gus (who passed away last summer). They've made Signe and Stu Harrison's life complete.
Sadie and Gus came from a group that rescues animals from remote northern communities. Luke was orphaned with dozens of other rescue animals after the rescuer's cabin north of Cochrane, Ontario, burned, killing the owner.
"We can't imagine life otherwise," Signe says, adding that they also adopted a kitten from a rescue in Lakefield. "I've never had a time in my life where I didn't have an animal. Stu, on the other hand, had one dog, and then he met me. We've never not had a variety of creatures."
Signe and Stu are what many refer to as 'animal people.' Part of their mission in life is to love animals, so it's no wonder they are standing up as the Honorary Chairs of the Peterborough Humane Society's fourth annual Fur Ball Gala, the signature fundraiser for the local animal shelter.
The gala, themed as 'Top Hats and Tails', takes place the evening of Saturday, February 25th at The Venue in downtown Peterborough.
Susan Dunkley, Manager of Development and Outreach at the Peterborough Humane Society, explains the gala also helps raise awareness about everything the organization does, its past successes, and its future plans.
"The shelter is so much more than what people sometimes think," she says, recounting how she and a group of volunteers spent several hours on New Year's Eve searching a field for a lost puppy who was at risk of freezing. "It's one of the biggest challenges, conveying that we have a new face and a new voice."
That new face and voice is full of energy, full of life, and full of celebration.
"We have so much to celebrate," Dunkley says. "We have a new facility on the horizon, we have a new leader — Andrew Fraser — and we have a lot of love to share with the animals that come into our care."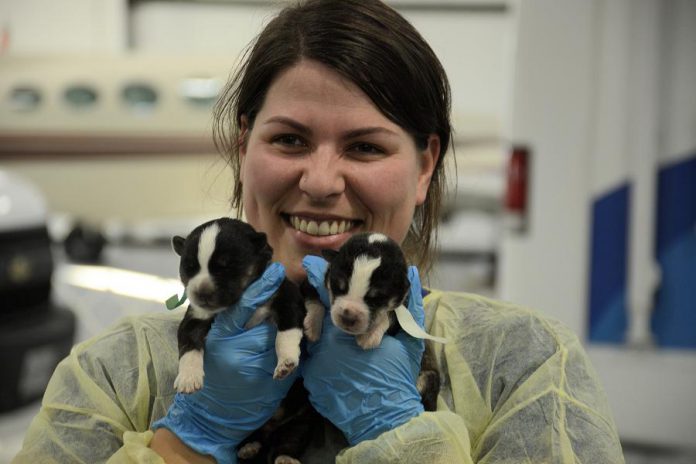 Several events will help generate excitement and energy around the gala itself.
Tickets for the "Jewels and Tools" raffle will be on sale at the shelter ahead of the event, for $10 each or three for $20. Prizes include $800 worth of tools from Larry Electric and a $1,000 diamond and emerald jewelry set from Tompkins Jewellers. The winner will be drawn at the Gala.
As well, local realtors are donating wine for a "Wall of Wine" that will be auctioned at the Gala. Dunkley says she's hoping to get 60 bottles. First prize will be 30 bottles, second is 20, and third is 10.
Finally, "Share the Love" is an event that will take place leading up to Valentine's Day, in which the public is invited to donate everyday items (such as blankets, towels, and toys) to the shelter. Details to come.

When asked what is most important to the Peterborough Humane Society as preparations for the gala ramp up, Dunkley pauses.
"Money is, of course, important. This is our major fundraiser. But it's also so important for the public to know what their donations go towards. The Peterborough Humane Society helps hundreds of animals in need every year and it helps them find their forever homes. Quite simply, the generous giving of every gala attendee and contributer saves animal lives."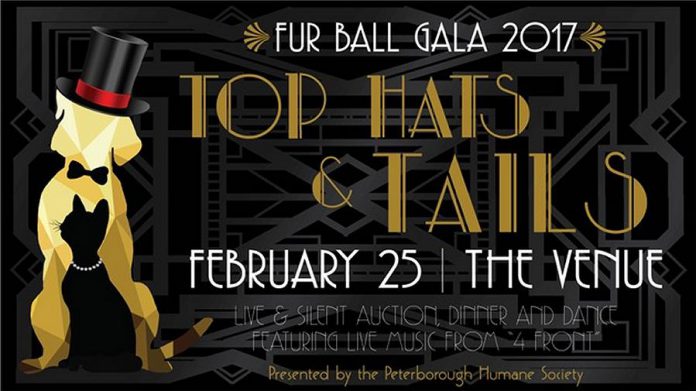 The theme of the Fur Ball Gala is 'Top Hats and Tails', although guests are welcome to wear what they like. It begins at 6 p.m. on Saturday, February 25th at The Venue (286 George St. N., Peterborough) and will feature hors d'oeuvres, custom cocktails, and a gourmet dinner, chocolate, cheese, and aperitifs, followed by dancing into the wee hours with music provided by the lively band 4Front. There will be a live and silent auction, as well as a photo booth.
The evening will be emceed by another animal lover: Keri Ferguson, Senior Anchor and Producer at CHEX TV. Keri has a rescue cat named Sam and a beagle named Reggie.
Gala tickets are $75 per person or $100 for a VIP ticket (which include an exclusive cocktail hour with private entertainment and exclusive access to the photo booth). Tables for 10 are also available for $750 ($1,000 for a VIP table).
Tickets are available at the Peterborough Humane Society (385 Lansdowne Street East, across from Morello's Your Independent Grocer) or online through snapd Peterborough. You can also download and print a ticket order form.
Men who want to dress up for the gala can take advantage of a special offer from Moores, a supporter of the gala. Moores is offering $40 off tux rentals for Fur Ball attendees (use the code 952 294 at any Moores to redeem this offer).
For more information about the Fur Ball Gala or to inquire about sponsorship, please contact Susan Dunkley at s.dunkley@ptbohs.com or 705-760-0746.