When I first moved out on my own, the apartment I lived in faced a seniors' residence. Emergency vehicles being at the residence was a common occurrence, but one night the sky was filled with flashing red lights and sirens surrounding the home. I remember watching through my kitchen window at the barrage of red lights, knowing something different was happening that night.
The next morning I was shocked to find out one of the elderly residents had killed another resident. He had beat him to death with a golf club over some unknown dispute. I never found out what the cause of the murder was, and I wondered to myself just what could drive someone in the twilight of their years to get so angry that he'd take another person's life.
I hadn't thought about this incident for years until I watched the Peterborough Theatre Guild's presentation of Donald L. Coburn's The Gin Game. Suddenly, I started to understand just what may have happened on that fateful night.
Directed by Judi Wilson, The Gin Game stars Steve Foote and Jennie Ryan in a show about two people in a seniors' home playing endless games of gin rummy. Walking into this show, I had certain expectations of what kind of drama I was about to see. We'd get some lively comedic banter, some words of wisdom, a bit of pathos, and maybe a little romance.
What I wasn't expecting is that The Gin Game isn't just about playing cards on a Sunday afternoon. It's about a vicious grudge match that makes the Tyson/Holyfield fight look like a game of marbles. The Gin Game takes everything you expect from a show about seniors playing cards, and it bends the genre into an aggressive battle of wits, words, and powerful personalities.
First debuting in Los Angeles in 1976, The Gin Game won the Pulitzer Prize for Drama in 1978. The play opened on Broadway in 1977 starring married actors Hume Cronyn and Jessica Tandy. Subsequent versions starred E. G. Marshall and Maureen Stapleton, Charles Durning and Julie Harris, James Earl Jones and Cicely Tyson, and Dick Van Dyke and Mary Tyler Moore.
The show takes place in a rundown retirement home where two relatively new residents, Weller Martin (Steve Foote) and Fonsia Dorsey (Jennie Ryan), strike up a conversation on a Sunday afternoon over a game of gin rummy. With no visitors coming to see them on Visitors Day, the pair talks about their lives, their families and their heartbreaks.
However, as the weeks go by, their newfound friendship becomes compromised as the games of rummy get more competitive in nature.
There are multiple things about The Gin Game that I can appreciate, the most obvious being the superb performances by Jennie Ryan and Steve Foote. Both performers are completely in sync and play off each other beautifully. Their banter and connection is so natural and real that often you forget you're watching actors and instead are really observing two lonely people playing a game of cards. Both actors give wonderful natural performances and are wonderful to watch together.
But what becomes more interesting is the way that the characters can turn on each other so quickly. As the show opens, the audience is introduced to two stock elderly characters. Fonsia is sad, alone, and bewildered. Weller is whimsical, eccentric and opinionated. Both aren't ready to admit that they are old yet; they share a belief they are not like the other crippled and idle-minded people who fill the retirement home.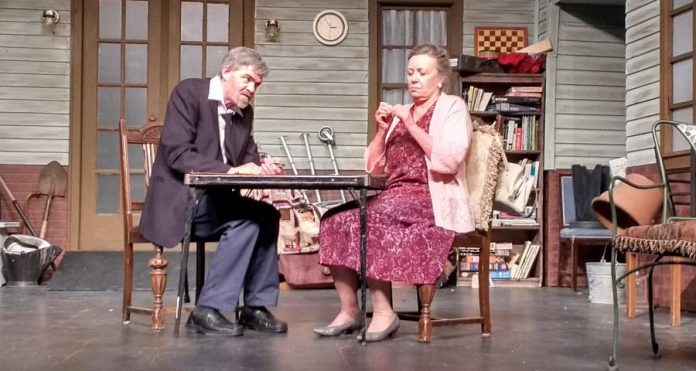 Both of the characters have a certain charm, setting up a series of expectations within the audience about what these characters are all about. But as truths begin to bubble to the surface through the telling of their stories, instead of the warmth and compassion one might expect from characters we thought we knew, Weller and Fonsia use these opportunities to twist the knives they stick into each other's backs and to rub salt deep into the wounds.
Although I don't want to give much away, audiences should prepare themselves for a show that's actually quite aggressive in nature. One of the strongest elements of the play is how the tension between the characters grows with each game of cards and, as the rivalry intensifies, it can get somewhat scary. We begin to see sides to Fonsia and (especially) Weller that we maybe didn't expect — and maybe didn't want to see.
Is The Gin Game a comedy? In the program, the show is called a "Tragi-Comedy in Two Acts." That's a very apt description, one I like much better than just calling it a comedy.
Although the show is quite funny at times, by the second act I didn't find much to laugh about. The audience around me seemed to be laughing throughout, but often it seemed to be nervous laughter as if they weren't sure how to respond. Instead of searching for the comedy, I was drawn into the rivalry between the two characters, and the way that the relationship between Fonsia and Weller continued to change throughout the show.
The Gin Game is a well-crafted show with two fine actors giving strong performances. It's a very interesting piece of theatre and another brave choice in what is turning into an unusual season for the Peterborough Theatre Guild. But be warned that The Gin Game may be more intense than you might have been led to believe. This is not a light comedy.
As the house lights came up at the end of the preview, I distinctively heard one audience member say to another, "Well, that's not what I thought it was going to be." I couldn't have said it better myself.