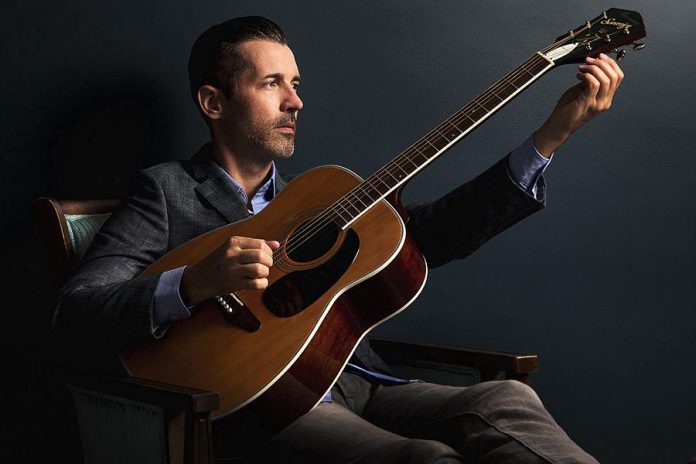 Oh February, you can be such a challenge! There are about 40 days until spring, but who's counting? We've got lots of snowthusiast readers — which is great, and that's why we make sure our outdoor event columns are always current. But at this time of year, let's face it — extreme cold and freezing rain can put a damper on anyone's spirits.
This is why I write this column; to bring you positive news about both indoor events (there are many!) and a few hand selected outdoor events (for Family Day Weekend!). There's a lot to look forward to in February. And when we reach February 28, there will be 22 days until spring. Not that I am counting.
We've got Valentine's Day and Family Day weekend to look forward to this month, so let's share some love for local events.
---
For the love of animals: Max Mouse and The Gorillas

Max Mouse and The Gorillas perform on Sunday afternoon on February 12, raising funds for the Lakefield Animal Welfare Society.

On Sunday, February 12th, Max Mouse and the Gorillas will take the stage at The Historic Red Dog Tavern (189 Hunter St. W., Peterborough, K9H 2L1) to raise funds for the Lakefield Animal Welfare Society (LAWS)
It's an all ages Valentine's Dance from 3 to 6 p.m. with this legendary band made up of local greats Buzz Thompson, Bobby Watson, JP Hovercraft, Jim Leslie, John Lang, and Cris Cuddy.
Tickets are $12 at the door or $10 in advance, available at The Hank to Hendrix Guitar Co. (280 Perry St., Peterborough, 705-740-0965), Moondance (425 George St. N., Peterborough, 705-742-9425), and the LAWS shelter (2887 Lakefield Rd., Lakefield, 705-652-0588).
kawarthaNOW kudos to Max Mouse and the Gorillas for often supporting events for the animals.
Fur Ball 2017 is "Top Hats & Tails" and a class act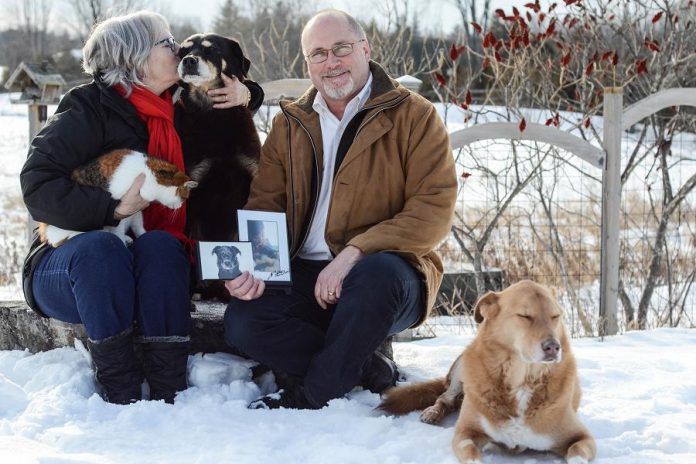 Here's another big event for animal lovers! On Saturday February 25th, the annual Fur Ball gala takes place at The Venue (286 George St. N., Peterborough) to support The Peterborough Humane Society.
Kicking off at 6 p.m., the event will feature hors d'oeuvres, cocktails, a gourmet dinner, chocolate, cheese, aperitifs, live music by 4Front, dancing, a live and silent auction, and a photo booth. VIP tickets include an exclusive cocktail hour with private entertainment and exclusive access to the photo booth.
Gala tickets are $75 per person or $100 for a VIP ticket (which include an exclusive cocktail hour with private entertainment and exclusive access to the photo booth). Tables for 10 are also available for $750 ($1,000 for a VIP table). Tickets are available at the Peterborough Humane Society (385 Lansdowne Street East, across from Morello's Your Independent Grocer) or online through snapd Peterborough. You can also download and print a ticket order form.
Read our story on the Fur Ball Gala by Jeanne Pengelly, featuring Honorary Chairs Signe and Stu Harrison and their fur babies.
Royal Wood brings local love to Showplace on February 14th

Here's one of my favourite recent Royal Wood videos, "Forever and Ever" from his previous album The Burning Bright.

How to plan the perfect Valentine's Day: buy yourself tickets to Royal Wood and tell your partner where he's taking you that evening. Hey, it worked for me and I recommend it.
Whether you've seen Royal Wood before or not, plan to give yourself and your special someone this treat for Valentine's Day. Despite the fact this show is in the main theatre at Showplace Performance Centre (290 George St. N., Peterborough, 705-742-7469), I can promise you that it will feel intimate, up close and personal with this rising Canadian star.
You can read more about Royal's thoughts on that, and his local farm, in our recent interview with him by Josh Fewings.
There are many great seats left as of this story, but don't delay to get yours. Tickets are $34.50 and are available at the Showplace box office or online at www.showplace.org.
This Valentine date night could be the perfect bullseye
This event caught my eye for the originality factor. New to Peterborough last year, the popular Peterborough Axe Club is presenting "Dinner & Axes" at 6 p.m. at Peterborough Axe Club (280 Perry Street, Unit 1, Peterborough).
They are billing this as an evening of combining two of the world's greatest pleasures; delicious food and chucking axes. It's definitely a one-of-a-kind event with a catered sit-down meal followed by an evening of axe throwing. Tickets are $65 per person and must be purchased in advance (no tickets available at the door).
For more information, see our event listing. They get JT picks points for originality on this one!
Plan ahead for the Family Day Long Weekend
One of the great things about the Family Day Long Weekend is the emergence of events that truly are focussed on family and group activities. And we've got an event column for that. Check out our full list of regional Family Day Weekend local events which is chock full of indoor and outdoor fun. Here are a few you might want to check out on Family Day weekend.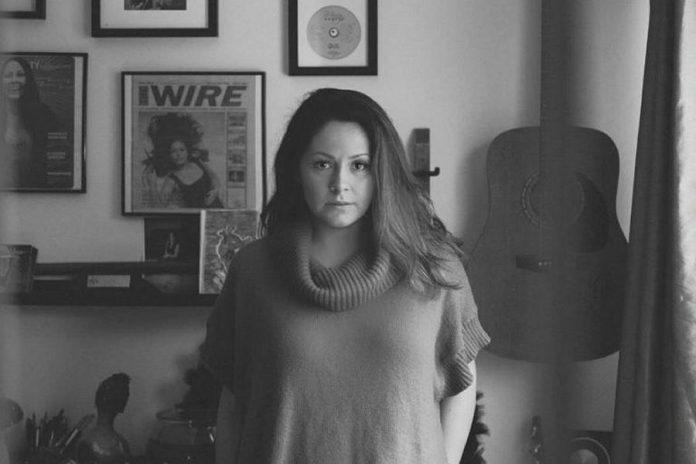 Kick off the long weekend with a concert by local musician Missy Knott, who is celebrating the release of her new EP at 8 p.m. on Friday, February 17th at Market Hall Performing Arts Centre (140 Charlotte St., Peterborough, 705-749-1146). Missy is an accomplished Aboriginal songwriter from Curve Lake. Her musical guests will include Kate Suhr, Jace Martin, Cody Carslake, Gary Williams, Hillary Dumoulin, Mary Kate Edwards, Brian Mehlenbachr, and more. Tickets are $20 plus fees ($15 plus fees for students) and are available at the Market Hall. For more info, see our event listing.
If you're yearning to get outside, maybe enjoy some great local food, and fit in some shopping, then be sure to plan to head to Bobcaygeon. Local business group Impact 32 has organized their first annual "Family FrostFest" to take place all weekend at the Gazebo at Lock 32 (1 Bolton St., Bobcaygeon). Volunteers will be on hand (with hot chocolate!) from noon to 3 p.m. each day over the long weekend. Join in on their snow sculpture contest and enter win a $100 gift certificate for the Bobcaygeon retailer of your choice. Judging will be by people's choice award online. Be sure to save some time to visit lovely downtown Bobcaygeon for great shopping and food! See our event listing for more details.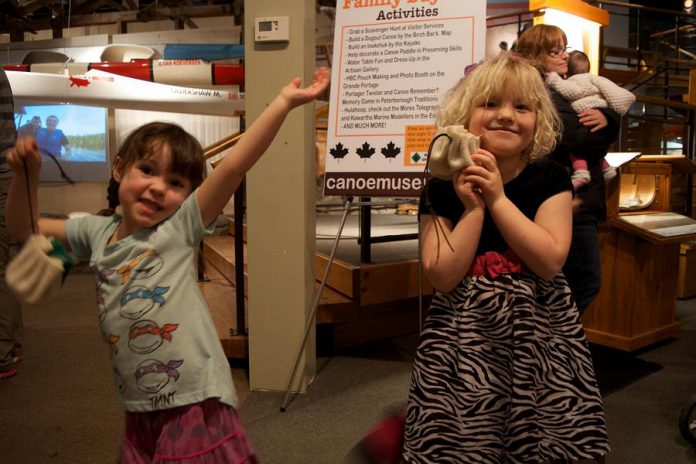 On holiday Monday from 10 a.m. to 3 p.m., The Canadian Canoe Museum (910 Monaghan Rd., Peterborough) is hosting its 3rd Annual Great Canadian Family Day, where you can enjoy 10 pop-up activity stations throughout the galleries for kids of all ages, including crafts, games, a water table, and a photo booth (I love their photo booths!). There will also be a Kawartha Marine Modellers model boat display, artisan demonstrations, Morse Telegraph Club demonstrations, and more. This event is free for Museum members or $25 per family (two adults and up to four kids). See our event listing for more information.
Double love this year for Empty Bowls YWCA on Friday, February 24th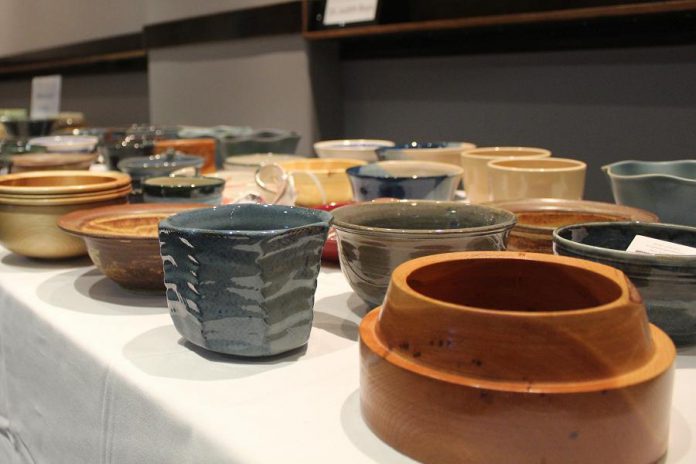 I've always loved the idea of this event: attend, eat great food, and take a local hand-crafted bowl home with you! Oh, and did I mention you're supporting the YWCA too? Well, this year they tugged even further on my hearstrings when they announced that their new "Empty Bowls" title sponsor is the Peterborough and District Dental Society, in memory of Dr. Judith Buys, who passed away last summer following a tragic accident.
"We're so pleased to follow in the footsteps of Dr. Judith Buys by supporting YWCA Food Programs through Empty Bowls," says the Peterborough and District Dental Society. "Good nutrition is the foundation of good general health and dental health. Helping members of our community achieve these goals is our duty as health professionals."
Empty Bowls will take place on Friday, February 24th. For $25, members of the community are invited to enjoy a delicious lunch, donated by local Peterborough restaurants and businesses, and receive an original handcrafted bowl created by a local artisan. Proceeds from Empty Bowls directly support YWCA Food Programs which help women and their families move toward thriving by providing access to healthy food, increasing food literacy and creating new and meaningful connections within their communities.
New this year, Empty Bowls offers two dining options: dine at the Venue or pick up your lunch "to go" from Black Honey Cafe (pick-up orders must be made in advance at the YWCA by February 20th).
kawarthaNOW kudos to the Kawartha Potters Guild, Kawartha Woodturners Guild, and Artisans Centre Peterborough for donating the beautiful, handcrafted bowls for this annual event.
February finishes with a lot of love for music and local theatre
If you're a patron of local music and theatre, I'm sorry to let you know you've got some tough choices to make on Saturday, February 25th as several great events are happening at the same time. As is often the case with these "everything collides" evenings, the important thing is to get out and support at least one of these events! With so much to choose from, be sure to choose at least one and give them our local love support.
Crime City moves to the Gordon Best Theatre for "The Private Eye Effect" on February 25th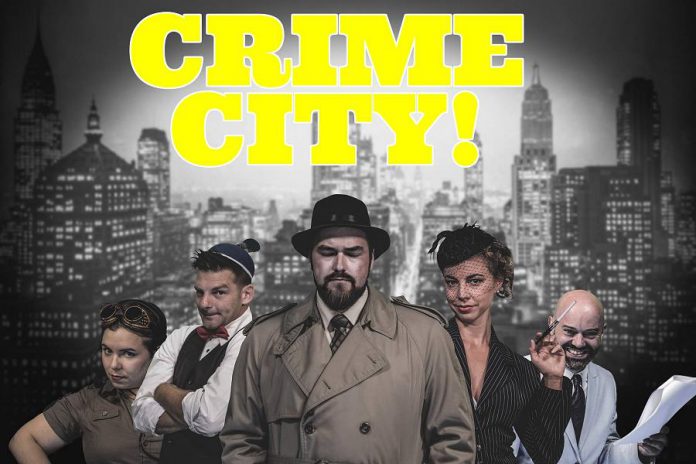 Fans of Andrew Root's Crime City series will know that the pulp detective radio drama parody is moving to the Gordon Best Theatre (216 Hunter St. W., Peterborough) in February for an expanded episode called "The Private Eye Effect". While they'll be returning to the Theatre on King as their regular venue, this evening will provide opportunity for an expanded and hopefully new audience to see their local genius.
This show will star Mike Judson, Marsala Lukianchuk, Kenn Gibb, Dan Smith, Adam Martignetti, Melanie Dubois, and Ray Henderson. A fun ascpect of this evening is the "choose your own adventure" with eight possible endings where the audience will choose the direction of the play. With live sound effects by Melissa Post and special guests Caitlin Currie and Danny Bronson. If you're at all curious about this local hit, head to the Gordon Best Theatre at 8 p.m. on February 25th. Tickets are only $10 at the door.
Local fans may also know that writer/director Andrew is pitching the series to CBC Comedy. Read more about that in our interview with Andrew by Sam Tweedle.
Peterborough Folk Festival's February Folk Folly is returning to downtown Peterborough on February 24 and 25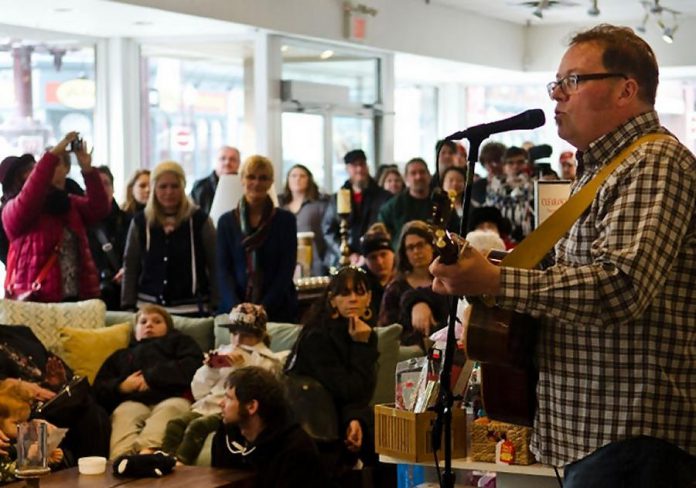 The Peterborough Folk Festival isn't just a summer event. They host regular concerts throughout the year at the Gordon Best as well as the annual "Folk Folly" during February.
Launching this year's event will be a performance by Ontario folk/rock favourites Elliott Brood at 8 p.m. on Friday, February 24th at Market Hall Performing Arts Centre (140 Charlotte St., Peterborough, 705-749-1146). Elliott Brood are a much celebrated band with acclaimed live performances, constant tours, and a number of critically enjoyed records. Opening the show will be local show-stopper Melissa Payne.
Tickets for the show are $20, or $17 for students, plus fees, and are available now at the Market Hall Box Office, online at www.markethall.org,, and (cash only) at Moondance (425 George St. N., Peterborough, 705-742-9425).
After Friday's kick-off concert, the real Folk Folly begins on Saturday, Febuary 25th. Businesses in downtown Peterborough will be hosting concerts from 1 to 6 p.m., while The Red Dog and The Pig's Ear will be hosting after-parties later in the evening. Some of the performers for the free pop-up concerts on Saturday in downtown Peterborough are Murder Murder, Jadea Kelly, Luke Nicholson, Evangeline Gentle, and Melissa Payne (five more acts are to be announced). The pop-up concerts are free and great for all ages!
Murray McLauchlan at Showplace in Peterborough on February 25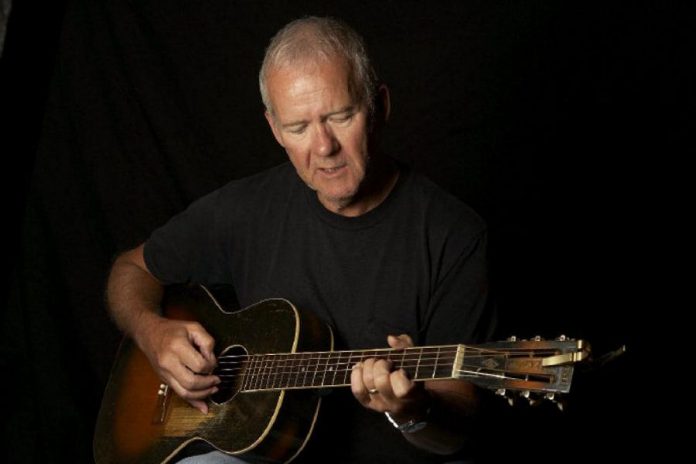 Last but not least is a rare Peterborough performance by Canadian folk icon Murray McLauchlan, who'll be taking the stage at 8 p.m. Showplace Performance Centre (290 George St. N., Peterborough, 705-742-7469). McLauchlan's list of achievements are too long to list here but with numerous albums, awards, and countless great songs, he's always worth the price of admission. Tickets are $45 and are available at Showplace Box Office or online at www.showplace.org.
If you'd like to have your event considered as a top pick, your first step is to make sure to submit it to our event system.
If you want to be in the know about what's coming up (and maybe win tickets!), you should subscribe to our VIP Enews which will arrive in your inbox every Wednesday morning — along with a link to the most recent version of this column. Sign up for our VIP Enews here.
Thanks for reading and please let me know what you think by posting a comment below.