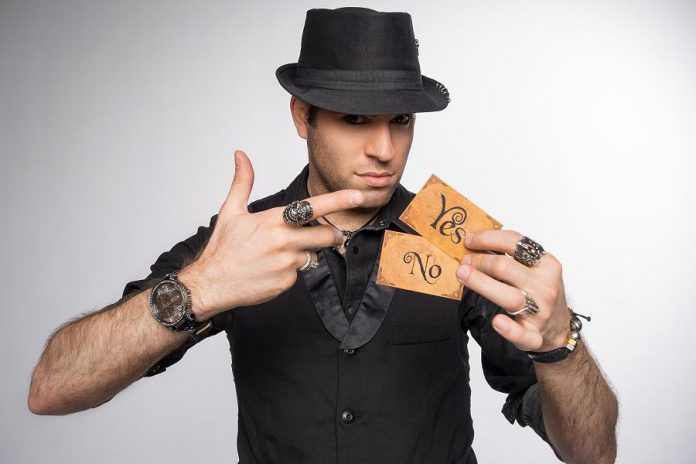 Three years ago, the magician and mentalist known as Spidey was standing on a sound stage in Las Vegas. The occasion was Episode 10 of the first season of the acclaimed reality series Wizard Wars.
Spidey and his partner had just killed it in an involved demonstration of mentalism in front of a studio audience and two audience members in particular: the famed magician duo of Penn Jillette and Raymond Teller, better known as Penn & Teller.
The audience was on their feet, cheering. But the true highlight for Spidey was when Teller — who never speaks when he performs — leapt to his feet in the front row, looked directly at Spidey, and repeatedly said "Bravo!"
"It was one of the most iconic moments of my career," Spidey says from his home in Montreal. "That was huge for me."
Since then Spidey has appeared on Penn & Teller's Fool Us! television series, and they keep in touch.
In the meantime, Spidey keeps busy in his 10th year as a professional, touring the world wowing friendly audiences and skeptics alike with his unique feats of mentalism. He brings his show to Market Hall Performing Arts Centre on Saturday, March 25th.
VIDEO: "Make Believe – Magic of your Mind" – Spidey

"Mentalism is magic of the mind," he says, referencing the title of his critically acclaimed one-man show, "Make Believe: Magic of Your Mind."
Then again, there are more performers besides him: members of the audience who are recruited to be part of the show.
"I'll ask them to focus on a happy memory, without sharing it," Spiday says, after which "I start revealing details of where they were and who they were with" — even going so far as to pull out a specific object from the audience member's innermost thoughts.
This is something you may have seen before, but perhaps not with the kind of "wow" factor that Spidey has been known to illicit from audiences the world over (he's been on America's Got Talent, to name just one of dozens of media appearances).
But here's something that may come as a surprise: it's not a gift or some kind of innate ability.
"It's technique," says the university graduate, who holds a degree in Social Psychology from Concordia University. "It's something you learn and develop, akin to learning to play a music instrument."
He started with card tricks while in high school and he keeps up his chops with sleight-of hand, more as a hobby now than anything. But an increasing fascination with the mental aspect of magic took him down a different path that is best illustrated by the inner workings of what appears, on the surface, to be a simple card trick.
"Sometimes you need someone to pick a certain card," he reveals, "so you have to guide them to pick the card you need them to pick."
Aha! But as to how he does that, he isn't saying.
VIDEO: Joel Meyers & Spidey on Penn & Teller's Fool Us!

What he will tell you is that his technique is sufficiently refined to make a believer out of Penn, who is not generally fond of mentalists.
"Penn is on record for not liking mentalists," Spidey explains, "because they typically say that they're (actually) reading your mind, or your aura, or they're psychic — and Penn really hates false claims like that. He likes magicians who say what it is: it's a trick, it's technique."
And Spidey tells in like it is, so Penn is a fan. Spidey paraphrases what the imposing Penn said about his act at the end of that Wizard Wars show in 2014:
"Mentalism is very hard to do. Mentalism, as an art form, sucks. But I'll tell you, if this is where mentalism is headed, THAT is amazing!"
Spidey's stage name, by the way, comes from his days as a camp counselor while a high school student in Montreal. The Spiderman movie was coming out in theatres and Spidey is a fan of comic books, so he picked that as a camp name for his young charges. The name stuck.
At his show at the Market Hall, Spidey promises to amaze as well as entertain.
"There are things that happen in my show that people would describe as supernatural," he says, adding that he will also briefly address an interest he has, which is the study of séance — and he will demonstrate something along those lines.
"I describe my show as an emotional rollercoaster. There are very intense moments, extremely happy moments, really funny moments, and deeply emotional moments.
"We're going to have a great time."