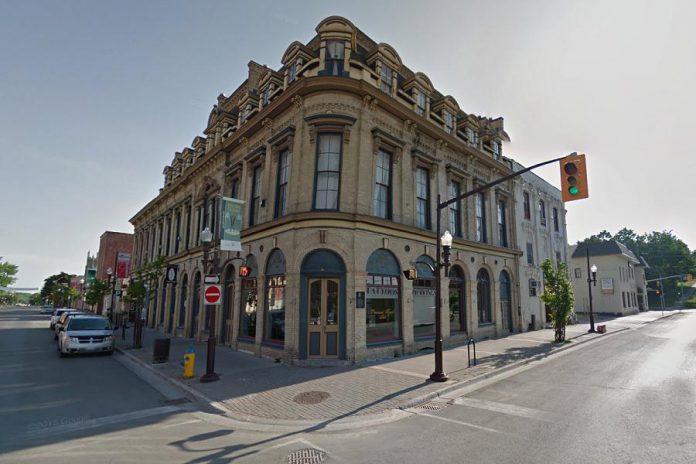 If Peterborough developer Paul Dietrich is frustrated, he's not saying.
That said, the owner and president of Parkview Homes says a "movement" to have heritage designation placed on two downtown Peterborough properties — The Pig's Ear Tavern property at 144 Brock Street which he has purchased and the The Black Horse Pub property at 450 George Street North for which he has made a conditional offer — is "challenging."
"We did our due diligence," Dietrich says. "Hence when we looked at acquiring the properties, we were able to negotiate an amicable price and terms.
"Neither of the properties was designated heritage, so once we had an agreement in place we then made applications for demolition and received the demolition permits. I have them in my desk drawer and I've had them for weeks. The next thing I know there's a movement to have the properties designated heritage."
That "movement" has manifested itself in the form of a March 2nd recommendation to the City of Peterborough from the Peterborough Architectural Conservation Advisory Committee (PACA) that heritage designation be placed on the two buildings — a move that would prevent the historic buildings' demolition and restrict the extent of any redevelopment of them.
This Monday night (March 27), city councillors, sitting as Committee of the Whole, will consider a City staff recommendation that PACAC's request be deferred — allowing time, as agreed March 8 between the City and Dietrich, for some kind of resolution that doesn't involve the buildings' demolition. Councillors can vote in favour of that, or grant the heritage designations that PACAC is seeking.
"There was an understanding that there are other options that can be explored," confirms Dietrich of his meeting with City staff, although he makes very clear what his position is as far as heritage designation of either structure is concerned.
"It would prevent any development moving forward," he says. "I find it very challenging that we do our due diligence and go through all the channels properly and then, after the fact, after we've received our demolition permits, there's a movement to have the properties designated heritage."
Dietrich makes it clear that respect for the past — The Pig's Ear opened in 1865 as the St. Maurice Saloon and The Black Horse building was constructed in 1882, and both are prime examples of the architectural style in vogue at the time of their construction — would be maintained as part of any redevelopment at both sites.
"We would deconstruct some of the interior or exterior facade and, if it's able to be salvaged, we could reconstruct it either somewhere on the outside of the building or on the inside of the building, and actually preserve some of that hard structure," he explains.
"At the same time, there's always opportunities to take pictures, or collect pictures of years gone by, and have them become part of a new development and be able to preserve soft assets such as memories and photos and memorabilia."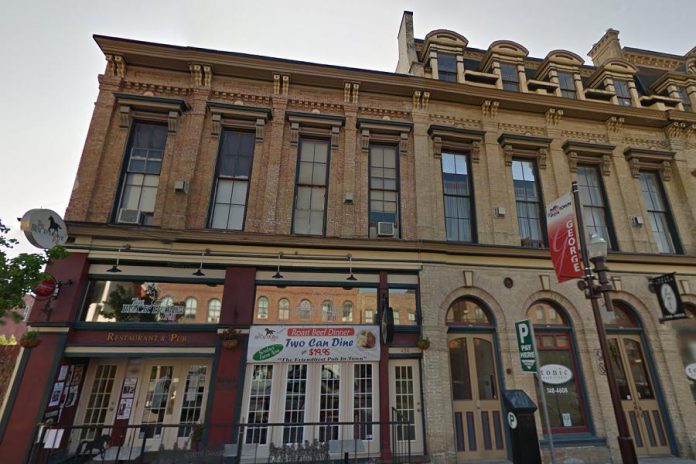 Asked if Parkview's plan for either or both properties includes commercial development on the ground floor, Dietrich said "It's worth exploring, for sure." As for a pub remaining in place at one or both locations, "I'm not ruling that out, but we would want to make sure the City is on board with that."
In a statement emailed to kawarthaNOW, Dietrich listed Parkview's guiding principles when it comes to its planned redevelopment of downtown Peterborough properties as follows:
Development opportunities exist in the downtown of Peterborough.
We, as developers and builders, want to invest in downtown Peterborough to create homes and employment.
The Province of Ontario is encouraging intensification, employment and residential redevelopment in downtown Peterborough.
We see opportunities for both redevelopment and intensification to encourage people to live, work and play in downtown Peterborough.
Downtown Peterborough has considerable options (work/social/entertainment/parks/leisure) to offer to individuals, young professionals and families.
The City of Peterborough has "a lifestyle" that is being recognized, and individuals and families are recognizing this and relocating to Peterborough to enjoy the same.
The Pig's Ear and The Black Horse have history in Peterborough and we, as developers/builders, would recognize the same in any redevelopment by incorporating some of the hard structure (building) and some of the soft structure (memories) in a new development that would enhance downtown Peterborough.
In our interview with Dietrich, he says that, since news of his purchase of The Pig's Ear property became known, he has received "a tremendous amount of phone calls from various patrons of years gone by" but, surprisingly, redevelopment of the buildings hasn't been the subject of those enquiries.
"Every single call, without exception, was 'What are you going to do with the contents of The Pig's Ear?'" he says.
"'There's a piece of paneling in one of the washrooms that has my parents' names engraved on it. You know, the heart and arrow and that kind of thing. Can I buy that?' The next call I got after that was 'There's a table inside where I carved in my wife's name, my fiancé at the time … we carved our names into the table.'
"I didn't receive one phone call from anybody saying 'It's such a shame. I'm sure you're going to be tearing down the building and building something because you're a new home builder and that's what you do.' The calls were about something inside the structure."
"The biggest treasure I thought I'd get a call is the sign on the outside of the building. Not one. I thought that was kind of odd."
Now, along with PACAC members, advocates of the preservation of historic structures and many who have simply sipped a pint or two at one or both pubs, Dietrich's attention is focused on this Monday night's 6:30 p.m. council committee meeting at City Hall and a decision on the City staff recommendation to defer PACAC's call for heritage designation.
Regardless of which way the vote goes, says Dietrich, it will have an impact on his plans for both properties.
In the meantime, The Black Horse property, as of Saturday (March 25), remained listed for sale by Terry Horrigan of Century 21 with an asking price of $850,000.
kawarthaNOW reached out to Black Horse owner Ray Kapoor for comment on this story but the call was not returned.