The early signs of spring are here: warmer weather, longer days, and … the emergence of dog poop from all its winter hiding places.
This is the time of year when we discover (or rediscover) all the feces that have been left behind by our furry friends in our yards, local parks, and sidewalks. While backyards and parks that are scattered in pet waste are smelly and gross, and even though it is unpleasant, scooping up that poop will help us to keep our waterways clean and healthy.
Dog waste, as well as waste from other warm-blooded animals such as cats, ducks, and geese, contains E. coli bacteria, which is harmful to us if consumed. Viruses, bacteria, and parasites found in pet waste can be harmful to humans and to other animals, too.
When the April showers hit, rainwater carries animal waste into our storm drains, and then on to our local waterways. Runoff that enters storm drains remains untreated as it enters streams and rivers, taking E. coli along with it, potentially causing harm to fish and wildlife living there, impacting our beaches, and polluting the water.
Once it reaches our lakes and rivers, the high levels of phosphorus and nitrogen in dog waste can also promote algae growth limiting light available to aquatic plants, and reducing oxygen in the water that is needed by fish.
While walking their pet, most pet owners deal with pet waste using a small bag to stoop-and-scoop. It is also very important to dispose of that bag properly; what happens after you pick up the poop is very important. Placing pet waste in the garbage can is a very important step for protecting our waterways.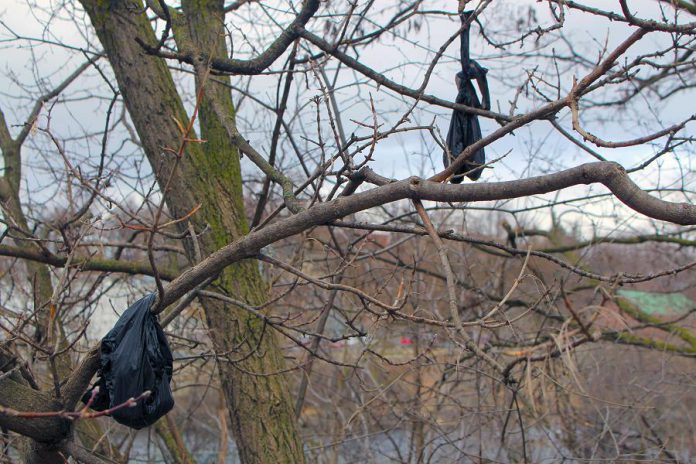 The most environmentally friendly way to dispose of that dog waste is to bring the bag home, flush the waste down the toilet, and throw the bag into the garbage. Compostable pet waste bags are available and can be placed in the composter.
When animal waste is thrown away into the garbage can, it travels to the landfill, which adds to methane production, a harmful greenhouse gas. Therefore, flushing the poop (and only the poop!) down the toilet allows it to be treated and disposed of properly along with human waste at the Waste Water Treatment Plant.
Another option for disposing of pet waste is in an anaerobic digester, which is a composting system for breaking down kitchen and yard waste. Microorganisms living within the anaerobic digester decompose kitchen and pet waste, releasing nutrients back into the ground. However, this system can only handle limited amounts of pet waste at a time, because too much will slow decomposition.
The GreenUP Store carries a digester called the 'Bardmatic' model, which can decompose items that standard backyard composters can't handle — including citrus, cooked foods, meat, bones, bread, and even dog and cat poop.
It is important to ensure that we manage the waste of our other furry friends: cats.
Although it is usually more inconspicuous, feline waste can contain harmful parasites and bacteria. Since sewage treatment plants cannot remove some of the parasites found in feline feces, such as Toxoplasma gondii, it is best to dispose of feline waste in the garbage … and never flush kitty litters down the toilet. As far as kitty litters go, wheat, corn, or pine litters are biodegradable, so they are more environmentally friendly options.
Dogs and cats are the biggest source of animal waste in cities, but E. coli is also contained within the feces of farm animals, including cows, sheep, hogs, and chickens. John Armour, Water Quality Specialist with the Peterborough Water Treatment Plant points out, "In Peterborough, there are not a lot of [E. coli inputs] from agriculture or industry upstream from us."
Many farmers have taken actions to prevent their animals from accessing nearby waterways. For instance, Water Quality Analyst Christine van Tol's family has beef cattle, and they have integrated a nose pump water feed for cows. It includes a hose that extends to their pond instead of having the cows walk down to the water's edge for a drink.
"We train the cows how to use their noses to pump water from the pond," Van Tol explains. "This keeps the cattle out of the pond, ensures that they have a water source, and keeps the manure out of the water. A lot of farmers we know have the same nose pump system."
We can all do our part to protect waterways in the city by picking up and properly disposing of pet waste. Keeping up these practices will help us to have a cleaner and greener spring!