It is officially spring! The snow we saw last week sent many of us back into hiding for a few days, but despite this brief return of winter, you may have already hauled your bicycle out of the garage, checked the tires, and taken it for a spin.
As a fair-weather cyclist, I am always eager to get on my bikes each spring. Again this year, at the first sign of warm sunshine and dry roads clear of snow, I was digging through the shed past the snow shovels and toboggans, to clear the way for my bikes.
I have two bikes: one for going fast and travelling longer distances, and a step-through cruiser bike for going at a nice, leisurely pace to nearby destinations. For years I have gotten by with minor maintenance and quick fixes to small mechanical issues. This year, I am faced with a new dilemma: both of my bikes require some TLC.
That is why I am excited about Bike Night, a new program offered by GreenUP and B!KE, with help from the Ontario Trillium Foundation and the City of Peterborough. Bike Night is a free community program running every Thursday evening from April to September. Each Thursday focuses on a different theme to help make riding your bike easy, convenient, and fun.
Thank goodness each Thursday in April is planned to help us all get tuned up and geared up for hopping on our bikes. Starting on April 6th, the very first Bike Night is a two-hour workshop to help you (and me) get our bikes ready for spring, while teaching us about the basics of maintaining our bikes throughout the season.
The workshop takes place from 5:30 to 7:30 p.m. at B!KE The Community Bike Shop (293 George St., Peterborough). Register at peterboroughmoves.com/events-workshops/bike-night/.
Bike Nights falling on the first Thursday of each month are dedicated to bike mechanics including repair, maintenance, and building.
If your kids are eager to begin biking to school and the playground, bring the kids to the second Bike Night on Thursday, April 13th for a special Family Bike Tune-up. The workshop will cover the ABC's of bike maintenance in a playful and accessible way. Be prepared to work as a family on each bicycle, in turn. Kids aged 8 to 12 often demonstrate the most interest and ability to work on bicycles.
In fact, Bike Nights falling on the second Thursday of each month will be family-friendly and fun for kids of all ages. Family Bike Nights being offered throughout the season include family bike games to practice maneuverability, visibility, and control, and a family group ride, or Kiddical Mass in June.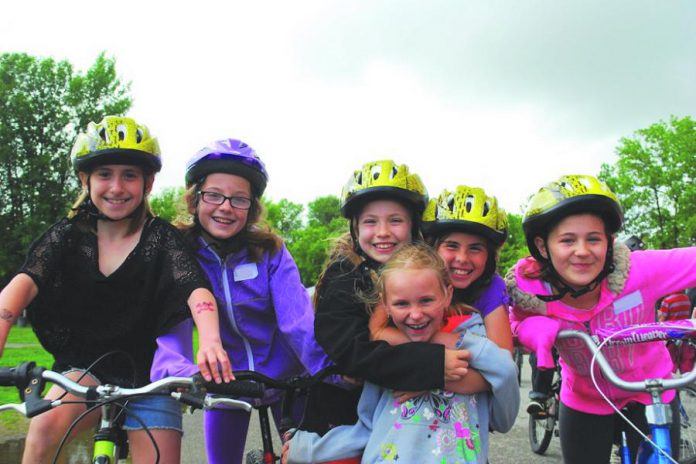 Once my bikes are ready to roll, I mostly use them for commuting to work or to run errands. I find that cycling lanes and paved trails make getting around Peterborough more convenient than getting in the car. Riding also gives me the opportunity to choose routes that are tucked away on trails along green spaces or that allow me to take in picturesque views Jackson Creek, Little Lake, or the Otonabee River along my way.
I have only been commuting on bike for about three years. It took some time to learn the routes that worked best for my most common destinations (while avoiding the hills), but getting to know the routes have been fun and rewarding. If you and your family are thinking about making the switch to bicycle commuting, check out Bike Night on the third Thursday of each month for workshops specifically focused on commuter skills, route planning, and gear talks that will build your confidence to get you on your bike.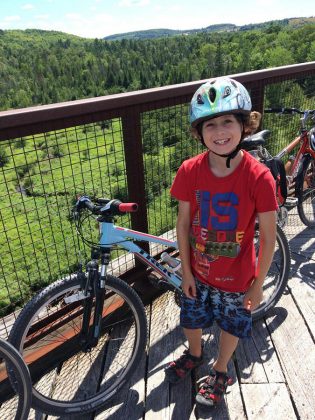 Cycling is great for getting around, but on sunny weekends, I also enjoy taking the Trans Canada Trail through Jackson Park to the Orange Corners trestle bridge to take in the breathtaking views.
Peterborough also has many mapped road routes for those who love tackling hills and drumlins. What a great way to get fit and to also visit restaurants, pubs, and bakeries in the surrounding townships.
I was once told that you are not truly a "Peterborian" until you ride your bike to Lakefield for ice cream. After living in Peterborough for 15 years, I finally made the trip last spring — I've never tasted ice cream so delicious.
Never tried a longer, more scenic trip on your bike? Now is your chance.
Bike Night on the fourth Thursday of each month will focus on discovery rides. Group rides will visit parks, galleries, new trails, and gardens — and rumour has it, there is a buttertarts-by-bike trip being planned.
You can also check out five SPARK Spin routes offered this year as part of SPARK Photo Festival. Self-guided routes are available on-line, each with photo exhibit stops along the way. Routes travel through Peterborough, Lakefield, Bridgenorth, Douro, Campbellford, and Warkworth! Two guided tours will be led by GreenUP and SPARK, on April 8th and April 22nd.
No matter what type of cycling you enjoy, Peterborough is flush with options for every type of cyclist. Join Bike Night staring April 6th through to the end of September to build skills, gain confidence, learn the rules of the road, explore new routes, and have fun with your family.
Be sure to check out peterboroughmoves.com for registration details as some workshops have limited participant numbers. For more information contact Lindsay Stroud, GreenUP Manager of Transportation and Urban Design Programs at lindsay.stroud@greenup.on.ca or 705-745-3238 x209.
ALl photos courtesy of GreenUP.