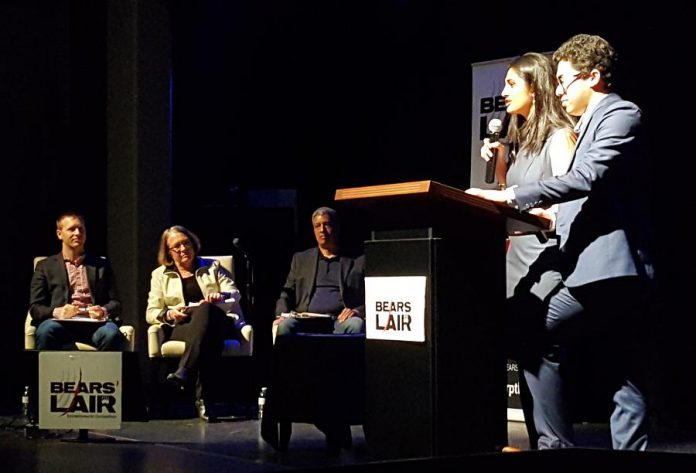 Lab Improvements and Loch have won the 2017 Bears' Lair Entrepreneurial Competition.
The grand finale was held tonight (April 25) at The Venue in downtown Peterborough, where six finalists pitched their businesses to the panel of three judges, facing cross-examination and challenging questions and feedback before a live audience.
Alex Bushell of Lab Improvements won in the innovation stream. His company manufactures CapTrack, a portable benchtop-sized device that manages refrigerated inventory and recaps specimen tubes for medical laboratories.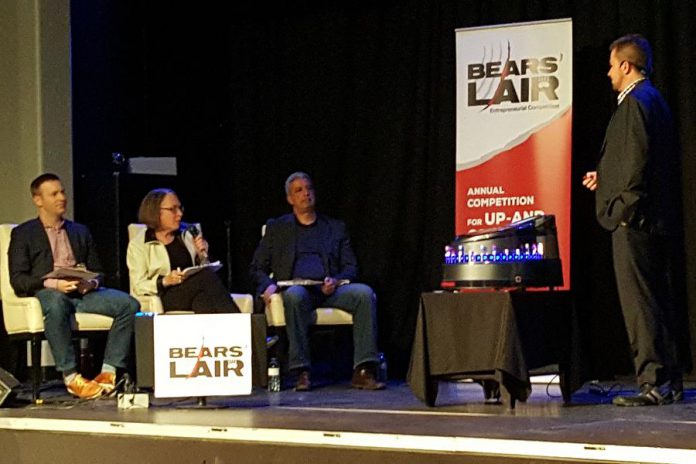 Loch won in the goods and services stream. Brothers Dan and Tim Waggoner craft sunglasses exclusively from 500-year-old water-recovered timber reclaimed from the Great Lakes.
The judges for the event were James Sculthorpe, President of Yorkshire Valley Farms (an Ontario-based food company that handles production logistics, marketing, and sales for organic chicken, turkey, and egg products), Kate Ramsay (a fifth-generation family business owner, venture philanthropist, and angel investor), and Warren Faleiro, Chief Technology Officer of FreshBooks (a Toronto startup that offers cloud-based accounting software for small businesses).
The judges scored the presentations based on innovation, commercialization, diversification, business plan quality, and the benefit to the local economy.
"We see an innovative idea that solves a problem their customers see relevant," explained Warren Faleiro.
"Bears' Lair forced me to get out of my comfort zone," said Bushell of Lab Improvements. "We like using local suppliers. Right now we can drive 10 minutes to our manufacturer and we are looking forward to continue to utilize other local talent."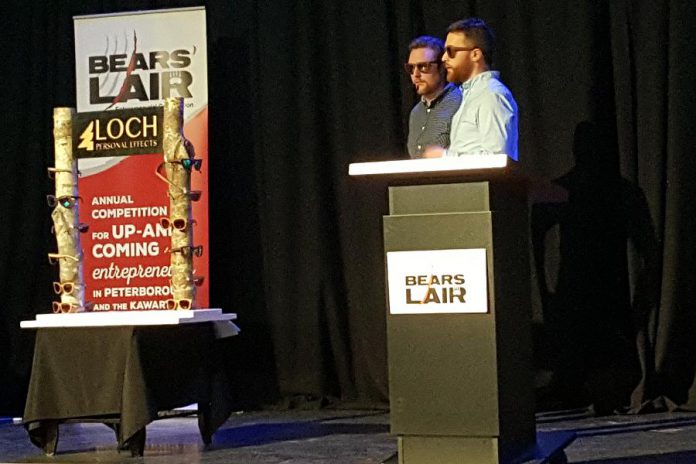 "We're really grateful that Bears' Lair exists and that there is such a supportive community for start-ups and entrepreneurs," said Tim Waggoner of Loch. "The prize package is going to push our business forward even further and faster."
Lab Improvements and Loch each won $5,000 in cash and over $20,000 in business support services each. The cash and business support services, including marketing and advertising, public relations services, accounting services, strategic planning and consulting services, computers, office equipment and more were donated by the 2017 Bears' Lair sponsors.
The other finalists in the innovation stream were Dock HitchHinge, which manufacturers a totally self-contained coupling system that allows docks to be installed and removed with ease, and Mont Pellier, a company that uses a software platform to help retailers present and manage their inventory in virtual reality.
The other finalists in the good and services stream were TreeWell Limited (That Dam Tea), which brews an anti-anxiety and anti-stress drink containing Damiana, and Ship Shape Service, a dockside interior boat cleaning company owned and operated by Kelli Coon.
Each of the other four finalists received $1,000 as runners up.
FastStart awarded $200 to Alex Bushell from Lab Improvements, an entrepreneur under the age of 30. The Women's Business Network of Peterborough awarded a free 2017/2018 membership to Kelli Coon from Ship Shape Service.
"We had a very robust line up of entrepreneurs this year," said Diane Richard, Chair of the 2017 competition. "They all did an remarkable job with their business plans, displays and pitches. We applaud everyone who participated in this year's competition and we encourage them to continue to develop and grow their businesses and connect with the Peterborough and the Kawarthas business support community."