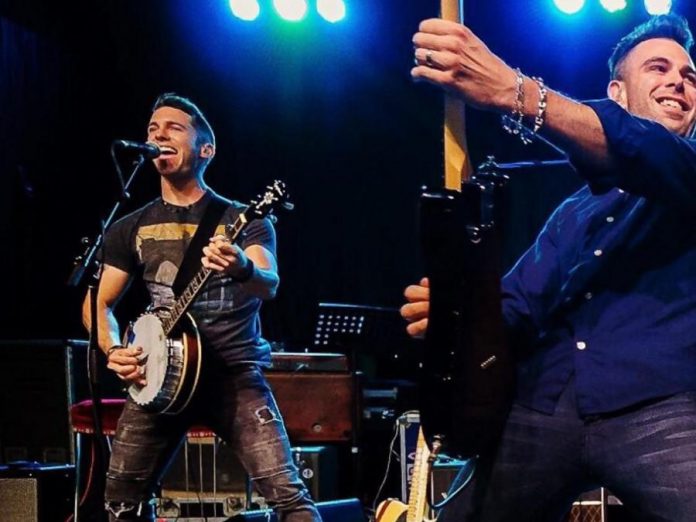 Celebrate Canadian country music on the shores of Lake Ontario at the Country Wild Music Festival on Saturday, June 3rd in Cobourg.
Ontario natives Cold Creek County — who were nominated for the 2017 Juno Awards Breakthrough Group of the Year — are headlining the one-day festival, which takes place from 3 to 10 p.m. at Victoria Park.
Other bands performing during the festival are Runaway Angel, Gentlemen Husbands, Kansas Stone, Colin Amey, Sacha, Sawmill Road, SweetGrass Band, and Marc Ekins.
The festival has been organized by Cobourg locals Matt Williams and J Andrew Hall of Cobourg Music Festivals Inc., which aims to be a partner in music-inclusive events in Northumberland County and to promote Cobourg as a thriving musical destination.
Country Wild Music Festival is the first large-scale event hosted by the organization.
"Cobourg has a unique landscape and we are thrilled to bring a new music themed event to the Town," says Williams, who is himself a country music artist. "As a musician and fan, I feel blessed to be able to bring that passion to my hometown and celebrate the incredible talent of my fellow Canadian musicians."
The festival is showcasing Canadian country music in recognition of Canada's 150th birthday year celebrations.
"This is the first event of its kind to take place in Cobourg and we are thrilled to debut during Canada's 150th celebration year," says Hall. "We hope this event will excite country music fans and draw a crowd that will allow us to continue to grow each year, bringing new Canadian and international talent to the festival."
General admission tickets for the festival are $35 (plus tax) and are available online at ticketfly.com. VIP tickets are already sold out.
For more information about the Country Wild Music Festival, visit countrywild.ca.
---
Cold Creek County
Getting their start in Brighton, country rock group Cold Creek County were nominated for the 2017 Juno Awards' Breakthrough Group of the Year. The band has toured with Dallas Smith, Emerson Drive, Kira Isabella, and Jason Blaine. Their 2015 debut single "Our Town" reached the top 10 on the Billboard Canada Country chart, and their debut album Till the Wheels Come Off was released in October 2015.
Current band members are Ches Anthony (vocals and acoustic guitar), Doug Oliver (drums and vocals), Trevor MacLeod (lead guitar), Josh Lester (guitar and vocals), Justin Lester (bass and vocals), and Jordan Honsinger (banjo and vocals). The band has been nominated for four Country Music Association of Ontario awards: Single of the Year for "Beer Weather", Album of the Year for Till The Wheels Come Off, Group or Duo of the Year, and Fans' Choice.
Runaway Angel
This power trio of female musicians from the GTA (Cadence Grace, Ann Chaplin, and Stacey Zegers) has been nominated for eight Ontario Country Music Awards since 2015. They have rocked the crowds at major festivals like Boots & Hearts, Havelock Jamboree, Kipawa Countryfest, and Lucknow's Music in the Fields, opening for mega country acts like Dierks Bentley, Dallas Smith, Tim Hicks, Chad Brownlee, Doc Walker, Emerson Drive, and Jason Blaine.
Gentlemen Husbands
Cobourg's own Gentlemen Husbands (Ryan Hutcheson, Dan Farrell, Derrick Ballard, and Jed Atkinson) have built an expansive sound around compelling lyrics influenced by such artists as Counting Crows, Ryan Adams, and Bruce Springsteen. They have toured with Matthew Good and performed with The Tragically Hip, Arkells, Ron Sexsmith, Alberta Cross, Hollerado, and more. They were signed to Universal Music Canada in 2013.
Kansas Stone
Ontario's Kansas Stone (Brian Vain, Matt Davey) is a high-energy country band with a sound that covers old and new country, blues, rock, and more. Their original songs are influenced by musicians like Waylon Jennings, Garth Brooks, Alabama, Johnny Cash, and more.
Colin Amey
Marmora native Colin Amey has released four records since 1998, with two of his singles reaching the Top 20 on the RPM Country Tracks chart in Canada. He has performed with such leading country artists as Shenandoah, Bryan White, Joe Diffie, Wade Hayes, Pirates of the Mississippi, Perfect Strangers, and the Wilkinsons.
Sacha
Sacha was the winner of The Next Country Music Star 2016, a competition that made way for her to perform at Havelock Country Jamboree among acts such as The Band Perry, Terri Clark, The Good Brothers, Tebey, and more. Top pick by the Country Music Association of Ontario placed her on the Artist Spotlight stage during Lucknow Music In The Fields festival, a line up which featured major Canadian and American country artists. She kicked the new year off as one of the openers for Brett Kissel's "Ice Snow 30 Below Tour" at the Rose Theatre in Brampton. Currently, Sacha just
released her new single to country radio called "Small Town History".
Sawmill Road
Northumberland County's Sawmill Road was formed in 2006 by Rob Hood and Duane Eddy. After performing only a handful of shows on their own, the band was hired by Canadian country music star John Landry to perform as his stage band. Sawmill Road has since shared the stage with big name Canadian acts such as The Corb Lund Band, Amanda Wilkinson, Tara Lynn Hart, Tommy Cash, and Julian Austin. In 2013, the band (which now also includes Dane Perry) released their debut record Cryin', Lovin' & Drinkin.
SweetGrass Band
Hailing from Alderville First Nation, Cobourg, and Peterborough, SweetGrass Band (Jimbob Marsden, Ginny Mcilmoyle, Mike Del Mastro, Lorne Lean, and John Partridge) are a bluegrass band with an edge. In 2014, they were nominated as the Most Promising Group at the Central Canadian Bluesgrass Awards.
Marc Ekins
Lindsay native Marc Ekins has opened for Canadian artists such as Great Big Sea, The Road Hammers, Aaron Pritchett, Chris Cummings, Julian Austin, and Amy Skye just to name a few. With his eclectic mix of music (country, rock, blues, folk, Celtic, and swing), he's a high-energy performer who works hard to get the audience dancing and singing along. His original songs have gotten rave reviews from fair and festival goers all over North America.