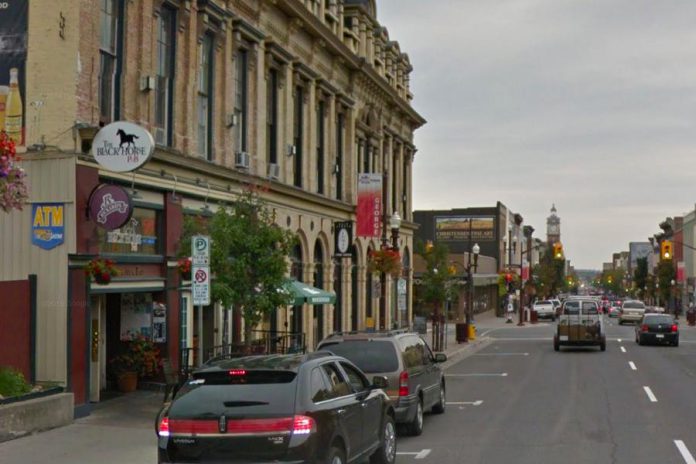 Pints will be poured and live music will resound at The Black Horse Pub … for now.
Ray Kapoor, owner of the property at 450 George Street North that's home to the pub and three upper floor apartments, confirmed Thursday night (May 4) that a conditional deal that would have seen the property sold to Parkview Homes has fallen through.
According to Kapoor, conditions related to "due diligence" weren't met by Parkview Homes by the deadline.
"There's no deal. Yesterday he (Parkview Homes president Paul Dietrich) had a choice to remove all the conditions and he failed to do so. He texted me 'Ray, now that our deal is dead, what now?' I refused to text back because that's not how it's done professionally. He had a choice to come down and talk to me."
"The pub is open … it's business as usual," say Kapoor, noting the real estate listing for the property will be immediately reactivated with Terry Horrigan of Century 21 with a list price of $850,000.
On the Black Horse Facebook page, a Thursday night posting reported the conditional sale is "dead as a doorknob."
Kapoor says the last few months have been an emotional roller coaster of sorts.
"We tried to work with Parkview to make (the sale) happen but unfortunately their ideas are different than those of an owner or private individual who has worked all their lives to build something for their retirement.
"In a way, yes, I'm disappointed. I was looking forward to the future but if you've got to work, you've got to work. We'll put it back on the market and hope for the best. There's a buyer out there somewhere."
Kapoor stresses he always made it clear that Parkview's offer was conditional and, as such, ownership remained in his hands. Media reports that portrayed the sale as being a done deal were frustrating, he adds.
"This has been a learning experience for me," he says.
The building that houses The Black Horse was constructed in 1882 by George A. Cox and James Stevenson as an addition to the 442-448 George Street — The Morrow Bulding — at the northeast corner of George and Brock streets. It has never been granted heritage designation — a protection that would prevent its outright demolition.
Parkview Homes, which purchased The Pig's Ear property at 144 Brock Street, made clear its intention to develop apartment units at that location as well as at 450 George Street North.
To that end, it sought and secured demolition permits for both properties, setting of a firestorm of reaction from heritage preservation advocates and resulting in city council's direction that City staff work closely with Parkview Homes to come up with suitable designs for both buildings that will fit in with the character of the neighbouring Morrow Building.
It is unknown at this time whether Parkview Homes will make another offer on the Black Horse property or how Parkview Homes' plans for the location will change if it does not acquire the Black Horse property.