This month, Eva Fisher uses artificial intelligence to find local food, explores the connection between food, theatre, and history with the Globus Theatre, enjoys lunch with a tea sommelier at Bumbleberry Bistro, learns more about Mexican spreads and sauces from La Mesita Catering, and celebrates the flower moon with South Pond Farms.
---
New locally developed app uses artificial intelligence to recommend food based on your mood
Sultan Moni has developed a new app that will recommend local restaurants to you based on your mood and preferences.
Sultan first got the inspiration for Zatiq from another app that you might have on your phone.
"I was lying down in bed one day listening to Spotify, and I was hungry but I didn't know what I wanted to eat. So I thought — what if there was Spotify for food? That was the first lightbulb."
You can choose from mood options, like moody, bored, or happy. Maybe you know you want curry, but you're not sure where to go. Click the curry button.
The app also makes suggestions for specific situations, like date night or for when you are particularly hungry. Zatiq will recommend the top five restaurants based on what you choose.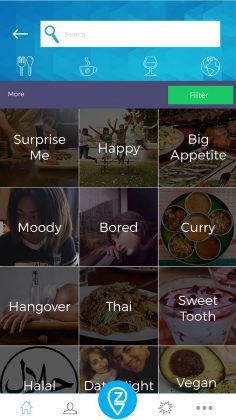 The app begins by making generic suggestions but, as you use it, it becomes more attuned to your culinary preferences. That means when you click that moody button, Zatiq will take you to a restaurant, cafe, or nightclub that is specifically selected to boost your mood. The app will use information from people who have similar culinary preferences to you to make a customized suggestion.
Zatiq will also include social features. You can connect with people who have similar dietary preferences. You can also post reviews of the restaurants that you visit, and browse reviews from other users.
Sultan grew up in Abu Dhabi. He moved to Canada in 2013 for grade 12 and then began studies at Trent University. He began in Business, but ultimately decided to pursue Computer Science because he realized that he would need computer skills to develop Zatiq.
Zatiq will debut in Peterborough towards the beginning of June. Sultan has plans to eventually expand it globally.
For more information about Zatiq and the launch date, visit the Zatiq website at zatiq.com or follow Zatiq on Facebook and Twitter.
Globus Theatre in Bobcaygeon celebrates agricultural history with Canada's 150th events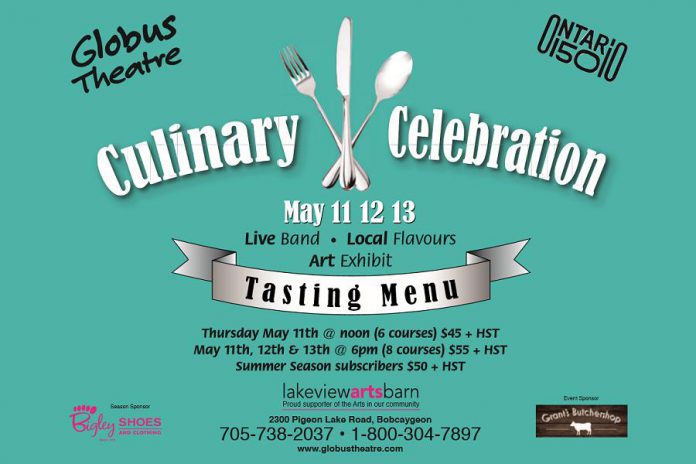 What better place to enjoy local farm fresh food than a barn? Globus Theatre (2300 Pigeon Lake Rd., Bobcaygeon, 705-738-2037) is celebrating Canada's 150th with a culinary and musical celebration this week.
Until Saturday (May 13), they are hosting their Culinary Celebration, which features local food, art by Lorraine Thayer, and live music.
Globus co-founder and artistic producer James Barrett says that the barn is a perfect place to pay homage to local producers.
"We are in a barn. It was an actual working cattle barn, so it's an ideal space to celebrate working farms in the area."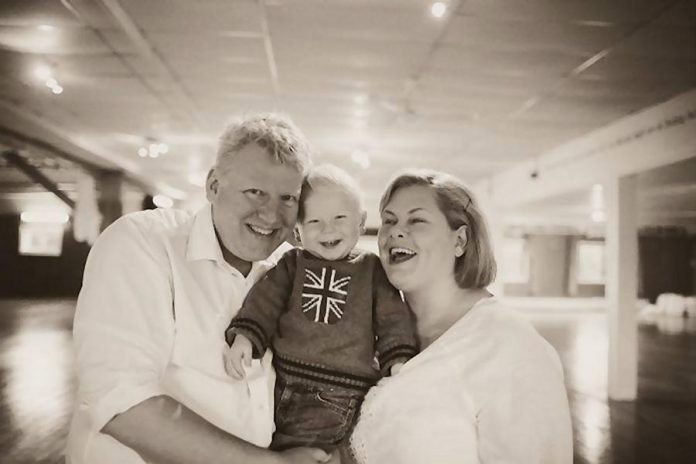 The Culinary Celebration features an eight-course tasting menu. Sponsor Grant's Butchershop, a Bobcaygeon butcher that uses all Ontario meat, will provide their housemade sausage. There will be smoked trout from Linwood Acres Farm in Campbellcroft, cheeses from Mariposa Dairy, ice cream from Kawartha Dairy and honey from Kawartha Lakes Honey.
Apart from the Culinary Celebration, many of these producers are regularly featured on Globus Theatre's menu. Theatre-goers can opt for a three-course meal before they take in a play, with three options to choose from per course. The menu changes every two weeks with each new play, and is sometimes even themed to the play.
For example, for the Irish play Stones in his Pocket, they featured a Stilton and Guinness pâté. The menu has also included red wine braised lamb shank, roast beef with yorkshire pudding, and tempting dessert options such as their limoncello lemon sorbet. The bar features selections from local breweries.
This year the barn will celebrate its 50th anniversary as a dance hall. James says that the barn was built in the 1930s to replace one that had burned down on the property. It was a working cattle barn with property extending right to the lake until the 1960s. It was then that the owner at the time, Fabian O'Neill, got the inspiration to create a dance hall. He severed the lots near the lake and used the money to build the dance hall.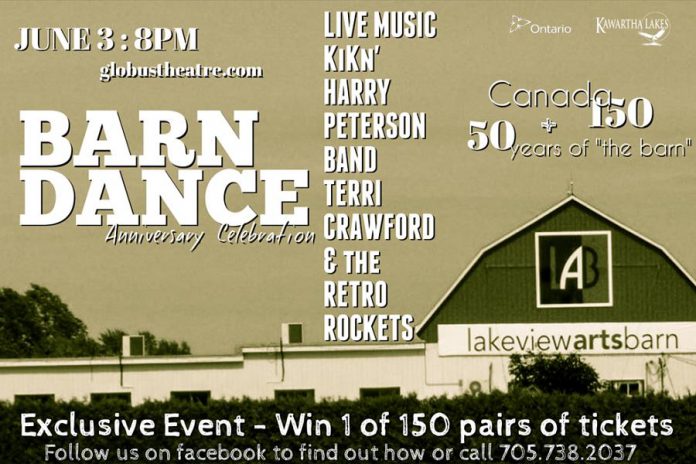 In June, to celebrate Canada's 150th birthday and the barn's 50th anniversary, the Lakeview Arts Barn will hold a dance in the style of the old barn dances. There will be 150 tickets available and the only way to get a pair will be to tell a story about the barn. With 50 years of dances, proms, weddings, award ceremonies, and of course live theatre, James is hoping for a variety of responses.
"We're trying to create an archive of the past fifty years of the building."
Winners of the Barn Dance contest will be announced on Saturday, May 20th.
For more information about the Culinary Celebration, the Barn Dance (and how to win tickets), and Globus Theatre's summer theatre season, visit lakeviewartsbarn.com.
Tea sommelier buys Dancing Blueberries, creating new Bumbleberry Bistro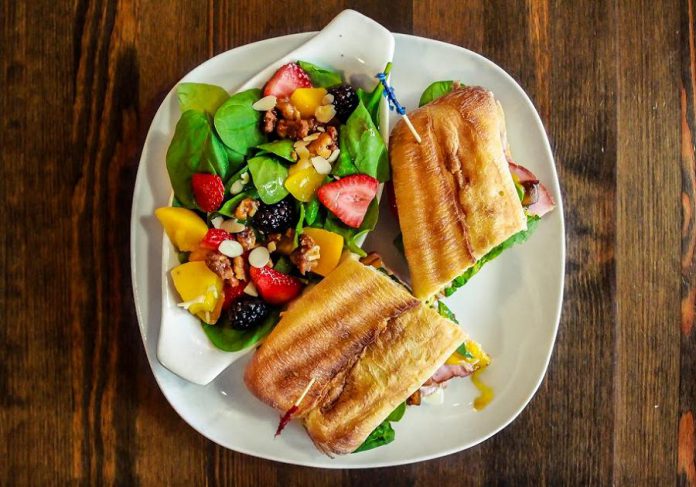 Heather Morse bought Dancing Blueberries in November of 2016. She began to rebrand in late February to Bumbleberry Bistro (360 George St. N., Peterborough, 705-536-2697), creating a fresh take on the downtown cafe.
A graduate of Fleming College's Culinary Management program, Heather worked for Dancing Blueberries following graduation. She enjoyed the creative opportunity offered by the cafe.
"I was able to exercise my creativity designing drink and dessert specials."
Fans of Dancing Blueberries will be happy to learn that Heather is planning to keep many of their menu items.
"The plan for the restaurant right now is to make small changes to the menu to ensure that everything is of the best quality."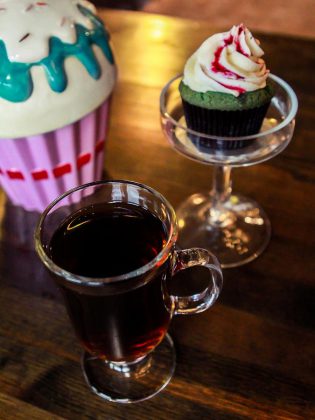 That being said, Heather is planning to put her own spin on the downtown cafe.
"We are hoping to shift away from 'homestyle' to offer slightly more specialty items."
As a tea sommelier trained in Vancouver by the Tea Association of Canada, the tea menu was one of the first things on Heather's list.
"One of the changes I am most excited about is the introduction of a variety of specialty loose leaf teas."
To those new to the cafe Heather recommends the "Brie's a Crowd" sandwich, which features brie, sundried tomatoes and candied walnuts.
For more information on Bumbleberry Bistro, visit their Facebook page.
Take authentic Mexican flavour home with La Mesita Catering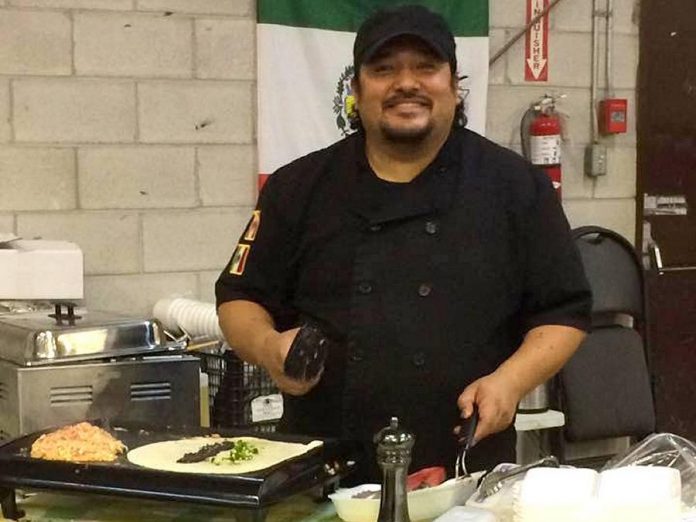 Martin Carbajal Mendoza of La Mesita Catering moved from Mexico in 2006 and brought with him a culinary tradition that he wants to share.
"I want people to know what real Mexican food tastes like."
La Mesita Catering offers salsas and spreads, burritos and Mexican food at the Peterborough and Lakefield Farmers' Markets. Their salsas are also available at Chasing the Cheese and The Bridgenorth Deli.
Here's how Martin recommends serving his sauces:
Pico de gallo
This standard mild salsa is very versatile. Martin suggests trying it on steak, eggs, hotdogs, and tacos — "It's pretty much like a Mexican ketchup. It goes on everything."
Tomatillo and avocado salsa
This salsa is a blend of tomatillos (which are tart and fruity and taste somewhat like a green tomato) and avocados. Martin recommends trying it on nachos, quesadillas, sausages or steak. He also recommends layering corn bread dough with a layer of this salsa and some chicken, then another layer of dough.
"It's delicious. It tastes so close to a tamale."
Chipotle hummus
Hummus isn't traditionally a Mexican dish, but when Martin first tried a hummus he liked it but felt that there was something missing.
"Because I'm a crazy Mexican, I had to put chipotles in it." He says that it's been popular with his customers.
Black bean and corn salad
Black beans, tomatoes, onions, cumin, corn, avocado and lime juice come together in this salad which is a great side dish on its own.
Martin also suggests blending it with lettuce to make an instant green salad, no dressing required.
Pickled onions with habanero peppers
Martin says that these are particularly versatile.
He suggests that you try it "to top off salsas, to top off burgers, on hotdogs, and almost any kind of meat."
Chipotle maple cream cheese
Spicy and sweet, Martin jokes that "this is the perfect marriage between Canada and Mexico." The cream cheese can be made into a delicious frosting for cakes and cupcakes.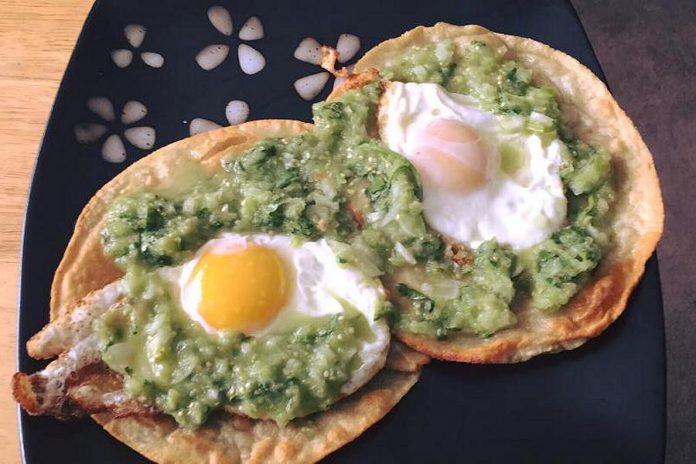 In addition to sauces, Martin also creates weekly specials which he sells at local farmers' markets. These have recently included tamales, ceviche, and Mayan pulled pork.
Martin encourages people to try his sauces, even if they're not spice fans.
"Many people are afraid of Mexican food because of the spices. We have many customers that at the beginning I had to beg to try the salsas, and now they love them, and they're loyal, and they have learned to eat a bit more spicy. People will be surprised by how much they can actually handle."
You can learn more about La Mesita Catering at lamesitacatering.weebly.com and on their Facebook page.
South Pond Farms launches Full Moon Supper series with Flower Moon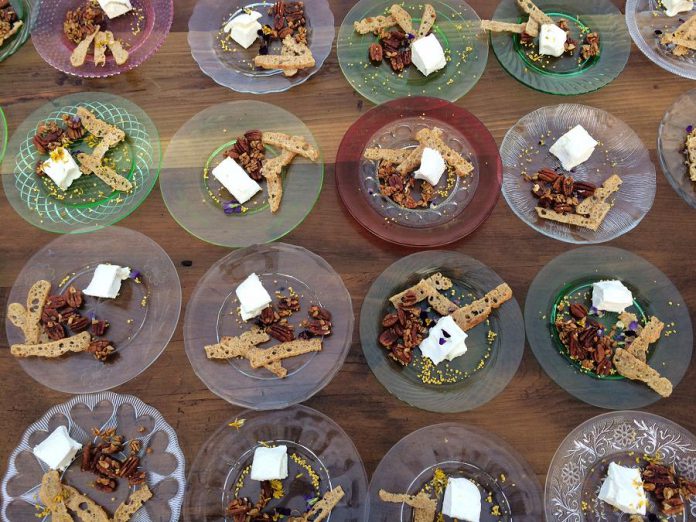 South Pond Farms (1020 Gray Rd., Pontypool, 705-277-1649) has launched a new "Full Moon Supper" series that invites guests to dine under the full moon.
The first of the series, the Flower Moon Supper, was held on May 10th. Guests were invited to wander the farm, enjoying canapes in the herb garden, a cheese course by the goat shed, and a springy asparagus and quail egg soup by the fire.
There was also wild leek and maple smoked pork and spatzle cooked on the fire by Chef Kevin McKenna, and a rhubarb cake with cardamom chantilly cream served in the barn. The dishes were adorned with edible flowers.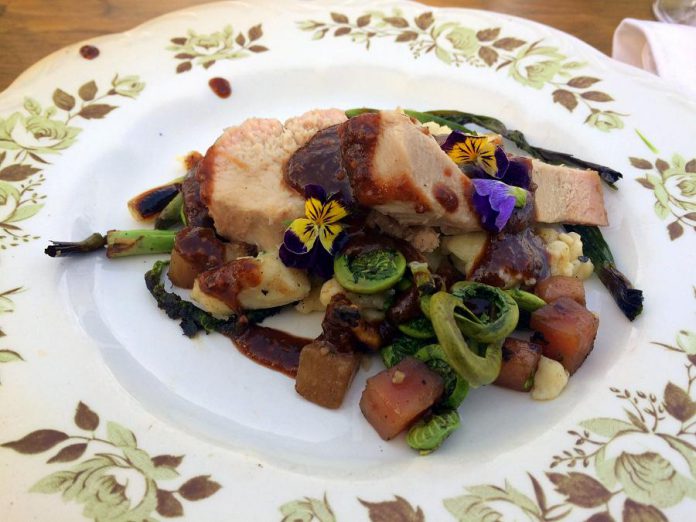 Future Full Moon Supper events will include the Strawberry Moon in June, the Buck Moon in July, and the Green Corn Moon in August.
For more information about South Pond Farms Full Moon Supper Series, visit their www.southpondfarms.ca/full-moon-suppers/.