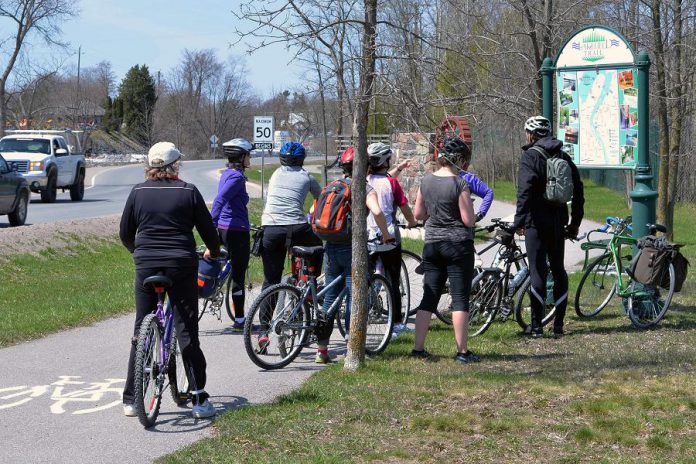 The region we live, work, and play in is rich with opportunities for outdoor recreation and alternative transportation routes.
Saturday, June 3 is International Trails Day, and communities throughout the region are encouraging residents to walk, run, hike, and cycle the well-developed trail systems that Peterborough City and County have to offer.
International Trails Day recognizes that trails connect communities and celebrates the healthy lifestyle they encourage. Trails not only offer endless opportunities for recreation and exercise in nature, they also provide urban routes for those who want to limit their use of motor vehicles but who may not feel fully comfortable cycling on the roads.
There are a variety of trail systems to use within the city, including the Parkway Trail, the Rotary Greenway Trail, the Willowcreek Trail, and the Crawford Rail Trail, which offer paved routes throughout the city. Many city trails are well documented on the Peterborough and the Kawarthas Trails and Bikeways Map.
The Trans Canada Trail, also known as The Great Trail, also runs through the city and beyond, offering a rural route westward towards Lindsay and Omemee, and eastward towards Hastings. Users will pass right through GreenUP Ecology Park while traversing the urban section of the trail.
Recently, the Trans Canada Trail has been extended past Lansdowne and Ashburnham with another 1.8kms of trail that were added to offer a mostly paved trail extending from Lansdowne Street south of Technology Drive, to Old Keene Road.
Rural trails composed of smooth crushed limestone are well maintained and offer routes that extend beyond the city's borders.
VIDEO: Experience Cycling in Peterborough & the Kawarthas, Ontario, Canada

When you are out on the trails on your bike this season, following a few simple trail safety and etiquette rules will go a long way to making sure the experience on the trails is enjoyable for all trail users.
First, watch your speed. You are sharing the trail with all types of trail users. Some may be taking the dog for a walk, while others are out on their daily run. Families are often out enjoying a stroll after supper. Ensuring that you are traveling at a safe speed for maneuvering and stopping will help all trail users, including yourself, to feel more at ease on the trails.
Next, travel on the right and pass on the left. Newer multi-use paths in the city have a dashed line that indicates which side of the trail to travel on, but it is best practice to use this rule on all trails both in and out of town.
Last, communicate with other trail users. Use your bell to signal to other trail users that you are approaching, and call out, "Passing on your left!" to let others know what you are about to do. Of course, if they don't appear to hear you, slow right down and try calling out again.)
On Saturday, June 3rd, grab your bike or hikers and meet us on the city trails. GreenUP will be set up on the Rotary Greenway Trail at the Hunter Street East crossing between 10 a.m. and 2 p.m. to celebrate International Trails Day. Win prizes and test your knowledge of proper trail etiquette, rules, and safety by playing Trail Trivia. You can also grab a copy of Peterborough's multi-use trails map and help you plan a trip with scenic routes, ice cream stops, or a patio to relax and rehydrate.
There are several more events planned in celebration of our local trails. Otonabee Conservation is leading annual International Trails Day festivities with fun guided and self-led outdoor activities. Lace up your running shoes or hop on your bike to check out a new, or your favourite route in the area!
On Friday, June 2nd, the Selwyn Trails Advisory Committee and Township of Selwyn is hosting a kickoff of the Ennismore Heritage Trail with scavenger hunt, Geocaching, a bonfire, and refreshments. Meet at the Ennismore Waterfront Park at 6 p.m.
Many other activities are planned for Saturday, June 3rd. Beginning at 10 a.m., Otonabee Conservation is offering trail rides, bike demos, and exhibitors at Harold Town Conservation Area. This event promises fun for the entire family.
The Lakefield Trail Committee and Township of Selwyn have also organized a guided spring nature hike along the Lakefield Trail to discover the sights and sounds of nature. Those interested are asked to meet at the Marshlands Centre in Lakefield at 10 a.m.
Likewise, the County of Peterborough is encouraging visitors to walk or cycle along the scenic River Road Trail with other participants between 11 a.m. and 2 p.m.
Meet with the Millbrook Valley Trails Committee for a guided interpretive hike of the new Meadow Trail Extension at 11 a.m.. The hike will commence from the MNR ponds parking lot on 4th Line, just west of the 4th Line Theatre.
Frequenting trails encourages us to consider other ways of spending our leisure time, perhaps taking up a new sport or activity that can be enjoyed on these routes. In doing so, you'll be able to socialize with other trail users, benefit from spending time in nature, and can knock off some time you might otherwise spend inside a gym by instead, getting your exercise outdoors.
For more information about International Trails Day activities and a full list of events, visit the Otonabee Conservation website at otonabee.com. Happy Trails!