A tortoise and a snail are the same thing.
Just roll that idea around your head for a moment. Does it make sense? Does it not? With that phrase, The Theatre on King (TTOK) welcomes audiences back into the bizarre world of Eugène Ionesco with their production of Frenzy for Two, or More.
Directed by Ryan Kerr, Frenzy for Two, or More brings Kate Story, Dan Smith, Lindsay Unterlander, and Andrew Root — who starred in TTOK's first Ionesco piece, The Bald Sopranos, in October 2016 — together again. This time, they are joined by Shannon McKenzie in her first foray into Ionesco's madness, in what is easily one of the most ambitious and explosive productions I have seen at TTOK to date.
Written by Ionesco in 1962, there isn't much information online about Frenzy for Two, or More and, according to Ryan, it's a show that isn't often staged. Without giving anything away, it will become very clear to the audience by the end of the show just why many theatre companies pass this one over. However, like all of the Ionesco plays that TTOK has produced so far, Frenzy for Two, or More is extremely funny while still being deeply profound. But there is a dark and at times disturbing element to this farcical drama.
I am hesitant to write about the most frenzied moments of the production, as not to give any of the big surprises away (and believe me when I say this entire show is one big surprise). I can say is that this show is truly something to behold and one of TTOK's most experimental shows.
In regards to this, TTOK will be not allowing more than 31 people into a performance due to the nature of the on-stage action. There will be no standing room, extra chairs, or yoga mats pulled out to accommodate overflow. If so, someone just might lose an eye, and that's not the theatre experience TTOK wants. No, that is not a joke — it could really happen in this show.
Although the play does have a cast of five performers, for the most part works as a two hander. Dan Smith and Kate Story play an unhappy couple who are living in the middle of a war zone between two opposing factors. As a gruesome battle wreaks havoc outside, a different battle is taking place within their home.
It is revealed that "She" left her husband for "He" 17 years ago and, within that time, the two have become confrontational. However, just as they cannot leave their home due to being in the middle of a war zone, they are trapped inside their own fading love affair. At each other's throats, the couple are constantly fighting about what was, what never was, what can never be … and if snails and tortoises are the same thing or not.
Seriously, think about that one. The idea might just blow your mind.
Eventually the war outside, in all of its stages, becomes an allegory for the failure of love, with element of conflict, victory, liberation, madness, and death. But as the battle rages on, the characters become lost in their own words and find themselves trapped in their own miserable world.
The majority of the on-stage action is taken on by Dan and Kate who, having worked with each other many times, have that superb chemistry that can only be created by two people who are completely in sync with one another. During the chaos of this show, it's even more important each actor does not lose track of where the other is within the performance. Both strong and funny performers, Dan and Kate join their individual strengths together throughout the show.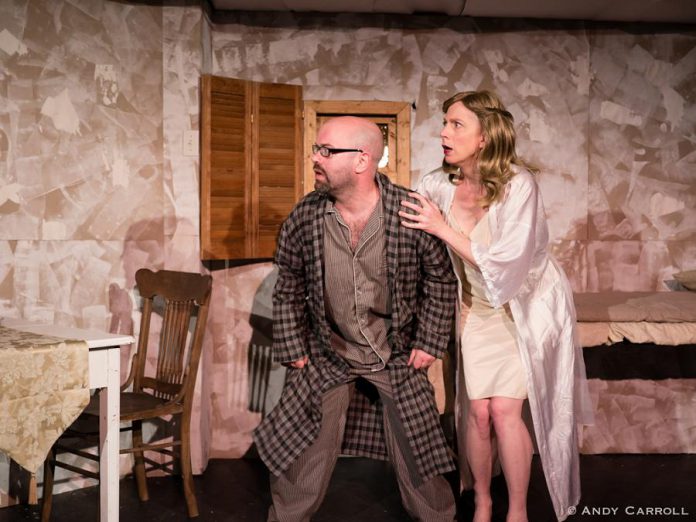 While Kate and Dan dominate the stage in front of the audience, Lindsay, Shannon, and Andrew create the sounds of war behind the scenes, adding perfectly timed screams, chants, mumblings, and other sounds of war and victory. The three also eventually provide hilarious on-stage antics in pure Ionesco style, but their roles could only be called well-placed cameos.
Their appearances become some of the funniest moments of the play, but their behind-the-scenes work creates the bigger world taking place in the drama.
A special shout out goes to Annie Jaeger, who designed and built the set with assistance from Paul Oldham. An impressive piece of scenery, it goes far beyond any set I've seen at TTOK before. The set's ambitiousness is important for the success of the show, and the set itself becomes a part of the on-stage action. I can't explain it more than that, but it is a set that evolves with every scene.
Ionesco shows have a certain rhythm to them, filled with bizarre word play and complex ideas presented in surreal dialogue. Ryan Kerr has a talent for visualizing these productions and, with most of his cast having gone through Ionesco with him before, they understand the timing. Once again, Ryan manages to create something very memorable on the TTOK stage.
Over the past nine months, TTOK has made a Eugene Ionesco fan out of me. I truly hope that this is not the last Ionesco play that we see in this space. Ryan Kerr and his cast of players have really created something wonderful with these shows.
I find Ionesco quirky and he speaks to my personal sense of humour, but his shows are not always for everyone. Ionesco's work is filled with surreal humour that leans towards Monty Python or Napoleon Dynamite. But while some of his other shows may have had more open-ended interpretations, Frenzy for Two, or More is a more straightforward in its meaning.
Due to the frantic on-stage spectacle, this is easily my favorite of Ryan's Ionesco productions to date. It really is something that has to be seen to be believed. Trust me when I say I left all the most dynamic bits out of this write up. You need to go to see what I'm holding back.
If you love bizarre humour, don't miss this one. It's a show that everyone who sees it is going to remember. At the very least, you'll never think about the relationship between snails and tortoises the same way again. That's the kind of thing that could keep you awake at night.
Frenzy for Two, or More runs from Thursday, June 1st to Saturday, June 3rd at TTOK. Shows start at 8 p.m., with an additional 2 p.m. matinee on Saturday. Tickets are $15 or pay what you can.