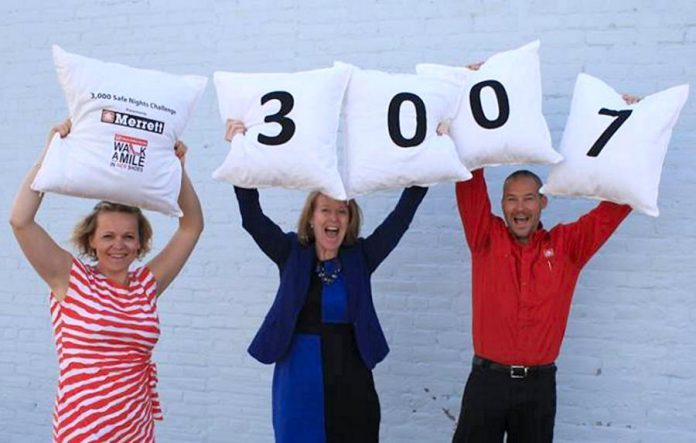 Community support of YWCA Peterborough Haliburton's 9th annual Walk a Mile in Her Shoes surpassed the '3,000 Safe Nights Challenge' presented by Merrett Home Hardware Building Centre.
A grand total of 3,007 Safe Nights ($138,204.12) have been made possible through YWCA Walk a Mile in Her Shoes, which took place at Confederation Park in Peterborough last Friday (May 26).
Donations raised through this year's event will be invested directly in providing Safe Nights at Crossroads Shelter for women and children fleeing abuse.
"The demand for our services increases each year," explains YWCA Executive Director Lynn Zimmer. "This year at Crossroads Shelter we provided 8,471 Safe Nights. With the 3,007 Safe Nights provided through Walk a Mile in Her Shoes, we are well on our way to raising the $45.96 required for each Safe Night we provide."
With more than 420 people of all ages, genders and abilities in attendance, this year's event was the biggest yet.
"Walk a Mile in Her Shoes is a wonderful opportunity to connect with so many members of our community who share our commitment to making Peterborough safer and healthier," says Monika Carmichael, General Manager of Trent Valley Honda and title sponsor of YWCA Walk a Mile in Her Shoes. "We're thrilled to have had the chance to give back to the community in this way."
While light-hearted in nature, YWCA Walk a Mile in Her Shoes presents a valuable opportunity for everyone to get involved and educate the community about a very serious subject: violence against women.
The YWCA is also expressing its gratitude to everyone who walked, everyone who supported a participant with a donation and also for the generous support of Walk a Mile in Her Shoes sponsors who donated not only Safe Nights, but food, promo items, drinks, entertainment, tents, transportation and security.
To learn more about YWCA programs and services or to make a donation in support of the YWCA, visit www.ywcapeterborough.org.