Anyone who thinks Peterborough's arts community, and its supporters, aren't prepared to fight for the preservation of cultural spaces in the downtown core best think again.
A panel discussion addressing what needs to happen to ensure a thriving and sustainable cultural environment, held Thursday night (June 1), packed the Evans Contemporary Art Gallery in back of 383 Hunter Street in downtown Peterborough
Presented by the Electric City Culture Council (EC3), 'A Space For Us: Re-Imagining The Downtown' featured three speakers: Jeremy Freiburger, chief connector and cultural strategist for Hamilton-based COBALT Connects; Architectural Conservancy of Ontario president Catherine Nasmith; and local multidisciplinary artist, arts administrator, and activist Laurel Paluck.
The discussion was moderated by Michael Gallant of Lett Architects Inc., an EC3 and Peterborough DBIA board member.
But one had to look to the back of the small space, not the front, for the most intriguing presence in the room — in the form of Paul Bennett.
A senior executive with Ashburnham Realty, Bennett has an offer to purchase the Braund building — the historic building on the southwest corner of Hunter and Water streets, most visibly the home to St. Veronus Café and Tap Room but also home to upper floor artists' apartments and studios (as a result of owner Jim Braund's charging affordable rent).
Artist Joe Stable, for example, has been a tenant there for 42 years now. Artist Alex Bierk, who attended the discussion, also has a studio there.
"Some people say it shouldn't change at all; that's kind of impossible because the building is falling apart, but we don't want to lose our precious, affordable studio spaces," said Paluck, appealing directly to Bennett to work closely with the cultural community should he come to own the property. "There's really a lot of synergy happening right now in this place."
Bennett, who expects the deal on the Braund building to close shortly, pledged to meet with "the people who have been here a long time and get feedback on where everyone's vision is" and "hopefully integrate that into what I think will be a great arts hub in our core."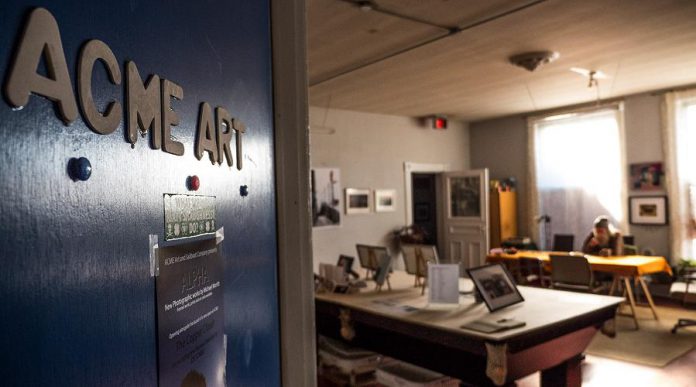 That was exactly what the decidedly pro-arts majority in the room wanted to hear, particularly in light of the recent sale of historic Pig's Ear Tavern property on Brock Street to developer Paul Dietrich and his near purchase of the equally historic Black Horse Pub building on George Street (that deal fell through).
Armed with a demolition permit, Dietrich has made clear his plan to develop apartments at the Brock Street site, putting an end to the 150-plus year history of a pub being at that location. In the aftermath, many proponents of heritage building preservation were left grumbling over what they perceived as city council's disrespect for the significance of historic properties and what they add to the downtown core's character and uniqueness.
Town Ward Councillor Dianne Therrien was also present and spoke to the balance between preservation and development.
'I certainly understand people's frustrations," Therrien said. "There are certain things that make this community really special, but we can also learn from other communities that have been through this process. There are examples of what works and what doesn't work and we really have to balance the interests."
Also lurking in the background and relevant to this discussion is a review of the City's Official Plan being led by Peterborough Planning Director Jeffrey Humble. On Monday, city councillors voted to adopt a new registry of historically significant buildings in Peterborough — but they rejected including all of the 100 properties recommended by city staff, including most located in the downtown core, pending the review of the Official Plan.
Coun. Therrien urged those who want to be at that table, such as arts community representatives, "reach out" to councillors who can put them in touch with the appropriate staff.
"Our Official Plan is very outdated. The process that's being proposed by the planning director, engaging the community and listening to concerns, what we heard here tonight can certainly feed into that. We can't undervalue the importance of arts, culture and heritage, not only in the downtown but the impacts across the community as a whole."
Coun. Therrien also expressed admiration for Bennett's attending an event where the term "landlord" wasn't all that popular.
"I think it speaks volumes that Paul was here tonight. I see him out often at these type of things and checking out art galleries, so I think he really understand the value that these institutions, and the arts and culture community, bring this to area, so I'm optimistic things will work out."
The panel, meanwhile, saw both Freiburger and Nasmith provide an overview of their extensive advocacy in the area of repurposing heritage structures and giving them a new lease on life that fits with their neighbourhoods while answering the needs of tenants, arts-related and otherwise, looking for an affordable space to call home.
"You're having this conversation at the right time," said Freiburger, noting pressures resulting from provincial directives have municipalities scrambling to comply, the result being rash decisions made concerning the future of historic properties and their place on changing landscapes.
"I don't know that I've met a truly logical benevolent building owner. It's better to tie yourself to people that are sound business people because they are the ones that will set a path of sustainability for physical assets. How do you as a community invest in that for-profit owner's loss of opportunity?
"If you're not going to building a non-profit ownership model, how do you incent people like our new owner (Bennett)? Reduce property taxes, reduce development charges: whatever it takes to build spaces that can serve the community and meet their financial needs. Their job is running buildings. Your job is making art or selling widgets or making coffee. How do we make it possible for both of those values to be preserved in a development project? It's tricky, but it can be done."
To back that up, Freiburger provided several examples in Hamilton where that has been done successfully.
Nasmith did likewise, noting buildings in the popular Byward Market area in Ottawa are protected by a city directive that says if a developer wants to demolish a building, he or she must replace it with a building of the same size. That, noted Nasmith, takes the incentive for demolition away.
"It's great model for a heritage district," Namath said. "This was done 30 years ago. It's not some clever new idea. And it works. That's the way to think about downtown. (In Ottawa) they connected the notion of small business and enterprise and buildings and made it happen."
While all three panelists brought different takes on the importance of heritage building preservation and the maintaining of cultural spaces, they shared one view: the battle to protect built heritage and ensure the arts community's presence are not exclusive of one another, and it's a worthy fight in terms of the overall health of community — not just the downtown district.
Afterwards, EC3 executive director Su Ditta was beaming, both over the event turnout and the message delivered.
"I'm thrilled. There are more than 80 people here. It was a really dynamic panel and we got to just the place we wanted to in terms of perspectives on heritage, on arts and culture, and also breathing some life into the real experience of artists who live and work in the downtown."
She also expressed her organization's desire to be part of the Official Plan consultation process, even though Peterborough Planning Director Jeffrey Humble did not attend the meeting.
"We invited him to come tonight, so we're disappointed that he couldn't make it but we'll be following up," said Ditta.
"We'd love to be part of it. We've heard of some Official Plan planning exercises where artists have been involved from the beginning. There are some really innovative new ways of going about Official Plans."