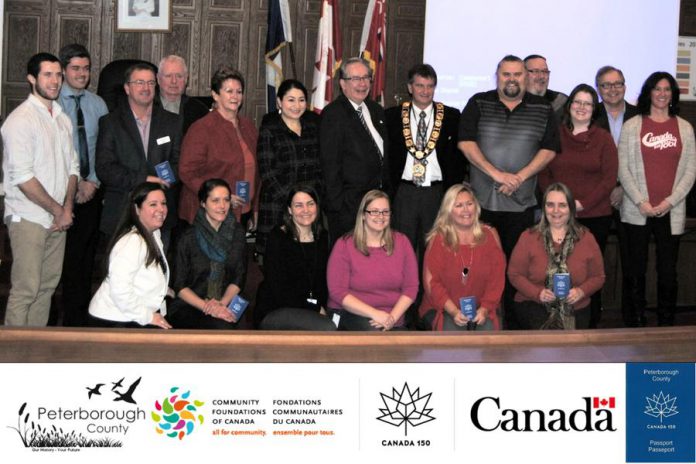 Editorial and photos supplied by Peterborough County.
2017 is a full year of celebrating Canada's sesquicentennial! We are celebrating the 150th birthday of Confederation, alongside our First Nation communities who will be celebrating 150 years plus all year long.
Here in the Greater Peterborough Area, Peterborough County, our eight townships, our First Nation Communities, the City of Peterborough, and the Trent-Severn Waterway have come together to create a unique Peterborough County Canada 150 Passport.
Our passport highlights the many community events taking place throughout the area and will guide residents and visitors to explore our many diverse communities.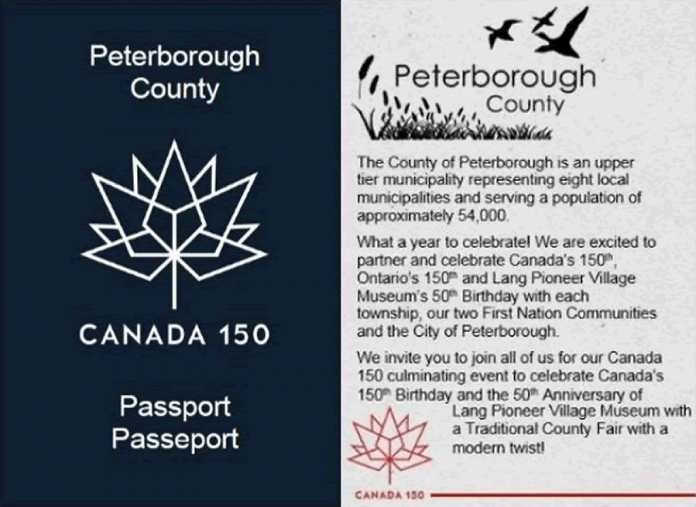 The passports are available at all Township offices, The Peterborough County Courthouse, Lang Pioneer Village Museum, First Nation Administrative offices, and at events held throughout the region during 2017.
Bring this passport to a participating event and have it stamped. Once you obtain five event stamps, drop off the included contact form to be eligible to win a prize at the end of the year.
Thanks to the many businesses that have already donated prices. Thank you also to the Peterborough CFDC and to the Community Foundation of Greater Peterborough for their investment in this project.
To learn more about our Canada 150 Plus events, visit www.ptbocounty.ca.
County of Peterborough Canada 150+ Geocaching Coin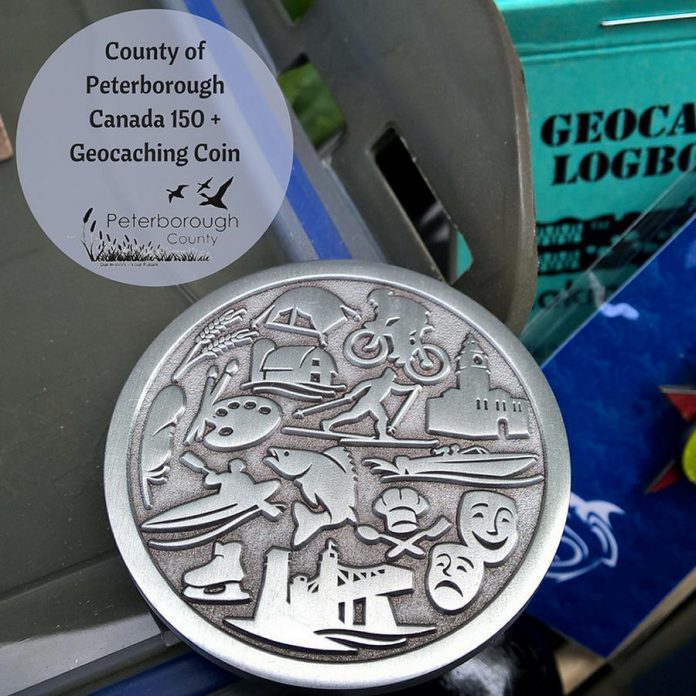 Geocaching is a modern-day treasure hunt that is an outdoor recreational activity for the whole family, armed with a Global Positioning System (GPS) or mobile device to hide and seek containers — called "geocaches" or "caches" — at specific locations marked by coordinates.
In celebration of Canada 150 Plus, 18 new caches have been created with two in each of our townships (Asphodel-Norwood, Cavan Monaghan, Douro-Dummer, Havelock-Belmont-Methuen, North Kawartha, Otonabee-South Monaghan, Selwyn, and Trent Lakes) and two First Nations (Curve Lake and Hiawatha), and the three townships in the City of Peterborough.
Each geocache tells a story about our local history in the place where that history happened. Visitors are invited to learn more about the people, resources, creativity, and communities that have developed throughout our diverse region. The geocache containers range from small lunch containers to larger ammunition boxes and are hidden in urban and forested areas alike. Each of the containers in this series contain small tradeable items. All you need to do to claim one is to leave something of equal or greater value for the next person to claim.
The first 250 people who get to at least one geocache in each community can complete the Travel Diary posted on the PKT Geocaching page to claim a limited edition trackable geocoin.
Geocaching is a great way to get outside and active with family, friends, or pets as the weather warms up, but it can be done year-round. All you need to play is a free account on geocaching.com and a GPS signal on a handheld receiver or smartphone. To learn more about how to start geocaching, please visit www.geocaching.com/guide/.
For more information about the Peterborough & the Kawarthas Canada 150plus Geocaching Adventure or to download your Travel Diary to start playing, please visit thekawarthas.ca/experience/geocaching/.
Traditional County Fair at Lang Pioneer Village Museum on Sunday, September 24, 2017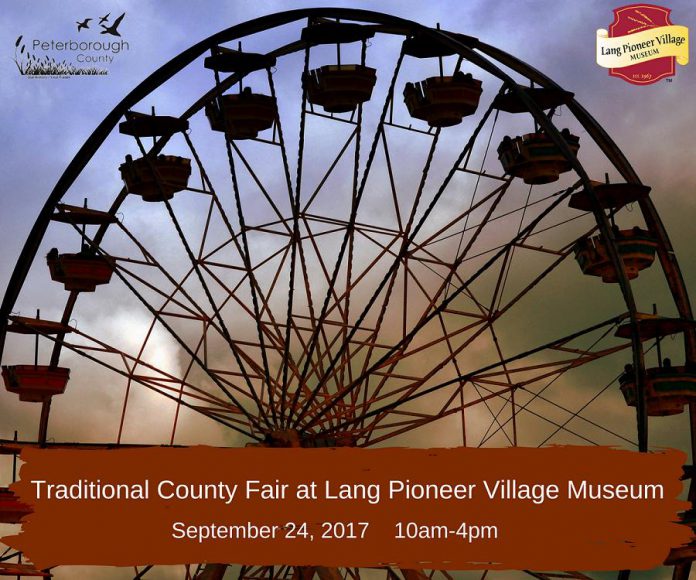 We invite you to join Peterborough County, our eight townships, and our two First Nation communities and the City of Peterborough to celebrate Canada 150 Plus and the 50th anniversary of Lang Pioneer Village Museum on Sunday, September 24th for a Traditional County Fair, with a modern twist, from 10 a.m. to 4 p.m.
Come for a ride on the Ferris Wheel, enjoy some yummy cotton candy, popcorn and a sno-cone, and experience 150 years of the greater Peterborough area with friends and family in one location.
We'll have lots of entertainment on the main stage from each of our communities and a number of traditional games you can try your hand at. How good are you at the three-legged race? Who can throw a hay bale the farthest? When is the last time you were in a sack race? Now is your chance to do it again.
This day is extra special as we will be officially opening the new Peterborough County Agricultural Heritage Building. This building will become the latest addition to Lang Pioneer Village Museum with its mission to preserve, promote and authentically recreate the rural history of Peterborough County. Peterborough County exists today, largely due to our agricultural roots. Towns, villages and hamlets were formed over 150 years ago to serve the needs of the agricultural residents in the area.
The Peterborough County Agricultural Heritage Building at Lang Pioneer Village Museum will pay homage to the families, farms and advancements that have assisted in creating a culture of ambitious and dedicated agricultural leaders, well respected by their peers throughout the community, the province and the world.
We are excited to be part of the City of Peterborough's Heritage Day "Celebrate at Home" event being held at the Peterborough Museum and Archives and the Peterborough Lift Lock on Sunday, July 2nd. Lang Pioneer Village Museum will be re-enacting the Fenian Raid along with much more and we look forward to showing and sharing our rural heritage.
We live in a great Country, Province, and County and we hope you all will take this year to start to do more exploring and celebrating at home!