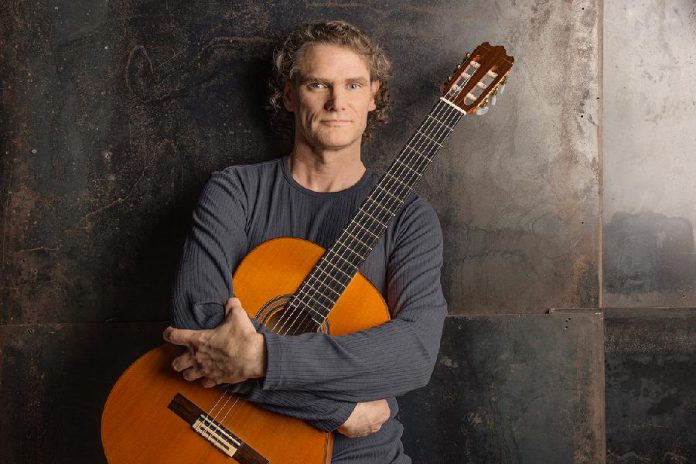 In most profiles of creative people, be they written or spoken, there's the revelation of a turning point — a "break" that sets the course for many good things to follow.
For acoustic guitarist Jesse Cook, that break came in 1995 at the Catalina Jazz Festival in California. He was booked to perform during festival intermissions in a small bar far removed from the main stage. He did so and was so well received he was invited to play the main stage. Within weeks of that good fortune, Cook's debut album Tempest entered the American Billboard charts at a heady #14.
When he steps on Del Crary's Park Fred Anderson Stage on Wednesday, July 5th as part of the continuing Peterborough Musicfest free summer concert series, the 52-year-old flamenco/jazz/world music recording artist, composer, and producer will draw on nine studio albums' worth of material, including selections from his latest album One World.
For the Juno Award winner and three-time Canadian Smooth Jazz Award Guitarist of the Year, playing small bars is in his rear-view mirror now and has been for quite some time.
"Over the years, I've taken my music and tried to cross-pollinate it with music from different parts of the world," explains Cook on his website at www.jessecook.com.
"For the (2003) album Nomad, I went to Cairo and recorded with musicians there. On my (2009) record, The Rumba Foundation, I went to Colombia and worked with musicians from Cuba as well. On Vertigo (1998), I went down to Lafayette, Louisiana and recorded with Buckwheat Zydeco.
"For me, the question has always been where did you go? Where did you take your guitar?
"I was a classical guitarist as a kid, and I studied flamenco and then I studied jazz. So there are three musical and guitar traditions in my background. One of the forms I use, rumba flamenco, is itself a hybrid created in the 1800s when sailors were coming back to Spain from Cuba, having heard these Cuban rhythms.
"And here I am, 150 years later, taking it and mixing it back with modern music and seeing where it takes me. Music is a constantly evolving thing."
VIDEO: "Mario Takes a Walk" – Jesse Cook

Paris-born and Toronto-raised, Cook's childhood fascination with the guitar overtook him and didn't let go, leading to formal training in classical and jazz guitar at the Royal Conservatory of Music, York University, and Berklee College of Music in Boston.
But, fueled by frequent visits to Arles in France to visit his estranged father, Cook's fascination with the "Carmargue sound" — a rhythmic flamenco-rumba sound heard on many street corners and in many cafes — became his central focus. It didn't hurt matters that his father's neighbour was Nicholas Reyes, lead singer for the renowned flamenco band Gypsy Kings.
Come the aforementioned 1995 Catalina Jazz Festival, Cook's talent and musical interpretations were of such a calibre that world music fans couldn't help but take notice.
Following his first Juno Award nomination in 1998 for Best Global Album for Gravity, Cook took home the coveted award for his 2000 album Freefall. In total, he has garnered 11 Juno Award nominations.
VIDEO: "Shake" – Jesse Cook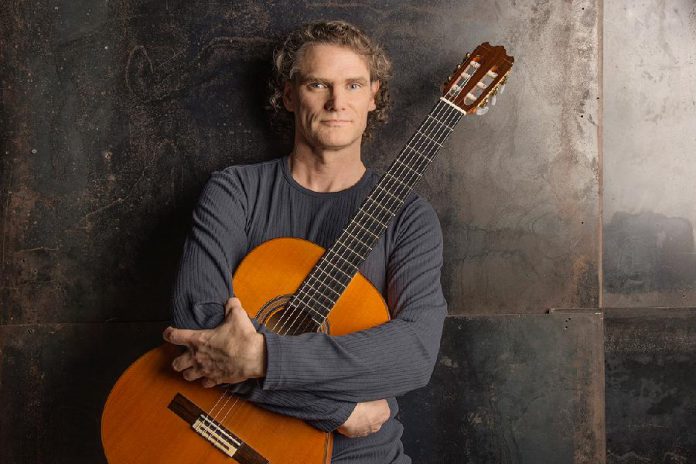 As for album sales, the total exceeds 1.5 million. In addition, he has shared the stage and/or collaborated with a number of artists, including Diana Krall, Charlotte Church, The Chieftains, Holly Cole, Liona Boyd, and Ofra Harnoy.
"On this record (One World), it's not really about going someplace," says Cook, noting it was recorded in his home studio as opposed to his typical practice of recording out of the country.
"The idea is that there really is just one world. If you pull your focus back far enough, you start to see all music as being branches of the same tree. They're all connected to the same trunk from way back."
VIDEO: "Once" – Jesse Cook

Cook's Peterborough Musicfest appearance, sponsored by Otonabee Conservation, marks the first of four concerts in four days, with subsequent stops in Huntsville, Orillia and Montreal.
In the fall, after releasing his new record Beyond Borders in late August, he'll embark on a major tour that will take him across North America.
Peterborough Musicfest is presenting 17 free-admission concerts featuring a total of 22 acts during its 31st season — each staged every Wednesday and Saturday night until August 26th.
Overseen by general manager Tracey Randall and staff, a board of directors, and numerous volunteers, Peterborough Musicfest's stated mission is to "provide diverse, affordable live music to enrich cultural and economic prosperity in our community."
For more information on this concert and/or the 2017 season, visit www.ptbomusicfest.ca or phone the Peterborough Musicfest office at 705-755-1111.