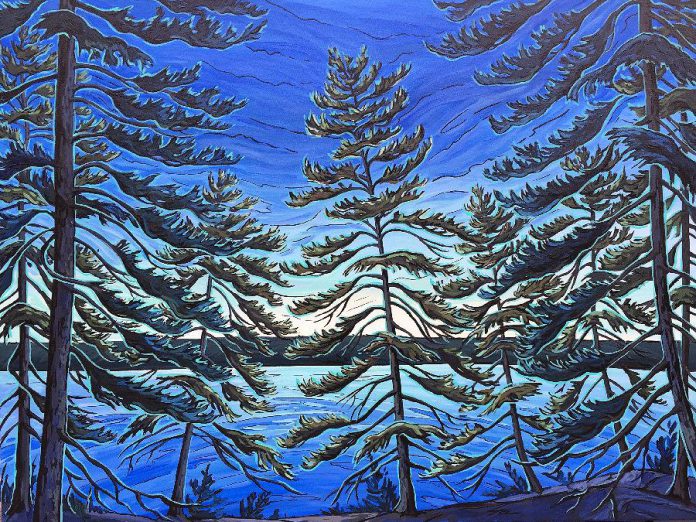 This month, we look at three Kawartha Chamber of Commerce members who offer the best in art, wine, and real estate. Celebrate Confederation's 150th with an epic show of Canadian art at Gallery on the Lake in Buckhorn, read about a local woman who quit her job to buy a winery in the countryside to open Jewel Just Fine Wines in Warsaw, and learn the best tips for buying and selling shoreline property from Lynn Woodcroft of Royal LePage Frank Realty in Buckhorn.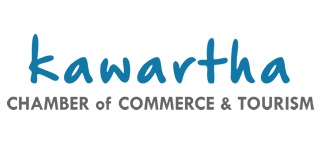 All three of the businesses profiled below — Gallery on the Lake, Jewel Just Fine Wines, and Lynn Woodcroft of Royal LePage Frank Realty — are proud members of the Kawartha Chamber of Commerce & Tourism. The chamber represents members in Curve Lake First Nation and the municipalities of Douro-Dummer, North Kawartha, Selwyn, and Trent Lakes. Visit kawarthachamber.ca for more information.
---
Gallery on the Lake allows you to experience proudly Canadian art
Esther Inglis, owner of Gallery on the Lake (65 Fire Route 21, Buckhorn, 705-657-1108) is an avid fan of Canadian art. The gallery exhibits exclusively Canadian art, with an emphasis on iconic Canadian landscapes. The gallery also features artists who specialize in florals, figurative art, and pieces that verge on the abstract.
All of these styles have come together this July in a show marking the 150th anniversary of Confederation.
"We have an enormous roster of really exceptional Canadian artists," Esther notes. "We thought this would be a great opportunity to mark the milestone with this show."
Esther says that the groundbreaking show features work from over 50 artists.
"It's quite impressive. It's stunning. We've never done anything quite like this before."
Notable artists
Gallery on the Lake has featured some exceptional exhibits in the past. "There's been some moments, I tell you!"
Two that Esther remembers fondly were shows featuring the art of Norval Morriseau, held in 2008 and 2014.
"At the exhibit in 2008, we found out that Morriseau had lived in Buckhorn. So we planned a future exhibit that would focus on some of the art that he produced while he was in Buckhorn."
Morriseau would stay in Curve Lake with the Williams family, and at one point he rented a farm on the lake from the Whetungs.
"What we wanted to do was gather information from all those who knew him when he lived here and some art that he created when he was here."
The exhibit was called "The Homecoming", and was opened with music from Curve Lake singers and drummers.
Canadian art gone viral
Esther also recalls a Tim Packer exhibit where one of his paintings went so viral on Linkedin in the lead up to the show, that his account was temporarily suspended.
Tim was spending four hours a day responding to comments. The high volume of comments coming from his accounts led it to be flagged as a potential bot.
The painting, called "Shall We Dance", sold within minutes of the show's opening.
Why have art in your home?
Esther says that having art in your home is important.
"There are people that come into the gallery and tell me 'I buy a piece of art because it brings meaning into my life.' That's pretty deep, but that's what it does for some people."
Esther also points out that art can evoke a sense of connection.
"Many people will say 'I bought a painting and every time I look at it I feel something different, or it stirs up a different emotion in me.' It feeds your soul."
The gallery stands as a tribute to a local artist
The Gallery on the Lake was created by artist Edwin Matthews, who used to host shows from his home. He started to get a lot of people coming to these openings, so he decided to build a gallery. Esther credits him with the gallery's continued success.
"Without his effort and vision, there would be no Gallery on the Lake. All I did was try to live up a little bit to his legacy."
Gallery on the Lake is open seven days a week from 10:00 a.m. to 5:00 p.m. You can find them online at www.galleryonthelake.com, on Facebook and Twitter.
Change is refreshing: new owner of Jewel Just Fine Wines lives a wine lover's fantasy in Warsaw
Have you ever dreamed of buying a winery in the countryside? Rachel Bleakley made it happen in the Kawarthas. The new owner of Jewel Just Fine Wines (180 Clifford Road, Dummer, 705-652-3643) spoke with me about her new life and the vino that helped to inspire it.
Rachel says that her dream started with a plan to own a business.
"It was nothing in particular to do with wine really. I was at the point where I wanted to have a career so we thought, well, let's buy a business."
She was at Jewel bottling her first batch of wine when it clicked.
"I mentioned to (then owner) Jordon Hale at the time that, if she planned on selling in the next five to ten years, let me know. She called me three days later."
Kawarthas wine country
Drive into the pretty town of Warsaw, take a few turns down scenic country roads, and you're there. Jewel Just Fine Wines is a wine-making facility where you can choose from hundreds of varieties of wine to make.
Rachel says that making your own wine makes a lot of sense.
"You're involved in the process, we have sales every month, it's way cheaper than going to the store, and you're buying in bulk — so you don't need to keep going out."
Hundreds of varietals
Jewel customers can access a broad range of varietals including Pinot Grigios, Rieslings, Malbecs, and Cabernet Sauvignons.
They recently debuted a Moscato, an aromatic and sweet white wine with flavours of peach and citrus — a varietal preferred by Canadian rapper Drake.
Clients are encouraged to book a private tasting party to get to know their own preferences.
International awards demonstrate the quality of their product. Last year, Jewel Just Fine Wines took home a medal at the 2016 Wine Maker International Wine Competition for their Nebbiolo. This year, their Merlot took home a medal in the same competition. You can make the same Merlot this July at a special sale price.
They also offer a variety of fruit wines, including Raspberry Dragonfruit and Cucumber Melon, which Rachel describes as "sweet but refreshing." She notes that "it's been popular this summer."
More than just wine
Not a wine drinker? Jewel Just Fine Wines also offers beer. Whether you prefer an Irish style Stout, an English Pale Ale, or a Bock, there are lots of options.
So how is owning her own winery working out for Rachel?
"I really like it. It's a more active job. And I get to meet so many people."
Jewel Just Fine Wines is open Tuesday through Friday from 10 a.m. to 6 p.m., and on evenings and Saturdays by appointment only. To find out more you can visit Jewel Just Fine Wines' website at www.jewelwines.ca (where you can read about this month's specials), or follow them on Facebook and Twitter.
Lynn Woodcroft of Royal LePage Frank Realty makes buying by the water crystal clear
Looking to buy or sell a waterfront property? Consider calling Lynn Woodcroft, sales representative with Royal LePage Frank Real Estate Brokerage.
With a degree in Biology and Environmental Science from Trent University and 32 years of experience boating, living, and working on local lakes and waterways, Lynn knows the water inside and out.
For the past two consecutive years, Lynn has achieved the Royal LePage Frank Directors Platinum award. This represents the top five per cent in the local marketplace based on closed and collected sales.
Before becoming a licensed real estate sales representativem Lynn studied biology and environmental science at Trent, with an emphasis on aquatic ecology. She has worked for Kawartha Lake Stewards, the Federation of Ontario Cottagers' Associations, and for the Trent Severn Waterway — giving her a unique perspective on our local waterways.
"I just know the lakes. I got to know the system that I'm selling on."
What to look for in and on the water
Lynn's degree and her work with the Kawartha Lake Stewards gives her an educated perspective when she's looking at a waterfront property.
That means that she can identify when a property will be desirable to geese, or when it may be vulnerable to erosion — a particularly expensive problem, as pieces of your property literally wash away into the water.
She even teaches healthy shoreline workshops to cottage associations, so she can give great advice to protect your shoreline for years to come.
Advice for buying or selling a shoreline property
Lynn's advice for prospective shoreline homeowners goes beyond the property line: she says that it's important to consider the area you're buying in.
"Being in a good proximity to a town, somewhere that you like to get your last-minute things, to run over and go to the hardware store. That town's really important, and it's nice not to have to drive a really long time to get to it."
Lynn works a lot in the Buckhorn area because of that.
"There are a lot of lakes that you can get to and a lot of waterfront property within ten or fifteen minutes to Buckhorn."
What if you're looking to sell a waterfront property? Lynn says that you should be careful when investing in repairs.
"There are certain things that you can do to get your money back. Some investments will come back to you, and others won't."
For example, if your roof has seen better days and you can afford it, Lynn suggests replacing it. A new roof makes a great first impression.
If you're selling by the water, you should also make sure that your docks and decks are in good shape. You want prospective buyers to be able to enjoy the space, not fear for their safety.
A local perspective
Having lived in the area for 20 years, Lynn knows the Kawarthas. Whether you're on the water or in the city, Lynn takes an educated and honest approach to real estate.
"Honesty and integrity, knowledge of the area, and knowledge of the lakes." That's what it comes down to, according to Lynn.
You can find Lynn online at www.lynnwoodcroft.com and on Facebook. You can reach her by phone at 705-768-5588.