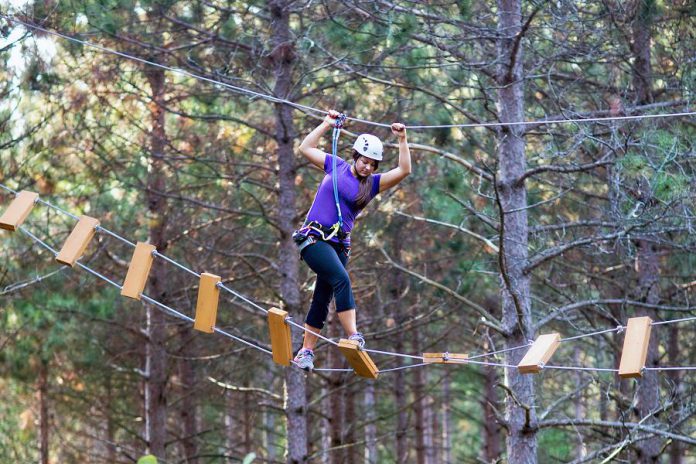 "I'm an adventurous person, I can do this," I tell myself, stepping off the edge of a two-foot wide wooden platform, 20 feet above the forest floor and on to a series of suspended logs.
"I'm an adventurous person … with a healthy, normal fear of heights!" I repeat this like a mantra, as this new adventure pushes me well outside of my comfort zone.
It's foggy and raining lightly, leaving the course slick and shining in the morning light.
"You can do it, just take your time!" our guide, Jocelyn, shouts from across the forest canopy of red pine trees.
I take a deep breath, and take my first step onto the wobbly suspended log bridge, scrambling quickly across to the next platform. Fear is replaced with exhilaration — now on to the zip line!
It's all part of the adventure up here in the treetops.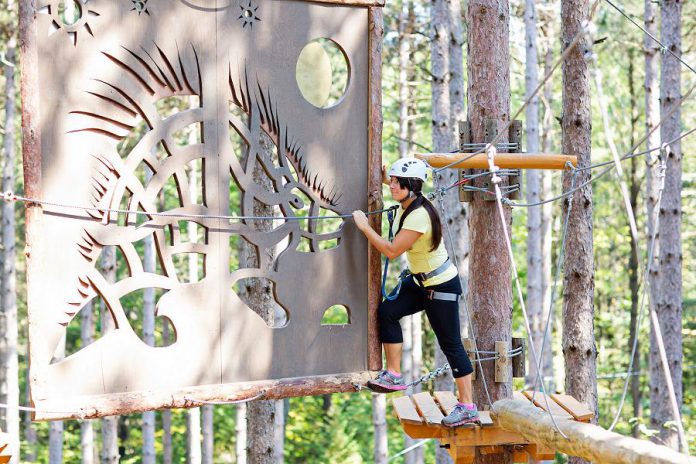 Treetop Trekking Ganaraska (10585 Cold Springs Camp Rd, Campbellcroft, 905-797-2000), is one of five Ontario aerial adventure parks and operates from April until October.
Located roughly 35 minutes from Peterborough in the quiet Ganaraska Forest, it's an adrenaline-pumping playground of 10 ziplines and 65 games or obstacles including wooden bridges, Tarzan swings, balance logs, hammock nets, and tightropes as high as 70 feet above the ground — enough to excite any daring outdoor enthusiast.
The aerial canopy tour attracts roughly 11,000 climbers a year.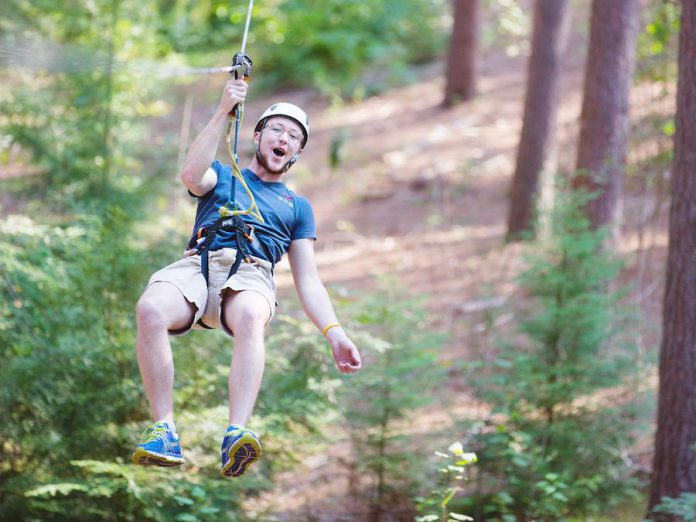 Treetop Trekking is open to anyone from the ages of nine and up and an ideal outing for a wide variety of groups — school trips, corporate outings, team-building events, Scouts, birthday parties, bachelor and bachelorette parties, and any other adventure and adrenaline seekers. Visitors may also choose to come alone, with friends and family, or in large group.
Extreme adventure courses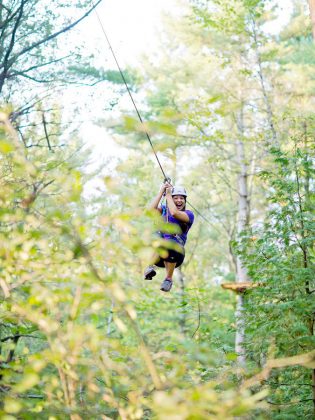 The courses get progressively more difficult from beginner all the way up to the advanced-level courses. Climbers have three hours to attempt as much of the park as they can.
The adventure course starts easily enough, with simple obstacles not far off the ground. But as our group progress through each of the six stages, the courses get higher and more difficult, with bridges, swings and nets providing many thrills — and an extreme workout.
When you demonstrate you're able to handle a more advanced difficulty level, the guides clear you to move up to the next level.
Treetop Trekking's hallmark and most challenging obstacle is the expert-level course known as Timberwolf which reaches heights over 60 feet in the air, explains Nic Crigger, Treetop Trekking Ganaraska's site manager.
"Expert level is a personal choice. We do have quite a few participants that come to our site just to climb Timberwolf specifically, which is the hardest course at any of our Ontario sites. Of course, they have to do all of the obstacles to get to that point, but they come with Timberwolf as their end goal."
Climbers can also choose to complete the Flying Falcon, which consists of four ziplines and three suspended bridge obstacles crisscrossing the forest. The longest zipline in this course is 450 feet long and it takes about 10 seconds to cross.
Throughout the course, there are guides on the platforms and the ground ready to help, encourage and advise.
Safety is top priority
Treetop Trekking pride themselves on being a safe company.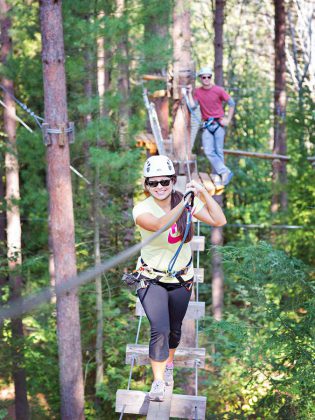 After signing a waiver, our group is fitted for harnesses and helmets supplied by Treetop Trekking and given a 20-minute orientation on how all of our safety gear works.
Climbers are harnessed to safety cables that run throughout the park at all times.
"All of our activities are safe," says Crigger. "That is why we are so diligent in our safety orientation at the beginning so everyone knows how to use the equipment and climb properly."
The most important rule when on the courses: climbers must have at least one of their two carabiners attached to a marked safe connection point at all times.
Any person caught without at least one of the carabiners attached gets a purple band. A second violation gets you booted off the courses.
A varied experience
According to Crigger, the main concept of the park is to teach climbers that determination, persistence, and hard work are what truly define one's level of achievement.
This lesson is learned simply through the feeling of triumph climbers feel after conquering the ropes course or speeding down the zip line.
"For the most part, people are doing something that really challenges them to move out of their comfort zone. It can really help you grow as a person."
After two of the simplest courses and an hour-and-a-half, I am surprisingly worn out, perhaps from my inexperience.
But the beauty of Treetop Trekking Ganaraska is that more difficult trails, challenges, and a whole lot of fun await me when I return.
For more information about Treetop Trekking Ganaraska, rates or to book your experience in advance, visit www.treetoptrekking.com/en/ganaraska or call 855-280-0900.
You can follow Treetop Trekking on Facebook, Twitter, and Instagram.
VIDEO: Treetop Trekking Ganaraska