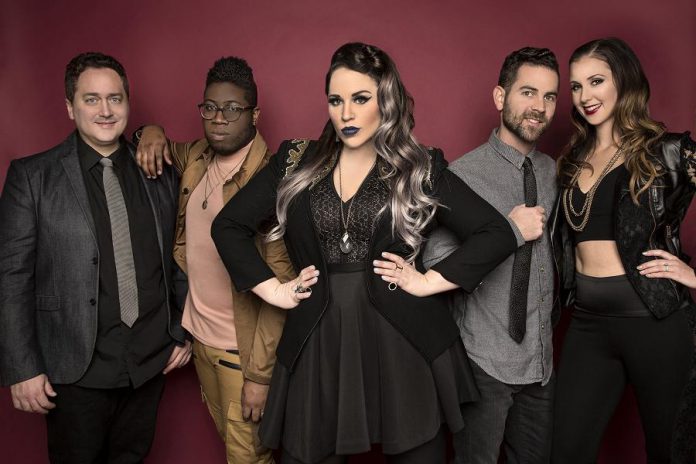 As far as first gigs are concerned, one would have to search long and hard to top Eh440's live performance debut … at least in terms of crowd size.
The date was February 14, 2012 and the venue was the Air Canada Centre where the newly formed a cappella quintet performed the Canadian and American national anthems prior the National Basketball Association tilt between the Toronto Raptors and the New York Knicks.
On Saturday, August 5th at Del Crary Park, the crowd will be smaller but the same distinctly harmonic sound that greeted all those ears five years ago will fill the evening air, as Peterborough Musicfest presents Eh440 — the free concert series' 11th show of the summer.
The road to that impressive first gig began some 15 years prior via a friendship struck between Janet Turner and Stacey Kay who, as kids, competed against each other at a number of singing contests.
VIDEO: "Boss Level" – Eh440

Years later, after college, Turner moved from London, Ontario to Toronto where she met bass singer Joe Oliva and became a member of his a cappella trio The Essentials along with beatboxer Joe Stapleton.
After The Essentials disbanded in 2011, Oliva, Turner and Stapleton looked to add two more voices to the mix and form a quintet. After auditioning more than 40 singers, Kay got the eventual nod along with Mike Celia. When he left in 2015 to pursue a solo career, Jake Stern came on board, only to be replaced just this year by Tafari Anthony.
"We had a new vision in mind; we wanted to take a cappella music to a place we haven't seen it go before," says Oliva in a 2013 interview with Sean Meyer of www.ourlondon.ca.
"A lot of a cappella groups try and find similar voices. They say they need everyone to blend together. We thought we had enough experience to teach people how to blend, how to harmonize, without them having any previous experience."
And that Eh440 did with great success, heading into the studio in late 2013 to record its debut album with Toronto producer Hill Kourtoutis at the helm. The result was Turn Me Up, released in May 2014, and the promotional tag "Five Voices, Zero Instruments and One New, Exciting Vocal Sound". One of the album's 12 cuts, "Don't Run Away", features Millbrook's Serena Ryder.
VIDEO: "The Way You Make Me Feel" by Michael Jackson performed by Eh440

"Bobby McFerrin won a Grammy back in the 1980s (Don't Worry, Be Happy) but he doesn't promote himself as an a cappella singer. That isn't his focus. I think that was a lesson for everyone but I don't think they embraced it," Oliva says.
"The fact it is a cappella should be secondary. You have to focus on the things that are important for any band — writing great songs, having a great recorded performance of those songs, and a great live performance of those songs."
Serious music industry recognition followed the release of Turn Me Up in the form of a Galaxie Rising Star nod in 2013 and, in 2014, Best Song – A Cappella honours courtesy of the Independent Music Awards.
Eh440 arrives in Peterborough on the heels of Boss Level, its September 2016 follow-up to Turn Me Up. Thirteen of the album's 15 songs are originals — indicative of Eh440's desire to buck a trend that has typically seen a cappella groups mostly perform covers of other artist's songs.
Following a busy summer including the Peterborough concert, Eh440 will perform on September 23rd at Toronto's revered Massey Hall, as well as a slew of gigs in the United States and Europe where the quintet has been a festival favourite for a few years now.
VIDEO: "Died On The Table" – Eh440

Peterborough Musicfest is presenting 17 free-admission concerts featuring a total of 22 acts during its 31st season — each staged every Wednesday and Saturday night until August 26th.
Overseen by general manager Tracey Randall and staff, a board of directors, and numerous volunteers, Peterborough Musicfest's stated mission is to "provide diverse, affordable live music to enrich cultural and economic prosperity in our community."
For more information on this concert and/or the 2017 season, visit www.ptbomusicfest.ca or phone the Peterborough Musicfest office at 705-755-1111.