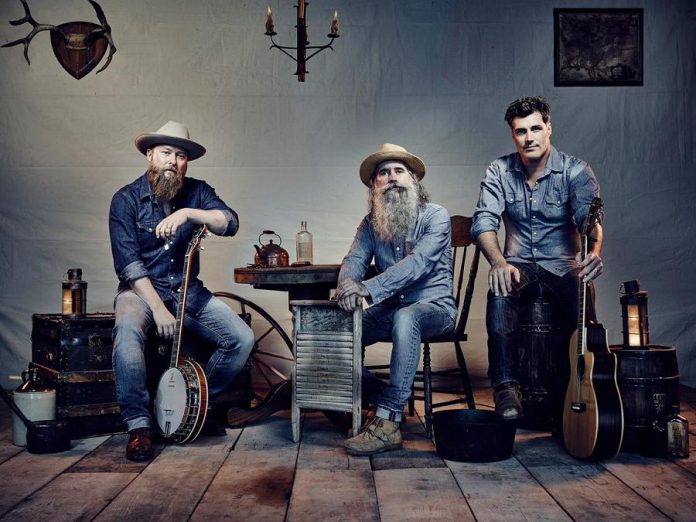 It's déjà vu for Peterborough Musicfest as yet another Canadian music success story rooted in a teen friendship prepares to take to Del Crary Park's Fred Anderson Stage.
Just this past Saturday (August 5), the free summer concert series welcomed Eh440, an a cappella quintet that includes two members who met as youths and reunited later as members of that group. Now country-bluegrass trio The Washboard Union is on tap for Wednesday, August 9th, with two of its members having struck an adolescent friendship and evolved it into a musical union.
It was in Kelowna, British Columbia that Aaron Grain and Chris Duncombe met — a relationship prompted by Duncombe's father dating Grain's mother. When the two friends moved to Vancouver, they teamed up with David Roberts. Before long, the trio was writing songs and performing together, initially under the moniker Run GMC.
Come June 2012, now known as The Washboard Union — the washboard being a key weapon in their musical arsenal along with a guitar and banjo — they self-released their debut self-titled album. There things sat recording-wise until 2015 EP In My Bones, which was recorded in Nashville with producer extraordinaire Trey Bruce at the helm.
VIDEO: "Some Day" – The Washboard Union

In My Bones was a game changer for The Washboard Union, producing not one but four Top 40 hits: "Some Day", "Maybe It's The Moonshine", "Shot Of Glory", and "Head Over Heels".
Accordingly, music industry recognition has been quick in coming, first in 2015 when the British Columbia Country Music Association bestowed Roots Canadiana of the Year honours, and then in 2016 when the same awards presentation saw nods go to The Washboard Union for Group Duo of the Year, Roots Canadiana of the Year, and Songwriter of the Year for "Maybe It's The Moonshine". Also in the mix last year were two Canadian Country Music Awards in the categories of Roots Artist of the Year and Rising Star.
"I can't believe we've had a year of singles from our EP," says Grain in an October 2016 interview with Roman Mitz of www.themusicexpress.ca.
VIDEO: "Maybe It's The Moonshine" – The Washboard Union

"I think people were looking for something different and our timing was great. We're cut from a different cloth because of the style of our music, and we hit popular radio at a time when country music's fabric changed. There was a bit of a throwback to how country music used to sound. If we tried to do this now we might be looked at as being somewhat behind the boat. Had the switch not happened at the right time, I don't think we would have had the success that we did.
"Like all good stories it started with a bottle of whisky and some good ideas. At the time, we were doing between 40 and 50 trucker songs, covering Red Sovine, C.W. McCall and Roger Miller, that kind of thing. I looked at Chris (Duncombe) and said that he should go to a store and buy a banjo and a beginner's banjo book. David (Roberts) took the washboard that was off the wall and created this washboard sound that definitely leant itself to bluegrass."
Working in Nashville with Trey Bruce certainly didn't hurt matters. The veteran producer has written, and co-written, songs for the like of Diamond Rio, Randy Travis and Faith Hill, to name but a few country music heavyweights his name is linked to.
VIDEO: "Shot of Glory" – The Washboard Union

"In My Bones became the name of the EP for reasons that we initially didn't realize were happening," says Grain.
"We went to Nashville and, at the time, we were staying right across the street from a cemetery. On top of that we recorded at RCA Studio A where people like Porter Waggoner, Eddy Arnold and Elvis had recorded, so it was like we were surrounded by these ghosts of country music, and spirits from the past coming through the walls of the studio.
"After all was said and done, we were quite touched and affected by this, and we felt the music, literally, in our bones."
VIDEO: "Head Over Heels" – The Washboard Union

The award accolades that have followed have produced their share of pinch-me moments for the band, adds Grain.
"The CCMA awards caught us completely by surprise. We thought we might have a chance for the Roots award and when our name was called out, we were just over the moon about it. When we got the Rising Star award, it blew us all away. It's one of those things to be recognized among your peers, fellow musicians and the music industry, as being the best. It feels like the work that we're putting into it is being acknowledged."
On the horizon for The Washboard Union is the pending release of a new album and a number of summer show dates, both in Ontario and back out west in Alberta and B.C.
The Washboard Union's Peterborough Musicfest appearance is sponsored by Cambium, GE, and Home Hardware.
Peterborough Musicfest is presenting 17 free-admission concerts featuring a total of 22 acts during its 31st season — each staged every Wednesday and Saturday night until August 26th.
Overseen by general manager Tracey Randall and staff, a board of directors, and numerous volunteers, Peterborough Musicfest's stated mission is to "provide diverse, affordable live music to enrich cultural and economic prosperity in our community."
For more information on this concert and/or the 2017 season, visit www.ptbomusicfest.ca or phone the Peterborough Musicfest office at 705-755-1111.