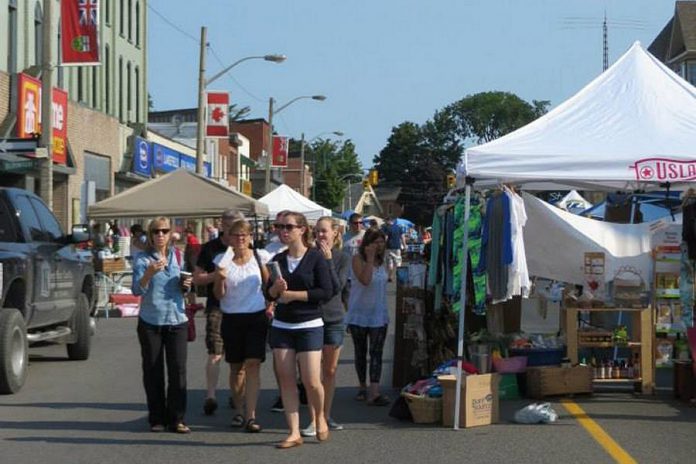 ---
Awards of Excellence Nominations Now Open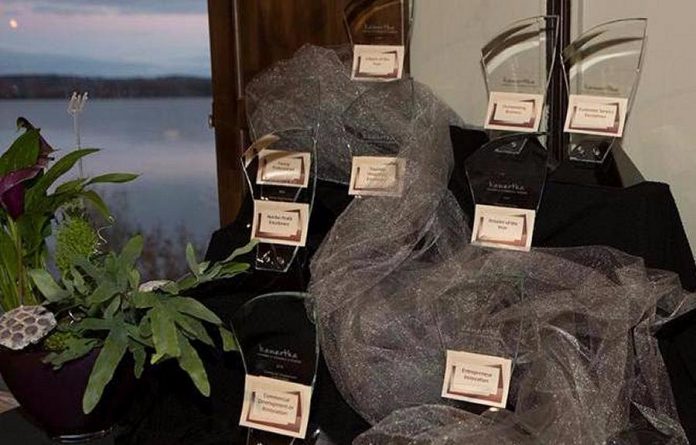 Nominations are now open for the Chamber's 18th Annual Awards of Excellence! If you have recently received superb service; know of a business, organization, or individual who is excelling in their respective field, or going above and beyond for the community, be sure to submit a nomination.
Visit kawarthachamber.ca/nominations for nomination forms. The deadline for nominations is Monday, September 11th. Awards will be presented at the Awards of Excellence Gala on November 3rd at Elmhirst's Resort. Reserve your tickets now!
Save the Date: Business After Hours Buckhorn Hop on September 20
Come out and visit some of the Chamber Members in Buckhorn on September 20th. Business After Hours will be held in various locations in Buckhorn including Gallery on the Lake, Buckhorn Canoe Company, and Style Your Nest, from 5 to 7 p.m..
This is a great opportunity to network and meet representatives from local businesses! More details to come.
5 Minutes for Business: Business Costs and Canadian Competitiveness — We're Not Crying Wolf
With every tax increase, the hands of Canadian business have no choice but to dig deeper and deeper in the same pocket. Initially, these tax hikes may not appear significant, but overtime, the burden accumulates drawing on the last straw. Canada, you're a pricey place to do business.
In this edition of 5 Minutes for Business, Hendrik Brakel, Canadian Chamber of Commerce Senior Director, Economic, Financial and Tax Policy, considers how the high costs of doing business in Canada affect the country's competitiveness. These concerns were expressed in a recent letter to the Prime Minister, composed by CCC President and CEO and his provincial and territorial colleagues. Read 5 Minutes for Business.
The Canadian Chamber of Commerce releases 5 Minutes for Business, a publication written by Hendrik Brakel, the Senior Director of Enconomic, Financial and Tax Policy. In these publication, Hendrik briefly describes current issues that affect the Canadian economy and provides insight on what it will mean for Canadians today and the future.
Lake Field Music Camp Celebrating 40 Years
Lake Field Music Camp is celebrating its 40th anniversary. The one-week camp (August 13th to 20th) for adult amateur (and pro) musicians at Lakefield College School provides an opportunity to enjoy music-making and develop skills in a supportive and non-competitive environment.
The public is welcome to attend the Faculty Concert on Thursday, August 17th at 8 p.m., and Participant Concerts at 8 p.m. on Friday and Saturday. More details at www.lakefieldmusic.ca or email info@lakefieldmusic.ca.
Welcome New Members
Loyal Millwork Company
30 Mill St, Warkworth, ianleblanc@rogers.com, 905-431-8528
Loyal Millwork Company designs, manufactures and installs quality custom kitchens and fine cabinetry. They also offer full renovation services for all your home and cottage projects. As seen on the Property Brothers and other HGTV series, Loyal Millwork Company has highly skilled craftsmen that are passionate about woodworking.
Monidax Inc.
12 Bridge Street, Suite 202, Lakefield, monidax.com, 705-868-9142
Monidax Inc. technical support services include computer maintenance and repairs, disaster recovery and business continuity planning, design and implementation of custom systems, data recovery and managed services.
We Design Group
254 Brock Street, Peterborough, wedesigngroup.ca, 705-755-0850
We Design Group is a collective of professionals focused on marketing and design communication with an obsession of creating innovative, intuitive, content driven marketing tools for their clients. They assess what sets their clients apart in the marketplace, work with them to develop a relevant strategy, capitalize on their uniqueness, develop media that command attention and continue to build and strengthen their brand image.
Lakefield Sidewalk Sale – August 12th
The annual Lakefield Sidewalk Sale is quickly approaching.
This Saturday, August 12th from 9 a.m. to 3 p.m., Queen Street in Lakefield will be closed from Bridge Street to Reid Street. Local vendors and merchants will set up along the street with great deals and items for sale! There will be not-for-profits, returning businesses and new businesses you may be seeing for the first time.
It will be an exciting day filled with shopping, entertainment, and lots of activities. Bring the whole family out for some fun!
Upcoming Events
Warsaw Cruise Night – August 9th
Cruise Night at Craftworks at the Barn – August 10th
Free Movies in the Park – August 10th
Classy Chassis TGIT Ride Night – August 10th
Lakefield Farmers Market – August 10th
Bridgenorth Farmers Market – August 11th
Discovery Days at Beavermead Campground – August 12th
Free Canoe City Walking Tours – August 12th
Crocs After Dark – August 12th
Classy Chassis Sunny Saturday BBQ – August 12th
For more information about the businesses and events listed above, please visit the Kawartha Chamber of Commerce & Tourism website at kawarthachamber.ca.
All photos supplied by Kawartha Chamber of Commerce except where noted.