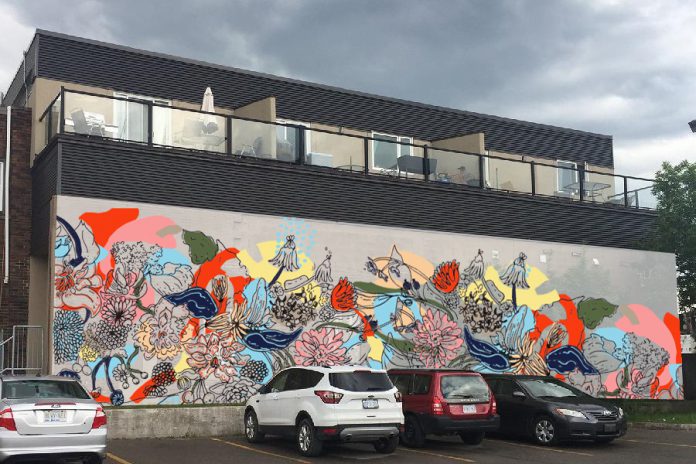 An artist from Prince Edward County has been selected to complete the City of Peterborough's latest mural project in downtown Peterborough.
Chrissy Poitras will paint a mural called "Floral Abstraction" on the wall of the building at 378 Aylmer Street in Peterborough, which houses both Artspace and Peterborough GreenUP. The mural will face the parking lot of the Greyhound Bus Terminal on Simcoe Street.
Poitras is a painter and printmaker, as well as co-owner of Spark Box Studio — an artist residency, print studio, and educational facility in Prince Edward County.
"The bright colour pallet and energetic floral cascade will liven the area and engage passers-by," explains Poitras in her submission. "Bringing botanical elements into an urban part of the city will change the area's atmosphere, as well as the relationship residents have with a building that used to blend into the background. The flowers featured will be based on the wildflowers and locally grown flowers of the area."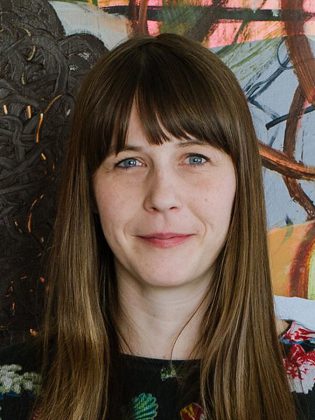 Potrais' mural submission was selected by a jury of seven people: artist Laura Madera, Linz Hunt (Artspace Board of Directors and Royal LePage Real Estate), Paul Bennett (Owner, Ashburnham Realty), Jon Lockyer (Artspace Director and Curator), Thomas Green (Member of City of Peterborough Public Art Committee), Dennis Carter-Edwards (Member of City of Peterborough Public Art Committee), and Erik Hanson (City of Peterborough Heritage Resources Coordinator). The jury's selection was endorsed by the City of Peterborough's Interim Public Art Committee, chaired by Bruce Stonehouse.
Poitras is a graduate of Bachelor of Fine Art Studio program at the Queen's University. Through Spark Box Studio, and as a former professor in the Art and Design Foundations Program at Loyalist College, Poitras has also organized, developed and run courses on a variety of studio arts and arts management topics.
The total budget for the project is $12,000, including $7,000 in artist fees, $4,000 for materials, and $1,000 for travel. The mural is expected to be completed is early October 2017.
The project is part of the ongoing public art program led by the City of Peterborough to create culturally enriched public spaces that foster a sense of place and an emotional attachment to Peterborough's urban and natural environment. The Aylmer Street Mural Project is funded by the City of Peterborough's Public Art Program. Artspace has been contracted by the City's Arts Culture & Heritage Division to coordinate this initiative.