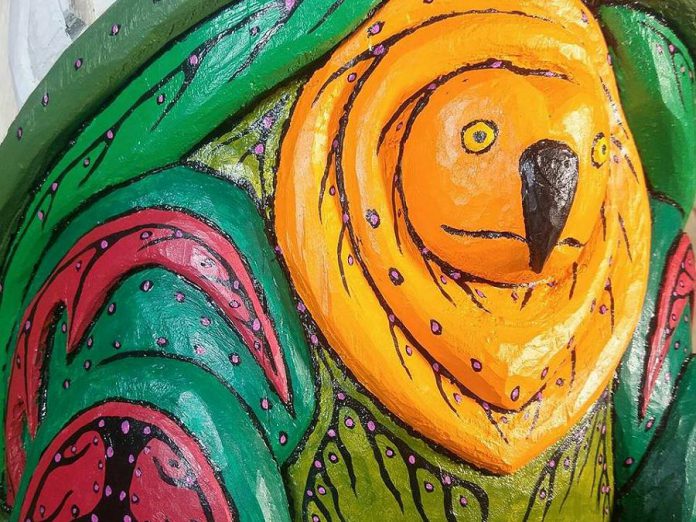 Local Ojibway artist Kris Nahrgang has created a 28-foot totem pole that will be installed at this year's Canadian National Exhibition (CNE) in Toronto.
The Unity Pole will be unveiled at the Heritage Court in the Enercare Centre at the CNE on Wednesday (August 16). It will be on display during the CNE from August 18th to September 4th and then will be permanently erected on the CNE grounds.
The pole is one of the CNE's first commissions since the 1940s. It's a major achievement for the artist, as 1.6 million guests visited the CNE in 2016.
"My task was to create a pole which spoke to uniting of all Canadians as we strive for a better existence for us all in this beautiful country," he says. "It was a pleasure to work with the CNE as they allowed me the full freedom as the artist and creator of the pole to tell the story that I saw for its existence."
Nahrgang lives in Big Cedar (north of Peterborough and near Petroglyphs Provincial Park) with his wife and daughters. He began carving in 1989, largely as therapy after his hands were nearly crippled from working in the auto body business for 16 years.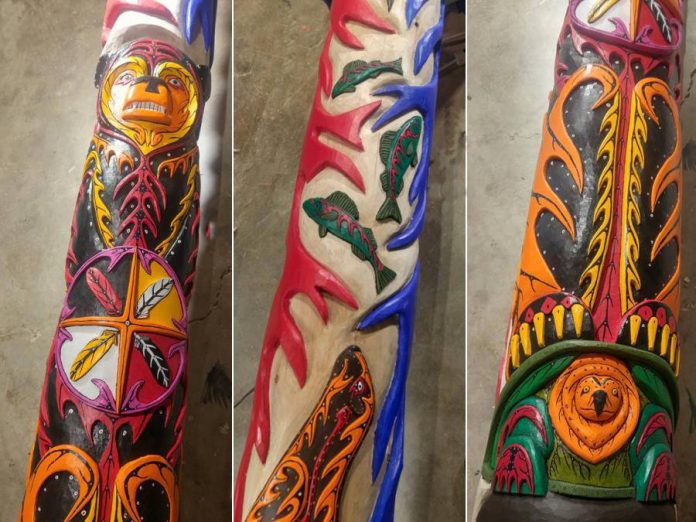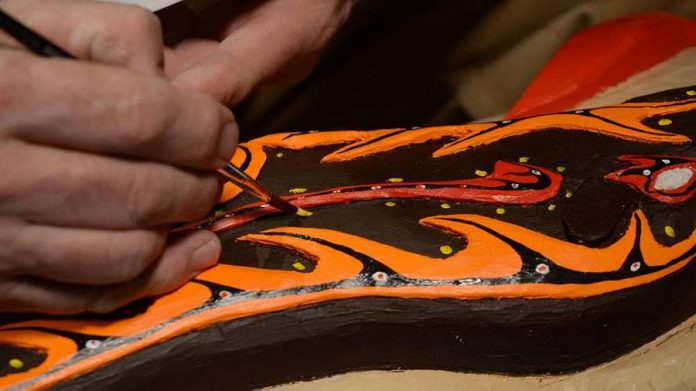 Since then, there has been a growing recognition of his work across Canada and the world. President George Bush, Nelson Mandela, and Justin Trudeau are some of the famous people who have Nahrgan's work in their collections.
While he usually works with soapstone, Nahrgang also carves local cedar into custom totem poles and masks using traditional and modern motifs and styles. The Unity Pole is carved from a white cedar tree from the Peterborough area.
"I am normally a stone carver and it is very satisfying work for me," he says. "The wood though takes on a whole new feeling as it starts from a living tree, and transforms into a story to be realized by its giving of itself for the world. As I work the tree I can feel its spirit, its changes, and its transformation. I am truly blessed with this gift."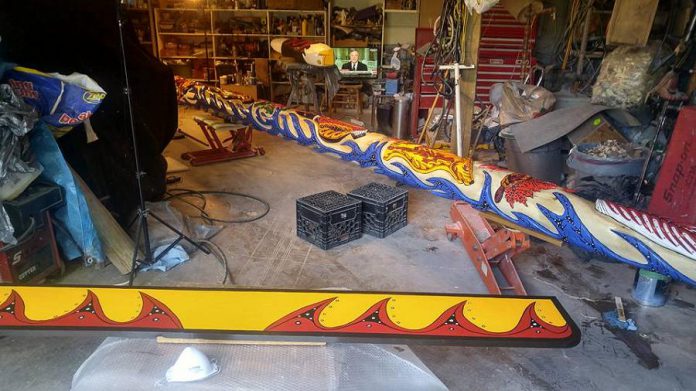 Nahrgang's ornate poles are carved from white cedar and finished with paint in the woodland cultural style, with vibrant colours and distinct lines. This distinguishes them from the totem poles carved on the West Coast, which use more muted colours and are carved from red cedar.
"Totem poles are not entirely traditional to Anishnaabe people," Nahrgang explains. "We did however erect clan poles to honour our lineage. My poles reflect that tradition incorporating traditional clan symbols and contemporary images."
"Totem poles tell a story," he adds. "Each symbol or totem on a pole represents a feeling, a person, an animal, a place, or a concept."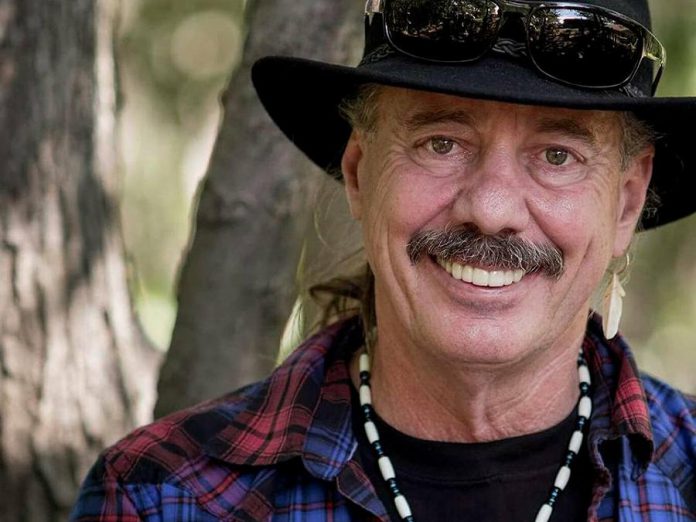 The Unity Pole project was facilitated by Donna Child of Artworld Fine Art, who also operates The Toronto West Arts Collaborative, a not-for-profit organization that assists emerging and mid-career artists with marketing their work.
"Because of my work with the the CNE, I was asked for assistance with the totem project," Child explains. "There are many wonderful totem artists in Canada, and several were presented to the CNE. But having worked with Kris on another project, I personally knew that he would be able to capture the story the CNE wanted to tell, in the manner they wanted it told. Kris is a storyteller and that is what totems reveal — a story. The Unity Pole is a story about bringing our country together as one."
As well as his work as an artist, Nahrgang is an advocate for the rights of First Nations communities. He will be co-hosting a new television series with Sarain Fox on APTN in 2018. Reclaiming Our History & Harnessing Our Future is a documentary series about shifting the colonial narrative and celebrating the reclamation of indigenous knowledge and identity. Find out more at futurehistorytv.ca.
All photos courtesy of Kris Nahrgang.