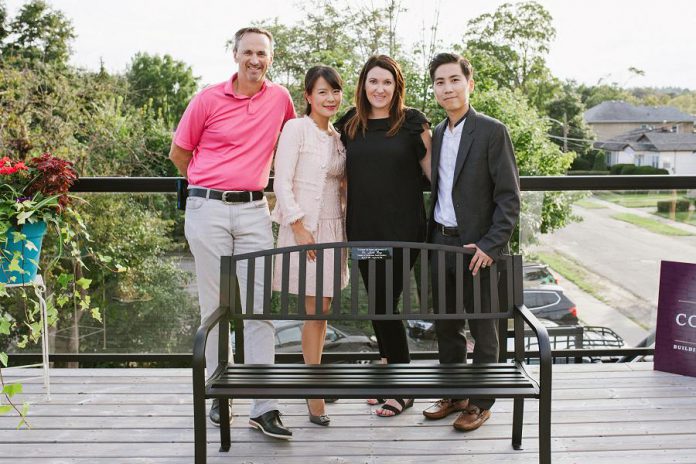 It was a year ago tomorrow (August 16) that much-loved Peterborough dentist Dr. Judith Buys died following injuries she suffered during a tragic accident at a cottage.
Last night, Dr. Anna Jo and her husband Dr. Jay Chun — the new owners of Cornerstone Family Dentistry, the dental practice Judith founded — held a ceremony to honour her with the unveiling of a memorial bench.
Members of the Cornerstone team attended the dedication ceremony, as did Judith's husband Dr. James McGorman and her son Connor McGorman, along with Connor's fiancé Chelsea.
Cornerstone office manager Amanda Crowley spoke at the ceremony, recounting the humble beginnings of Cornerstone Family Dentistry.
After Judith and her husband Jim purchased "that little house on the bend" at 681 Reid Street in 1986, they renovated the old home to convert it into a dental practice. When the practice first opened, it only had four staff.
"Judith would love to tell us how back in those early days she even used to do her own reception desk work and book the patients back herself," Amanda said.
In 1991, Judith expanded the clinic with a new addition. The practice had three dentists and more hygienists and support staff. In 2007, she again renovated the practice to include digital radiography and full computerization. Eventually, she rebranded the practice as Cornerstone Family Dentistry.
Amanda thanked Drs. Jo and Chun, who purchased the practice this past January, for installing the memorial bench and for their support of Cornerstone staff over the past year.
"I would like to thank Anna and Jay," Amanda said, "not only for ensuring that our team will have a place that they can come and sit and reflect but for the kindness, empathy and compassion that you have shown to all of us these past eight months. You have both been patient and so sensitive to our needs, and I know that I speak for all of the team when I say that your willingness to pay tribute to Judith's memory has meant the world to all of us.
"This last year has undoubtedly been difficult and hard. All of us miss Judith very much, but Judith was always more of a fan of a party than of sitting around wallowing. She would want us to be getting up each day and hitting that ground running. Plaster a smile on your face whether you felt like it or not and give the patients the best of yourself she'd tell us."
Judith's husband Dr. McGorman spoke to thank everyone, as did Drs. Jo and Chun. who said they were humbled and honoured be a part of the practice. Dr. Jo said she intends to work hard to ensure that the legacy of Dr. Buys' memory lives on.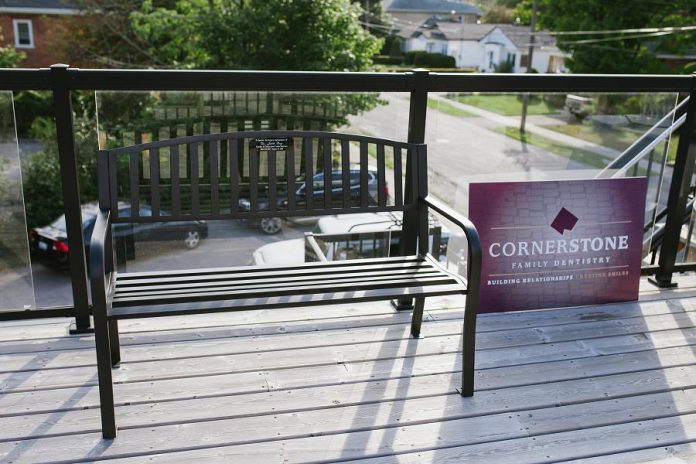 Other members of the Cornerstone team have also shared their memories in tribute to Dr. Buys.
"Today marks a year of the passing of a beautiful dynamic woman who had such a passion for her work and for life," says Cornerstone treatment coordinator Becky Pigeon. "This last year has been a personal struggle for myself and anyone who has had the privilege to know her. We have been extremely blessed to have the ongoing comfort and support from each other at Cornerstone Family Dentistry, our patients, and the community.
"Judith was not just my employer, she was my mentor, my friend, and a mother figure to me. We had a very unique working relationship and a special bond as she did with all of her family and patients at Cornerstone Family Dentistry. Judith made sure all of her staff and patients knew how much she cared and appreciated them. She worked hard every day to provide the best care and was so proud of her team at Cornerstone Family Dentistry. She provided a warm and friendly atmosphere that was felt everyday by patients and staff. Judith had a huge impact on my life and everyone around her. Judith's passing has taught us all to live in the moment and be thankful for the life we have been given."
Cathy Wakeford is a hygienist at Cornerstone who worked with Judith for more than 28 years.
"Losing my long time boss and friend of 28-plus years was a shock and sadness that will linger with me forever," Cathy says. "Judith shaped the hygienist that I am today and I will cherish this always. Our patients' needs always came first, and our goal to create healthy and beautiful smiles was achieved through her vision and our wonderful dedicated staff."
Cornerstone Family Dentistry will be closed on Wednesday, August 16th in recognition of the anniversary of Dr. Buys' passing.