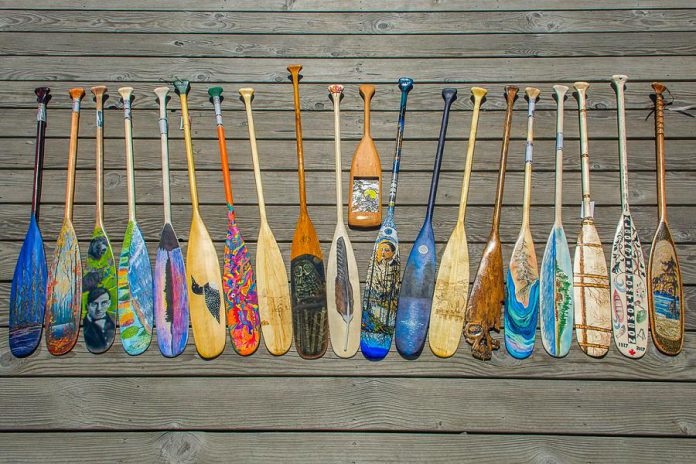 Last spring, wilderness canoe trip outfitter Algonquin Outfitters decided to hold a contest to celebrate the company's 55th anniversary, the 150th anniversary of Canada, and the 100th anniversary of iconic Canadian artist Tom Thomson's death in Algonquin Park.
The idea? By the end of August 2017, get people to create 100 unique pieces of paddle art and donate them for a charity auction. For a registration fee of $25, Algonquin Outfitters would supply contest entrants with either an unfinished paddle blank or a rough paddle blank that they could then paint or carve — or implement whatever creative idea they had.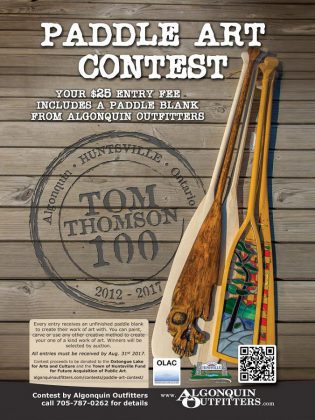 The contest was a huge success, with Algonquin Outfitters receiving more than 170 paddles by the end of the contest on August 31st. Beginning during the first week of September, they will be auctioning off the paddles for charity online at algonquinoutfitters.com/auction/ culminating with a live event in Huntsville as part of the launch of Culture Days District of Muskoka.
All proceeds from the auction will go to support local arts through Oxtongue Lake for Arts and Culture — a community group that promotes the connections of Tom Thomson, A.J. Casson, and The Group of Seven connections to the Oxtongue Lake area — and the Town of Huntsville reserved fund for future public art acquisition.
The Tom Thomson Paddle Art Auction live event takes place at the Algonquin Theatre (37 Main St. E., Huntsville) from 3 to 9 p.m. on Friday, September 29th.
The event includes an open house viewing beginning at 3 p.m., an open mic for artists to talk about their paddle creations at 6 p.m., an information presentation on Huntsville Culture Days at 7 p.m., a free viewing of The Canoe film by Goh Iromoto / Ontario Travel at 7:30 p.m., and music by Sean Cotton and an artist open mic at 8 p.m.
The online auction for the paddles, which begins the first week of September, closes at midnight on September 29th. Prizes will be offered to the artists whose paddles bring in the most at the auction.
Algonquin Outfitters has already posted photos of the paddles on its Facebook page and will be posting more information about each paddle, including the artist, on its auction page at algonquinoutfitters.com/auction/ when the auction goes live.
Here are a few examples of some of the 170 unique and creative paddles that people created for the contest.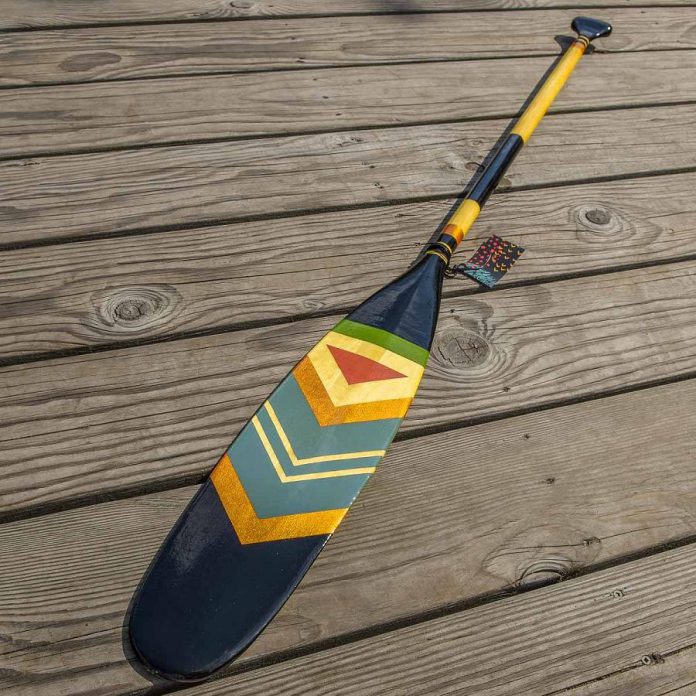 Jen Morgan Anderson of Muskoka says she was inspired to create the above paddle from the Tom Thomson painting "Northern River", with the colours sampled from the painting and the shapes being a highly abstracted version of the painting's composition. She had already painted a paddle before hearing about the Algonquin Outfitters contest, and has since painted many more, and has also taught two paddle painting workshops in Bracebridge.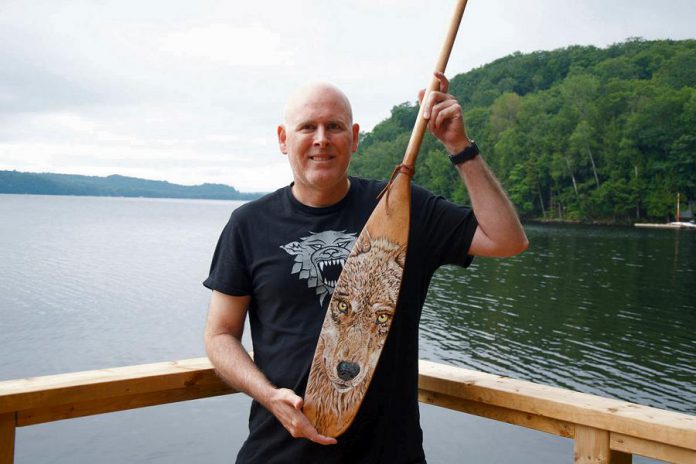 Peter McBurney of Niagara Falls, who has been travelling to the Muskoka/Algonquin Park/Haliburton region since he was a child, is fascinated by wolves and often uses them as a subject in his artwork (he paints from photographs of wolves). Having recently learned that his great-grandmother, who was also an artist, was friends with Tom Thompson, he decided to paint the above paddle when he heard about the Algonquin Outfitters contest.
Christopher Dutton took a musicial approach by creating this four-string "canjo" guitar made from a broken paddle from the Algonquin Outfitters store at Opeongo, old forks found in a fire pit, and trout lures.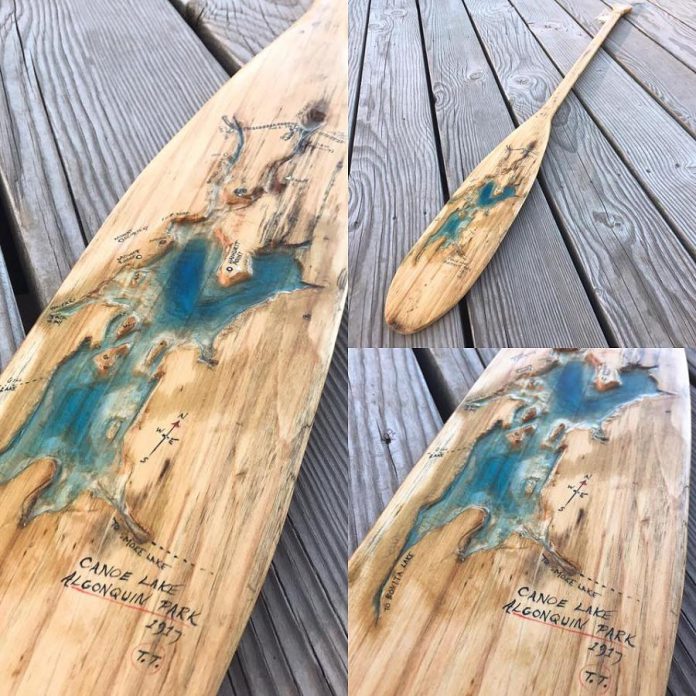 The above paddle by Katie Ohlke of Stone Ridge Art Studio shows a map of Canoe Lake in Algonquin Provincial Park, a favourite location for Tom Thomson to paint and where the 39-year-old artist's body was found on July 17, 2017.
Here is a photo gallery of only 22 of the 170-plus paddles submitted for the contest. You can see more photos on Facebook page and at algonquinoutfitters.com/auction/ (along with information about the artist who created each paddle) when the online auction begins later this week.
All photos by Algonquin Outfitters except where noted.