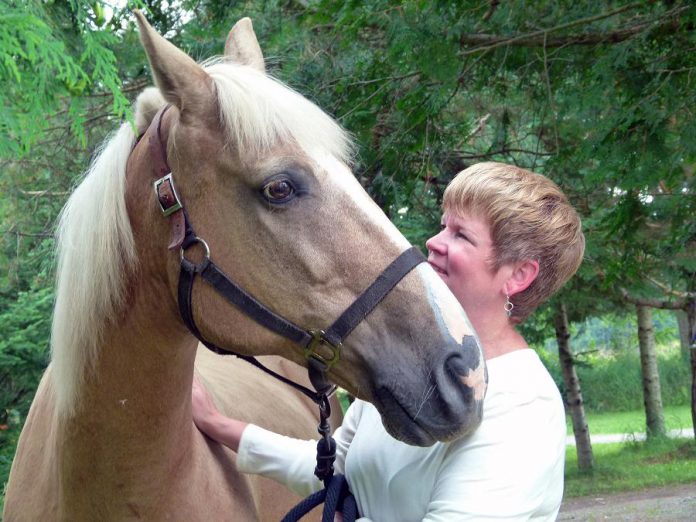 From corporate conference room to horse barn — you'd be surprised just how one can lead to the other.
Jennifer Garland is well-acquainted with the bustling world of corporate communications and leadership coaching, having 25 years of experience both as a consultant and a full-time team member.
Six years ago, looking out at the empty fields of the farm she and her husband had purchased, she said, "I think I'd like to buy a horse." And her husband said "Good idea."
And so, Sunny (who has since earned the name "Sunny with a Chance of Tornado") came to live with Garland and her family.
"I found when I spent some time in the barn with Sunny, who had a highly developed sense of fear, I went home feeling calmer with a clearer head," Jennifer says. "He taught me about overcoming fear, being more confident, aware, and focused."
VIDEO: Welcome to The Mane Intent

To Garland, the path was crystal clear: she became certified in FEEL™ (Facilitated Equine Experiential Learning) and, a year later in 2014, launched The Mane Intent Inc.
Now in 2017, The Mane Intent serves a variety of clients, ranging from individuals and couples, to corporate groups and those healing from trauma.
"The Mane Intent has become my passion," she says. "This is life-changing work for me."
The work is also life changing for participants. For people from all walks of life, the business offers individual and team effectiveness coaching, leadership development, and health and wellness workshops working with horses as natural coaches.
"Horses have a natural ability to give us clear, direct, and rapid feedback," Jennifer explains. "There will be a moment during their session with the horse that is often a surprise for the client. It's a moment of connection and that's often the 'aha' moment where they see a pattern of behaviour that may not have been clear to them previously."
The Mane Intent is now partnering with Kawartha Sexual Assault Centre and Trent University to offer a free 12-week program for young women aged 13 to 18 who have witnessed or experienced family conflict, dating violence, or other forms of abuse. The program is designed to promote healthy self-esteem, emotional awareness, coping skills, and personal resilience and is funded by the Public Health Agency of Canada.
"Horses are remarkable animals and they gift us with some pretty amazing insights," Jennifer says. "This kind of work is a natural for me to do and I am grateful for a wonderful herd of horses who do what they do best for our clients. I am also very grateful for a wonderful life partner who is supporting me every step of the way,"
The Mane Intenet is located at Renegade Ridge Farm (2410 Cameron Line, Indian River). For more information, call 705-295-6618, email jgarland@themaneintent.ca, or visit www.themaneintent.ca. You can also find The Mane Intent on Facebook and on Twitter.