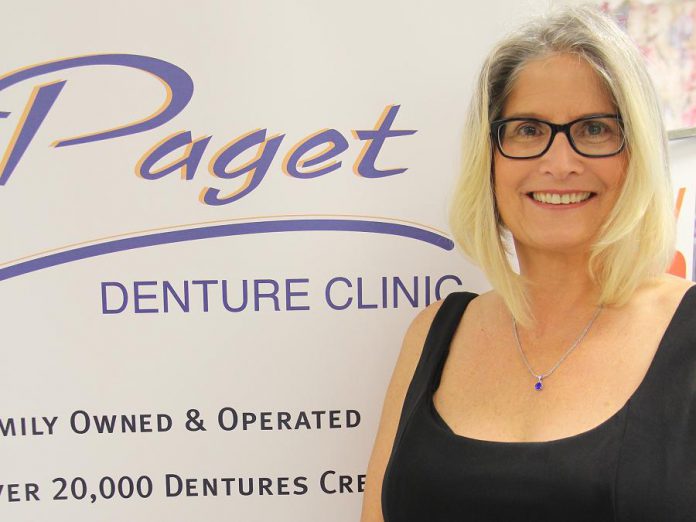 Kim Paget is all too familiar with the old adage, if you smile, the world smiles back.
That's why the owner and operator of Peterborough's Paget Denture Clinic strives to help her clients smile confidently again by recreating their natural teeth with prosthetics.
Paget Denture Clinic's origins began in 1977 when Kim was offered a job at Meredith Denture Clinic in Peterborough, while her mother was being fitted one afternoon for dentures. She initially declined as she was interested in attending university to obtain a Bachelor of Science degree, but was urged by her parents to take the job to help pay for her education.
She took the position and weeks later, after being steeped in the science of making dentures, Kim says she realized denturism was her calling.
"I just loved working with my hands and creating a smile for someone and making them happy was a great feeling," says Kim.
After seven years of working for the local denturist, Kim decided to get professionally certified, graduating from a three-year denturism program at George Brown College and getting certified by the College of Denturists to practice denturism. In March 1987, she opened her first practice, a small 450 square-foot clinic in the Charlotte Mews in downtown Peterborough.
It was during that start-up period that Kim met her future husband, Wayne, a carpenter, who was intrigued by her profession. Kim says Wayne was blessed with "an intuitive natural ability with tools and materials" and decided to pursue denturism. He joined his wife at the clinic in 1989 and became the second denturist at the practice after getting certified in denturism in 1997.
Business was booming to the point where a larger location was necessary, so Wayne and Kim restored a heritage building on Simcoe Street across from the city bus terminal in 1991. The building became a local landmark and focal point on the street.
The following years were busy for the husband and wife team. They started a family, continued house calls after hours, and conducted denture seminars and clinics at almost every retirement home in Peterborough.
"Meeting clients face-to-face and word of mouth really helped our practice thrive," says Kim.
By 2002, the clinic employed five full-time staff members as well as several part-time employees. That same year, the Paget's purchased and renovated the former Roy residence at 308 Rubidge Street what is now the clinic's permanent home. They also opened a satellite clinic in association with other oral healthcare professionals in the Village Dental Centre in Lakefield.
Keeping the business family-orientated, Kim and Wayne's two daughters, Brooks and Whitney, also joined the family practice: Brooks is the clinic's administrative assistant and Whitney is the social media manager. Kim's niece Melissa Hope also came onboard as a third denturist.
The larger clinic space in Peterborough allowed the business to expand comfortably as the need for denturism increased. It includes wheelchair access, parking for up to 26 vehicles, a state-of-the-art in-house laboratory and four treatment rooms.
Their services include fabricating, adjusting, repairing and performing denture fittings on partial, full or implant supported dentures, flexible partials, sports guards, anti-snoring devices, and teeth whitening. Oral cancer screenings are also offered to ensure a client's good health.
"Our denture specialists take the time to get to know a client and helping them decide on which denture options will work best to suit their lifestyle, comfort, and aesthetic preferences."
Over the years, the clinic has received two Chamber of Commerce Awards of Excellence (one for best commercial restoration), and has won favourite denture clinic in Peterborough 22 times. In 2006, Kim received the honour of being named Business Woman of the Year.
Reflecting back on the past 30 years, Kim says "it has been an honour to serve the people of Peterborough." Although materials and clinical techniques have changed dramatically over the decades, she notes her team's commitment to quality and service have made Paget Denture Clinic a favourite within the community with denture wearers.
Paget Denture Clinic is located at 308 Rubidge Street in Peterborough (705-742-7703) and 57 Queen Street in Lakefield (705-652-6604). For more information, visit www.pagetdentureclinic.com or email info@pagetdentureclinic.com. You can also follow Paget Denture Clinic on Facebook, Twitter, YouTube, and Pinterest.