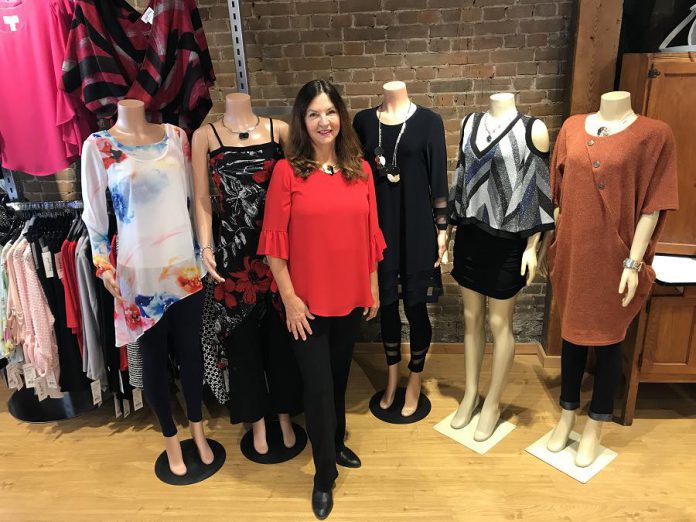 From flowing tunics and stunning Joseph Ribkoff dresses, to cozy cottage wear, The Kawartha Store has it all.
They carry the very best Canadian designers who are still manufacturing in Canada. For that special occasion, you'll find a huge selection of Joseph Ribkoff dresses and separates. Wanting a more casual look? They carry Tribal, Softworks and Michael Tyler. The Kawartha Store is your go-to for fine fashion that fits and gifts that give the greatest wow.
The shop occupies three spaces under one roof at 30 Colborne Street in Fenelon Falls, Ont. The spacious — 5,000 square feet — clothing, shoes, and gift emporium for women and men features something for everyone.
"Originally, I really wanted to create a space that sold great jeans and tops," says owner Trish Dougherty, who opened The Kawartha Store in 2012.
VIDEO: Welcome to The Kawartha Store in Fenelon Falls

She succeeded: the store now boasts one of the biggest selections of Yoga Jeans by Second Denim. In fact, it's the largest online selection of Yoga Jeans in the world, says Dougherty, who prefers to go by "Trish" with her customers.
There are jeans for every size and shape imaginable — regular, plus-size, tall, skinny, straight, ankle, and boyfriend — and in a stunning variety of colours and washes. And all Yoga Jeans are handcrafted at their production facility in Quebec.
Not only do they look chic and sporty all at once, but they're built to last: the brushed cotton is woven to maximum stretch along with 94 per cent shape retention. Put a pair of great fitting yoga jeans together with a Parkhurst sweater and you are set for anything, she says.
"We have customers totally addicted to these jeans," laughs Trish. "I might be addicted to them too!"
Speaking of love, there is nothing more addicting, design wise, than the feel and look of European fabrics. The Kawartha Store searches for unique pieces from top Canadian designers: Joseph Ribkoff tunics, sweaters, dresses, skirts and pants worn by celebrities around the world. The Montreal-made designs feature flattering lines for every shape.
If comfort and breathability are features you cherish, then Miik, FIG and C'est Moi bamboo tops and tunics are for you. And no need to sift through the hangers on a crowded display; the friendly, knowledgeable staff at The Kawartha Store will find the perfect outfit for you.
"Our staff is truly amazing," Trish says. "We are totally committed to putting you in the right outfit."
That's why The Kawartha Store features such a powerhouse of designers — Ribkoff, Yoga Jeans by Second Denim, Parkhurst Knitwear, Michael Tyler, Soft Works, Dex, and Tribal — as well as small hard-to-find Canadian designers like Eaze Wear, Miik, FIG, Tonia Debellis, Ruelle, and Gitaine. And so many more.
"What we want to do is promote Canadian designers, Canadian-made designs, and offer as wide a selection as possible, so that every person who comes in our door, or visits our online shop, will find something they love," Trish says.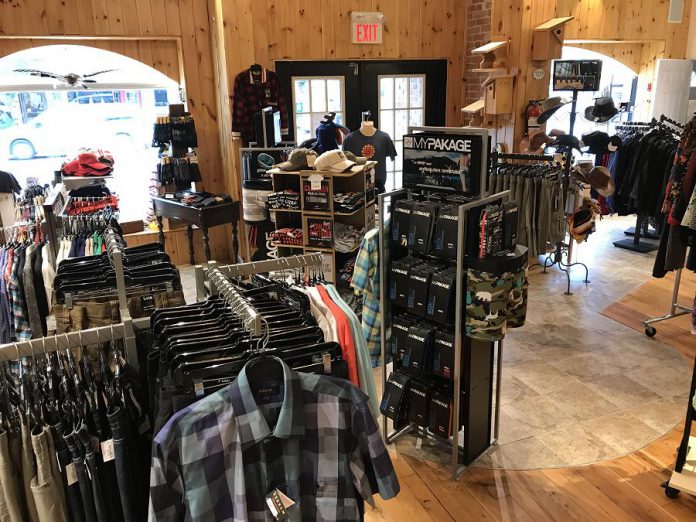 Trish, a farm girl from Quebec, knows first-hand the value of "Canadian made", be it maple syrup or local produce. The Kawartha Store offers more than 40 Canadian manufacturers and, in addition to ladies fashions, offers menswear, footwear, jewellery, handbags, and giftware. It even offers a comfortable social area for customers to gather or simply take a break.
"We are doing more than selling clothes," Trish says. "We are creating an entire experience for our customers."
A trip to Trish's store, for example, often includes a customer receiving a sightseeing tip, a referral to a local restaurant, or a compliment — or two or three.
In sizes from XS to 4XL, 0 to 20, in a wide range of price points, the clothing selection ranges from intimates and sporty, to business casual and dressy. And for every outfit, there is the perfect accessory. The Kawartha Store has sandals by Vionic & Steve Madden, necklaces and earrings by Anne-Marie Chagnon, Myka, Kameleon, Tima, and handbags by Derik Alexander and Matt & Nat.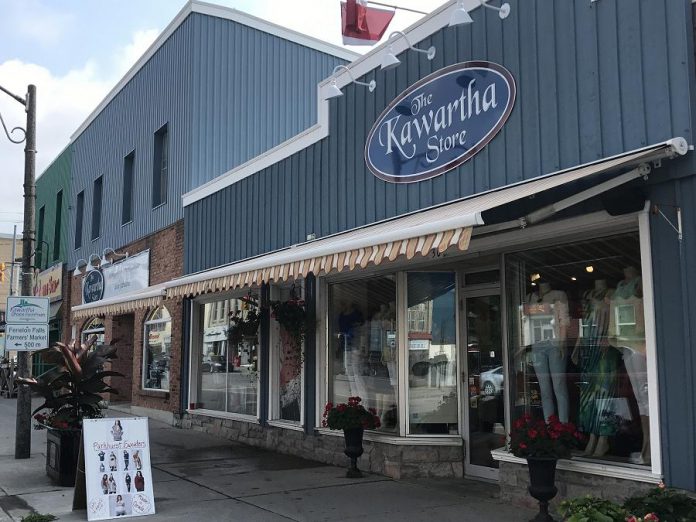 In the menswear section there are Lois jeans and Viyella shirts, and a double rack of Mypakage underwear with many colour and designs from floral to camo. In giftware, there are cozy fitted pyjamas and slippers for the entire family, pottery maple products, novelty t-shirts, even one-of-a-kind puppets for the young-at-heart.
And while the trip to Fenelon Falls is always worth the drive — the store is a real destination — all this is also available at your very fingertips, simply by visiting www.thekawarthastore.ca.
Customers will find not only the ease of shopping and the variety of price points just like in the physical store, but a frugal world-wide shipping policy and the opportunity to engage with The Kawartha Store through newsletters, social media communities on Facebook, Instagram, Twitter and Pinterest, plus blogs that include style, lifestyle and beauty tips.
All this, because giving back to the customer — indeed the community — is something The Kawartha Store continues to passionately pursue. The evidence? The Kawartha Store has raised a whopping $15,000 in just two years to support local medical walk-in clinics through their "Walk In Strut Out" fundraiser each May.
Trish is full to the brim with ideas and excitement for her store, the unique selections it offers, and the equally unique and fun clientele it draws.
She ties a bow on a customer's gift-wrapped package and gives the ribbon a swirl.
"The future?" she pauses. "Well, I always look forward to the next collection, the next season, the next customer. I imagine that's what I'll be doing at least ten years from now!"
The Kawartha Store is located at 30 Colborne Street in Fenelon Falls. Hours are 9:30 a.m. to 6 p.m. Monday to Saturday, and 10 a.m. to 6 p.m. on Sunday. For more information, call 705-887-9888 or email info@thekawarthastore.ca. To browse and shop online, visit www.thekawarthastore.ca. You can also connect with The Kawartha Store on Facebook, Twitter, Pinterest, and Instagram.