Louise Racine has seen first-hand that when like-hearted women get together to relax, reflect, and connect, it can create a truly transformative experience.
Louise, the owner of Thirteen Moons Wellness retreat located outside of Norwood, says whether you're looking for an antidote to your busy schedule and need to get away for quiet self-reflection, or you want to gather some girlfriends to celebrate an event, her retreat is a "healing space" to let go, recharge and come back to oneself — all the while connecting to nature and indulging in nutritious seasonal vegetarian food that is locally sourced.
"My mission is to inspire women to embrace their best self and to support them on that personal journey," says Louise, a Quebec native who has offered women-only individual and intimate small group retreats at Thirteen Moons Wellness for 16 years.
Imagine 186 acres of lush wilderness and protected conservation wetlands complete with heavily wooded walking trails, lush gardens, a meditation labyrinth, and gorgeous river views. To add to that, picture yourself revelling in a full or new moon circle, cooking class, creative writing, snowshoeing or strolling the trails, yoga or a warm bamboo massage.
Regardless of which you choose to experience — or even doing nothing at all — it leads to the same intention of mind-body balance and powerful self-awareness, Louise says.
"When women ask me what they can do here, at times I encourage them to try and do nothing. As women, we do so much and, most often, too much. The invitation here is that women come and just be in the space. That might involve sitting by the fire, resting, reading, writing, napping, or connecting meaningfully with other like-minded women."
She notes that for some women, that can sound like a scary proposition, especially if they're used to juggling many things at once.
"Let's put it this way," she laughs. "I've never had anyone leave because they were bored."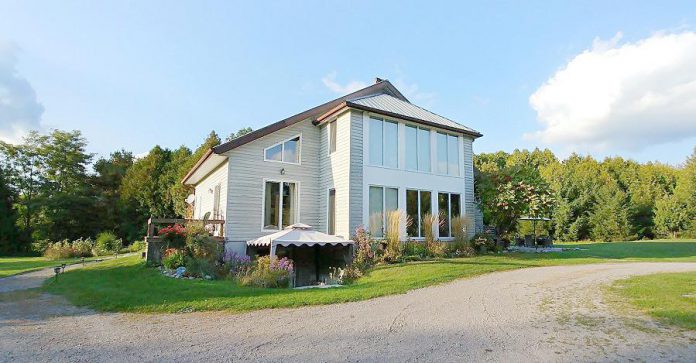 Louise's mission to reconnect the women in her care to optimal wellness is deeply personal work. She was in her mid-forties when she decided to "shake things up" and made some life-changing discoveries of her own. On a year-long leave of absence from her government job, Louise found her life's calling: holistic nutrition and women's wellness. She went back to school and earned her credentials from The Institute of Holistic Nutrition in Toronto.
In 2000, Louise and her partner found the ideal property outside of Peterborough that aligned with her vision for a safe haven, and, in 2001, Louise opened Thirteen Moons Wellness.
Her desire to bring women of all walks of life together to dream, learn and plan doesn't stop at her wellness retreat.
Louise was also the driving force behind the first day-long International Women's Day conference to Peterborough in March 2017, intended to educate, enable, and empower participants to create positive change for themselves, their families, local communities, and the economy.
"While Peterborough has had impactful International Women's Day events for years, there wasn't a conference-type event where you could learn and connect, hear a number of speakers, participate in workshops and really have a whole day to take a look at women's issues," she says.
Louise conceived of the idea after winning the second annual Judy Heffernan Award at the Women in Business awards in June 2016. The monetary award is given to a woman in the community who exemplifies the mentorship that Heffernan embodied and promoted. The condition of the award is that you put the money towards something that would give back to women in the community.
So Louise paid it forward. She sponsored five women who wouldn't otherwise be able to attend the conference. She also had the support and encouragement of the Women's Business Network, who hosted the inaugural event, giving her the clout she needed in the community to pull it off.
The conference held at Ashburnham Reception Centre featured three guest speakers, with headliner CBC radio host Candy Palmater. Participants also took part in two workshops, aimed at inspiring and empowering women. The event was a hit, selling out in advance making it difficult for late-registrants to find a spot.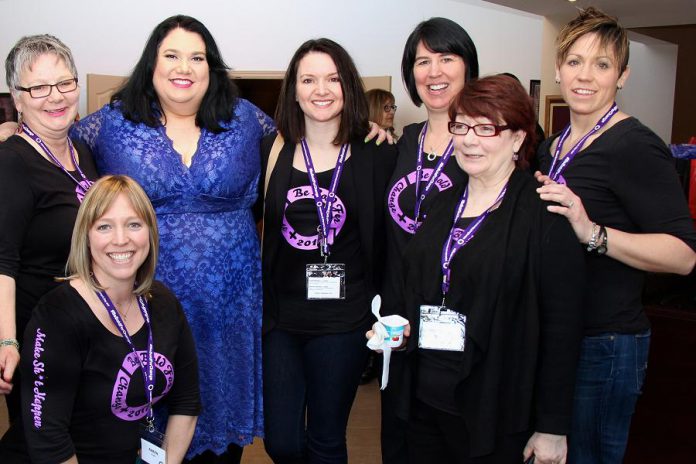 For Louise, it was a testament the community wanted this kind of event. Once again, she's at the helm as committee chair planning the second annual International Women's Day conference in Peterborough for March 8, 2018, with Thirteen Moons Wellness as the conference host.
"It was kind of a no-brainer to do the conference again and to take it on myself. It felt like the logical next step. It very much fits under the Thirteen Moons umbrella because it supports women and brings women together."
Tickets for the 2018 International Women's Day conference are now available online. For more details on conference speakers and workshops and how to register, visit www.iwdptbo.ca.
Thirteen Moons Wellness is located at 499 6th Line Road, RR1 in Norwood. For more information, call 705-652-9329, email info@thirteenmoons.ca, or visit www.thirteenmoons.ca. You can also connect with Thirteen Moons Wellness on Facebook, Twitter, Pinterest, and Instagram.