The public has additional time to provide feedback on Peterborough County's proposed new sign by-law, which would prohibit commercial advertising along county roadsides.
At the November 15th meeting, Peterborough County Council extended the public consultation period for review of Sign By-Law 2007-55 until 2 p.m. on January 5, 2018.
The proposed new by-law is intended to address the proliferation of signs along county roadsides (particularly in bush country areas in the Municipality of Trent Lakes, the Township of North Kawartha, and the Township of Havelock-Belmont-Methuen). It would prohibit any third-party commercial or business advertising-related signage along county roadways, and any existing signs would be removed.
Under the proposed new by-law, only the following commercial signage would be allowed:
Signage installed on private property adjacent to the county road allowance (subject to municipal regulation)
Directional signage for wayfinding purposes, designed to Ontario Traffic Manual (Brown & White) design standard, and
Business kiosk signage as part of the Tourism Wayfinding Signage program of Peterborough & The Kawarthas Economic Development (PKED).
Signage on privately owned properties would not be affected by the new by-law.
PKED, the City and County of Peterborough, the eight townships in the county, and Curve Lake First Nation are working on a Tourism Wayfinding Toolkit that will address kiosk-style business signage.
This type of signage could include a local or regional map, regional tourism highlights, site-specific information, listings of local businesses, and advertising, and could be installed at natural stopping place, parking lots, along cycling routes, at gas stations, and in public spaces.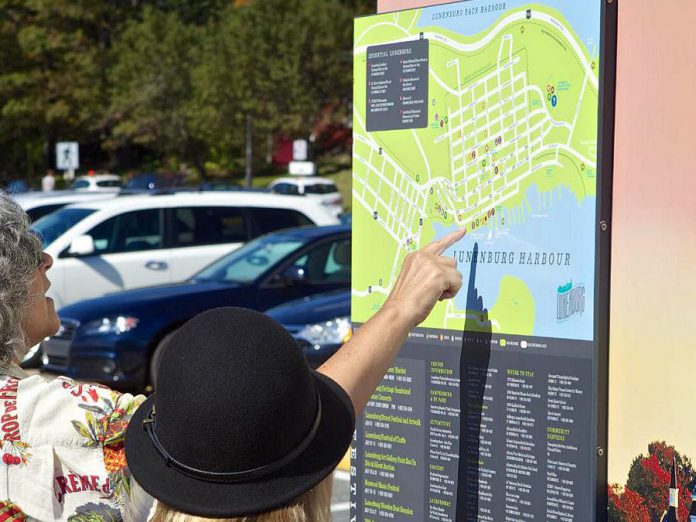 For more information on the proposed new sign by-law, visit the Peterborugh County website at www.ptbocounty.ca/en/governing/by-laws.aspx.
The County of Peterborough is accepting written public feedback on the proposed by-law until 2 p.m. on Friday, January 5, 2018.
Feedback can be submitted by email to pwinfo@ptbocounty.ca or by regular mail to:
Bush Country Sign Consultation
County of Peterborough
County Court House
470 Water Street
Peterborough, ON
K9H 3M3