This week, we feature three businesses on a dynamic section of Hunter Street West in downtown Peterborough, Wild Rock Outfitters celebrating its 25th anniversary while giving back to the community, and Sherrie Le Masurier launching a new line of handcrafted beer soap, along with other business news and some upcoming business events of note.
We publish businessNOW every Monday. If you have business news or events you want to share with our readers, please email business@kawarthanow.com.
---
The new hot spot on Peterborough's Hunter Street: Hunter Street Books, The Night Kitchen, and Meta4
When previously vacant spaces become homes to thriving businesses, entrepreneurial planning is usually involved. When those thriving businesses are in close proximity to each other, hot spots of creativity result.
Such is the case with three businesses located at a new hot spot on Hunter Street West in downtown Peterborough: Hunter Street Books, The Night Kitchen, and Meta4 Gallery.
Local author Michelle Berry has been consistently attracting customers to her independent book store Hunter Street Books for over a year now, and her business is thriving (it has been featured in both The Toronto Star and The Globe and Mail).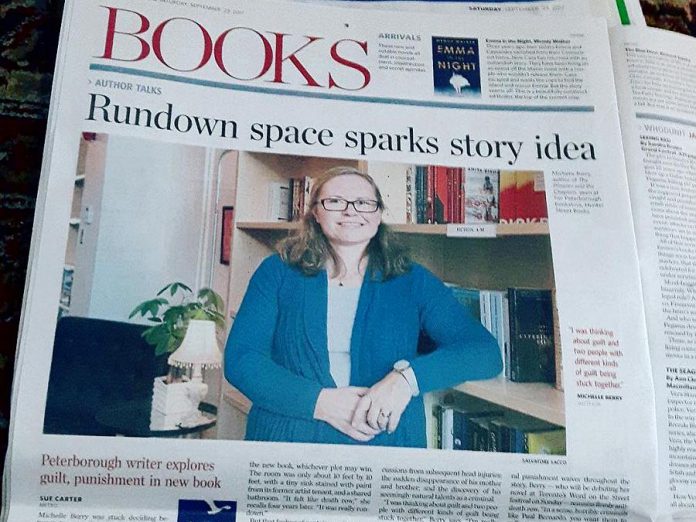 In her first year of business, she has still found time to write and promote her new book The Prisoner and the Chaplain. The book was a selection of the week on CBC Radio's q with Tom Power last week, when book contributor Jael Richardson discussed the book with guest host Ali Hassan.
AUDIO: Jael Richardson's book pick "The Prisoner and the Chaplain" (starts at 1:40)

One of the great things about Hunter Street Books is that you can buy any book through their website at www.hunterstreetbooks.com. There's no need to go to the major online booksellers: you just to browse their website to order and then pick up the book at the store.
Not only is it a great way to shop local with all the convenience of shopping online but, when you visit the store, you can also have a lovely visit with Michelle and browse her front table of local author picks.
Right next door to Hunter Street Books, The Night Kitchen — one of Peterborough's most beloved pizza purveyors — has reopened.
The new location at 168 Hunter Street West is just down the street from their original location at 229 Hunter Street West. The new location is larger with more seating — and the future potential of becoming licensed to sell alcohol.
All of your favourites are still on the menu, but it has been expanded with even more options. Drop in for a slice and to pick up the new menu or visit nightkitchen.ca.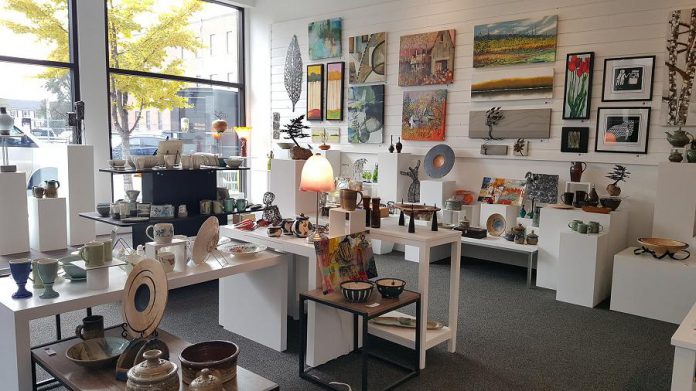 And last but not least, the new business on the block right next door to The Night Kitchen is Meta4 Contemporary Craft Gallery at 164 Hunter Street West. This is the second location for Meta4, with their home base being located in Port Perry since 2005. When the three partners (Jennifer Hardie, Birgitta MacLeod, and Bonnie Thomson) were exploring options for a second location, they spent some time driving to towns and cities in Ontario.
The Peterborough Downtown Business Improvement Area (DBIA) welcomed their visit with information and support, and Meta4 soon became a contestant in the DBIA's "Win This Space" entrepreneurial competition. While they did not win the contest, it laid the groundwork for finding their current location and opening on November 3rd.
The new beautiful space houses an exceptional selection of works by more than 120 Ontario artists and artisans and has a little something for everyone. The three partners are all artists themselves and are committed to promoting art and craft skills. In the back of the space, they provide art and craft classes for any skill level, as well as summer arts camp for children over the age of six. Schedules are regularly updated on their website at meta4gallery.ca
Wild Rock Outfitters celebrating 25 years in business and giving back to the community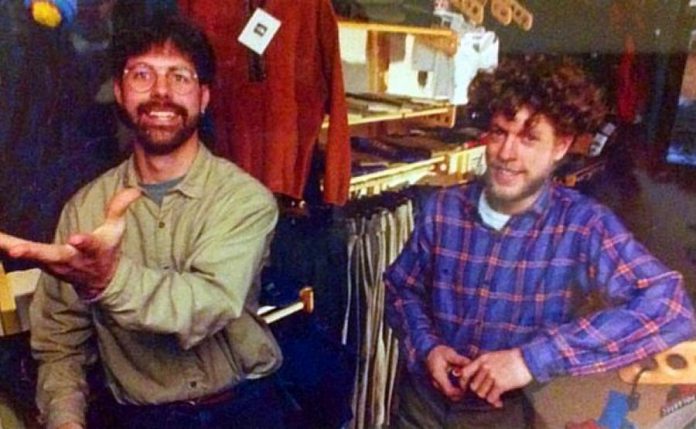 Peterborough's Wild Rock Outfitters, owned and operated by Scott Murison and Kieran Andrews, is celebrating 25 years in business.
They are hosting a series of events featuring great food, music, and inspiring people, including a dinner with Olympic mountain biker Emily Batty on Wednesday, November 29th. Wild Rock will be donating all profits from the event to sponsor In From the Cold, the annual Christmas fundraising concert for YES Shelter for Youth and Families.
Scott and Kieren launched Wild Rock in 1992, when they were both 24 years old and living in Ottawa. Scott was pursuing a Bachelor of Commerce degree and Kieran was a self-described "professional ski and climbing bum". Both men were working at Blacks, a camping store based in Ottawa, when they decided to create their own business to help people enjoy the outdoors. They chose Peterborough as the location for their new business, as there was no retail store serving the community at the time, it had the right demographics, and it was surrounded by the great outdoors.
They initially purchased a 900-square-foot location at the corner of Brock and George Street and then, in 1997, purchased an old bingo hall, gutted it, and renovated it. In the spring of 1998, they moved into their current 8,000-square-foot location. The next year, they created a whitewater retail operation called Boat Werks (which they subsequently sold to a former employee; it is now operated by Algonquin Outfitters). Both biking enthusiasts, Scott and Kieren created Bike Werks in 2003 to serve the biking community and have since integrated it into their brand and retail operation.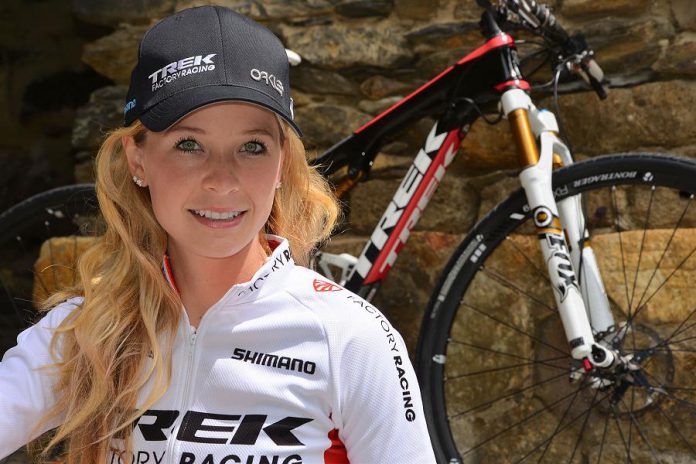 On Wednesday, November 29th, Wild Rock is bringing Canadian Olympic cyclist Emily Batty to Peterborough. The 29-year-old cross-country mountain biker was the silver medalist at the 2014 Commonwealth Games, won a bronze medal at the 2016 World Championships, and is the current Pan American Games champion.
From 4 to 5:30 p.m., Emily will be at Wild Rock for a meet and greet, followed by dinner and drinks at Brio Gusto from 5:45 to 7:45 p.m.. Guests then head to the Skydiggers concert at the Market Hall at 8 p.m.
Tickets are available from $5 (for the meet and greet only), $150 (for the meet and greet, dinner, and regular seating at Skydiggers concert), $200 (for the meet and greet, dinner, VIP seating at Skidiggers), or $300 (for the meet and greet, one of seven VIP seats at the head table with Emily Batty, and VIP seating at Skidiggers). The top-end tickets also include a Wild Rock gift card, swag from Wild Rock and Trek bikes, and more.
Wild Rock is donating all profits from the event to sponsor In From the Cold, the annual fundraising Christmas concert which has raised over $110,000 for YES Shelter for Youth and Families. Wild Rock has been sponsoring In From the Cold for many years but, with the proceeds from this event, they have become the benefit concert's first-ever Platinum sponsor.
For tickets to the Emily Batty event, visit wildrock.rezdy.com/catalog/153711/events.
Peterborough entrepreneur makes handcrafted soaps from natural ingredients, including beer from Smithhavens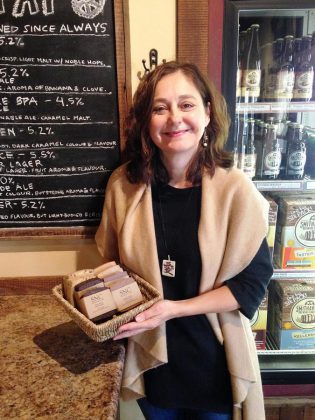 Sherrie Le Masurier is a Peterborough-based professional organizer and lifestyle consultant who provides a variety of local services at www.simplyhelpful.ca.
As a lover of artisan soap, Sherrie recently launched her own line of naturally inspired soaps called Simply Natural Canada, offering six lines of artisan soap from lavender blends to beer and dandelion.
"I used to tour around local farmers' markets and craft sales to find new handcrafted soaps that spoke to my senses and nurtured my body and soul," Sherrie says. "My plan wasn't to start a natural soap business but you could say I just 'slipped' into it after receiving a soap kit as a Christmas gift from my daughter. I was inspired to seek out new all natural recipes."
All of Sherrie's soaps are handcrafted in Peterborough in small batches using olive, coconut and vegetable oils, with coconut milk and beer, and some also contain essential oils, grains, and honey. Her local lines include "Lavender Mix" made with lavender from Laveanne Lavender Fields in Northumberland County, and "Soap Haven Beer" made from beer and grains from Smithhavens Brewing Company.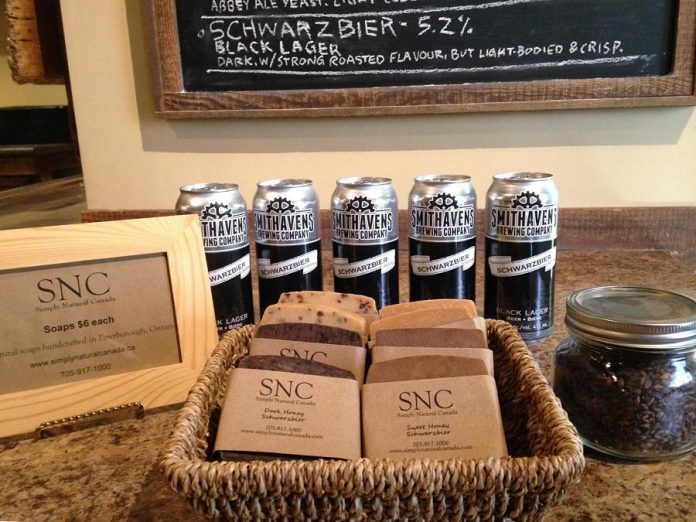 Sherrie recently introduced her Soap Haven Beer line at Smithavens, with the first soaps being the Schwarzbier line: Honey Schwarzbier, Sweet Honey Schwarzbier, Dark Honey Schwarzbier, and Grainy Schwarzbier.
The soaps can be seen (and smelled) at Smithhavens' retail location at 687 Rye Street Unit 6 in Peterborough. While you're there to check out the soaps, try Smithaven' Schwarzbier beer as well their other traditional European-style beers. The location is open 10 a.m. to 5:30 p.m. from Monday to Wednesday, 10 a.m. to 6:30 p.m. on Thursday, 10 a.m. to 8 p.m. on Friday, and 10 a.m. to 7 p.m. on Saturday.
For more information on Sherrie and her line of soaps, visit www.simplynaturalcanada.com.
Fire in downtown Peterborough affects three local businesses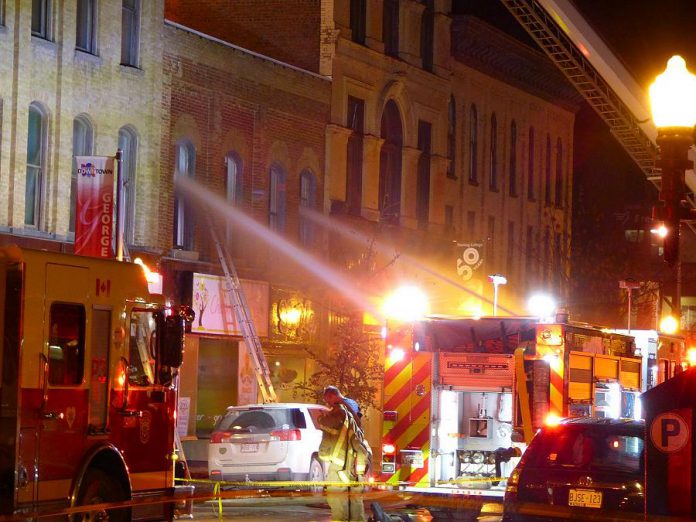 A serious fire at 370-374 George Street North in downtown Peterborough overnight on Thursday, November 16th has affected three local businesses.
After a quick response to reports of a fire on the roof of the building, Peterborough Fire Services aggressively battled the fire and firefighters were able to contain it to one building. Unfortunately, the two businesses located in the building — local soap company Simple on the first floor and Ash Nayler Photography on the second floor — were seriously damaged. An estimate of damages has not yet been provided.
The building also houses a currently vacant space on the first floor, designated as one of locations for this year's Win This Space competition hosted by the Peterborough Downtown Business Improvement Area.
In addition, Natas Cafe located in the adjacent building has been temporarily closed because of potential structural damage caused by the fire.
Fortunately, no-one was injured as a result of the fire. The cause is still under investigation, although police have confirmed it was not arson.
Peterborough & The Kawarthas Economic Development launches business retention and expansion project
Peterborough & the Kawarthas Economic Development has launched a project to assist existing local businesses in becoming more competitive, while continuing to grow and thrive in the region.
The economic organization has been contacting business owners and managers through a telephone survey to identify business needs and opportunities, using the information to plan future economic development activities.
After completing the survey, they will review the findings and share the results with the business community early in 2018.
For more information, visit www.peterboroughed.ca.
A new and improved website for Peterborough & the Kawarthas Tourism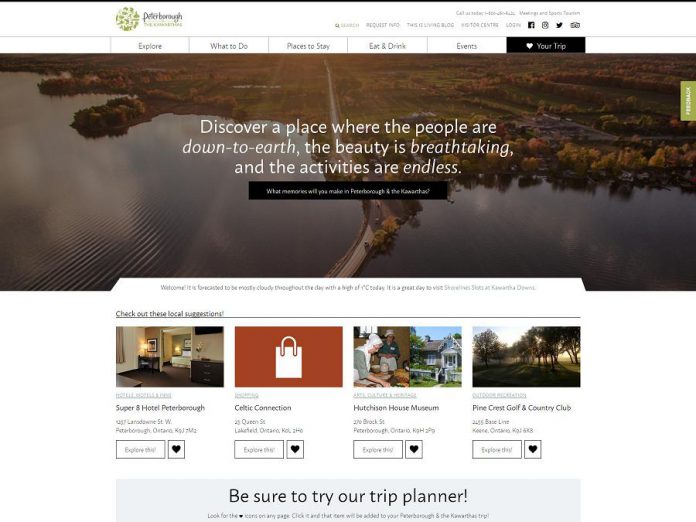 Peterborough & the Kawarthas Tourism has unveiled a new and improved website at thekawarthas.ca.
Launched as a beta version, the revamped website includes an improved trip planner, a newly developed blog, and a significant revamp of the look and navigation.
"This new website focuses on cutting through the clutter and bringing Peterborough and the Kawarthas to the forefront of travellers' attention," explains Tracie Bertrand, Director of Tourism & Communications. "We achieve this by offering stunning visuals, authentic stories and experiences, as well as the opportunity to share recommendations with family, friends and influencers through social media."
During the beta phase, members of the community are welcome to offer website feedback through the "Feedback" tab on the website.
Peterborough & the Kawarthas Funding Forum on November 21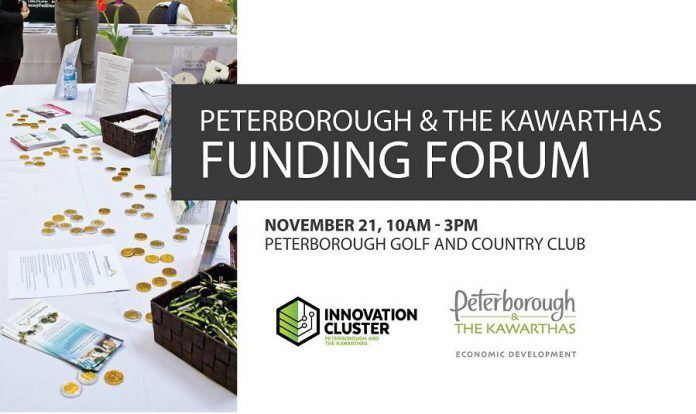 Peterborough & the Kawarthas Economic Development and the Innovation Cluster are hosting the Peterborough & the Kawarthas Funding Forum from 10 a.m. to 3 p.m. on Tuesday, November 21st at the Peterborough Golf & Country Club (1030 Armour Rd., Peterborough).
The forum is designed to connect business owners with the financial resources they need to succeed. It will bring together a variety of business funding programs under one roof for entrepreneurs in different sectors and stages of growth.
The day will also include four 45-minute breakout sessions throughout the day featuring topics on Angel Investment, Digital Business, Tips for Securing Small Business Funding, and Funding for Visitor Event and Experience Development.
While the event is free, interested business owners are encouraged to register at www.eventbrite.ca/e/peterborough-the-kawarthas-funding-forum-tickets-39528921067.
Bobcaygeon workshop on using Facebook and Instagram on November 22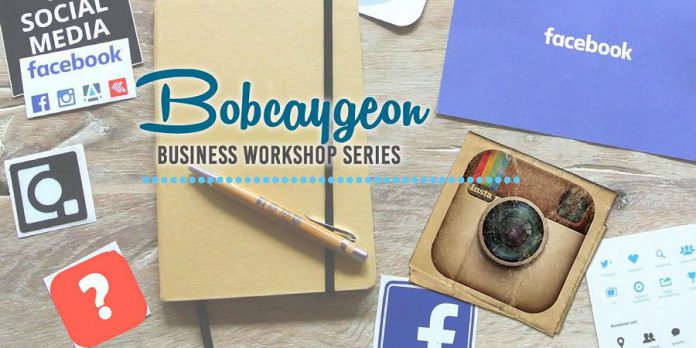 Impact 32 — a volunteer steering committee made up of Bobcaygeon business owners and community organizers — is offering a social media workshop as part of its ongoing business workshop series.
"Using Facebook and Instagram Effectively" takes place on Wednesday, November 22nd from 6:30 to 8 p.m. at the Bobcaygeon Municipal Office (123 East St., Bobcaygeon).
The interactive workshop will help teach you how to use Facebook and Instagram effectively to promote your business. In a classroom-like setting, participants will be hands-on in exploring the workshop topics, which include understanding how the two social media platforms work, how to use the available tools, how to use analytics, how to increase followers and engagement, and more.
Attendees should ideally bring all the devices they use to manage social media (laptop, tablet, and phone), but must bring at least one device. Tickets are $25 per person and include a light meal, coffee, and snacks. RSVP by today (November 20th) by email to BobStakeholders@gmail.com. Visit the Facebook event for more details.
Business Summit 2017 in Peterborough on November 22

The Greater Peterborough Chamber of Commerce is hosting Business Summit 2017 from 7 a.m. to 11:30 a.m. on Wednesday, November 22nd at Ashburnham Reception Centre (840 Armour Rd., Peterborough).
The half-day conference features professional development and networking opportunities for the local business community.
Local MPP and Minister Responsible for Small Business Jeff Leal will provide opening remarks and there will be a breakfast conversation with Rhonda Keenan, President & CEO of Peterborough & the Kawarthas Economic Development.
Each attendee will be able to choose two of four workshops: "Bill 148 & Federal Tax Changes" or "Best Kept Secret in Business – Staying Visible" at 8:45 a.m., and "Marijuana & The Workplace" or "Taking the Mystery Out of Procurement" at 10:15 a.m.
The cost for the conference is $25 for Chamber members or $35 for non-members. The ticket price includes a breakfast buffet.
For more information and to purchase tickets, visit www.peterboroughchamber.ca/business-summit-2017.html
Deadline to enter Win This Space competition is November 25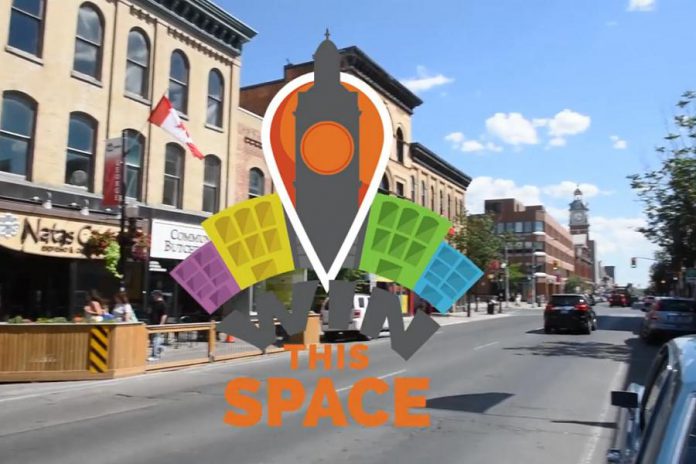 The deadline to submit an application for the 2018 Win This Space entreprenurial competition is Saturday, November 25th.
Win This Space coffers entrepneurs a chance to win a grand prize valued at more than $40,000, including a free year-long lease on a vacant storefront in downtown Peterborough along with other products and servvices donated by sponsors.
Visit winthisspace.com to read the rules and regulations for applying and to submit a one to three minute video application.
The top 10 finalists will be announced on December 1st. Win This Space is an initiative of the Peterborough DBIA in partnership with Peterborough & the Kawarthas Economic Development, StartUP Peterborough, Community Futures Peterborough and Shorelines Slots at Kawartha Downs.
Deadline for nominations for Peterborough Business Hall of Fame is November 30
The deadline for nominations for inductees into the 2018 Peterborough Business Hall of Fame is Thursday, November 30th.
Each year, Junior Achievement chapters across the country recognize people who have demonstrated a life-long commitment to enhance the economic prosperity of their local communities. These are people who are widely respected not only for their business acumen, but also for their vision, leadership, and integrity. They serve as role models both for Junior Achievement students and other young Canadians.
To nominate someone for the 2018 Peterborough Business Hall of Fame, download and complete the nomination form. You can nominate a business person who is living or one who has passed away.
Nomination forms must be received no later than 3 p.m. on Thursday, November 30, 2017 at the office of Junior Achievement – Peterborough, Lakeland, Muskoka (270 George Street Courtyard Peterborough, ON K9J 3H1).