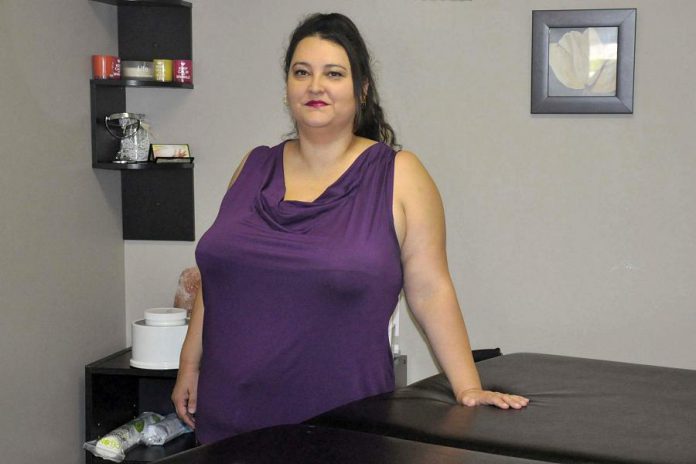 Shannon Gray's sugaring business is experiencing some sweet success.
From its humble and determined start in 2011, Shannon has grown Sugar Me Right! Beauty Studio to serve a client base of 1,960, of which 749 are active monthly customers. In fact, the business has grown so much in the past year that she has just moved to a bigger space in downtown Peterborough.
"Taking the next step is always scary and exciting," Shannon says.
She's confident in this latest move because of how the pieces fell into place: an easy-going and extra-helpful landlord offering a "perfect" space, tremendous growth of her business over the past year — almost double — and a stable staff ready to make the move.
"When you're weighing the pros and cons of a move, and things are falling into place, I just feel you have to take that leap of faith that this is the right way to go. There's no reward without risk."
That's a lesson Shannon learned early in her journey as an entrepreneur, when she faced naysayers who told her "spa-like businesses always fail" and "you won't get government funding for anything like this, these businesses tend to fold within two years."
Those were clear messages even from funding agencies, Shannon says. Her choice? Fight or flight. She told them they didn't know her and how determined she was, and she left the naysayers behind before they could talk her out of following her dream.
The early days were tough. Shannon was committed to sugaring, having experienced the benefits of sugaring as a form of hair removal for years, and then set her mind to making the service available to others.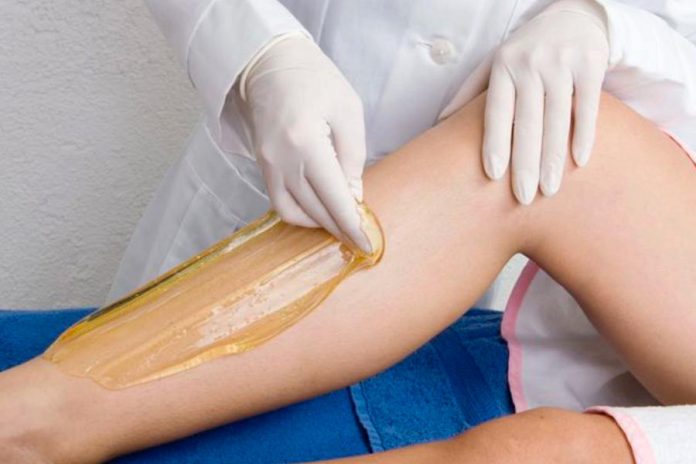 Yet she was operating out of her home, and her home was in Buckhorn — not as accessible as downtown Peterborough. She had to take her sugaring table and equipment "on the road" to perform services in other people's homes.
"At one of the last places I arrived with my table and sugars, I looked at the staircase and said 'That's it, this is the last time. I need to be stationary.'"
Shannon had started providing sugaring services in January 2011 and, two months later, knew what she had to do. Within a year, she had her own space on Park Street in Peterborough.
When that lease was up, she moved her business to a more central location on Charlotte Street where she grew for three years. Sugar Me Right! Beauty Studio operated from two treatment rooms, with a little extra space.
"The Charlotte Street location was nice but small," she says.
So, this past June, she upgraded her treatment and office space by moving to 161 Sherbrooke Street in downtown Peterborough. She now has three full treatment rooms, a fully functional kitchen, on-site laundry, and parking.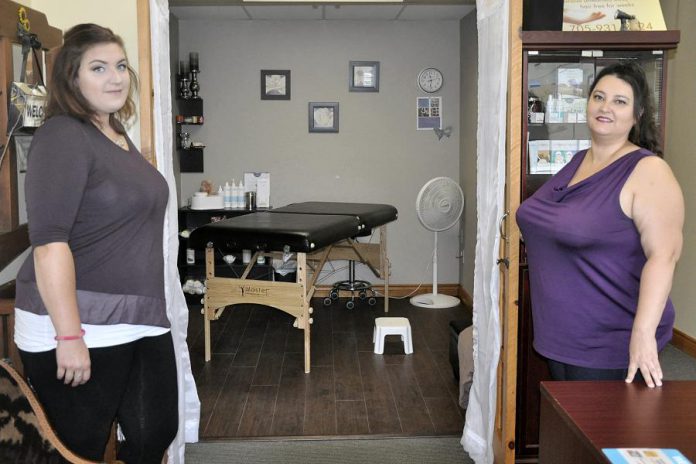 "And I have an office space for the very first time," she adds.
Most importantly, she says, there is a "big beautiful waiting room."
"Our clients are our business," Shannon says. "We exist because they choose us. So offering them the best experience, and making sure they feel appreciated and welcome, is really important to us."
While sugaring has been used for hair removal since Egyptian times, its popularity grew exponentially in the 1990s when home products were made available. Today, sugaring is known as a less painful and safer option for hair removal than waxing.
While Sugar Me Right! Beauty Studio doesn't guarantee permanent hair removal, Shannon says that's often the outcome.
In addition to professional body sugaring, Sugar Me Right! Beauty Studio also offers Dead Sea salt body glows, ionic foot baths, lash lifts, semi-permanent mascara, and microblading.
Sugar Me Right! Beauty Studio is located at 161 Sherbrooke St., Unit 2 in downtown Peterborough. For more information and to schedule an appointment, call 705-742-6000, email info@sugarmeright.com, or visit www.sugarmeright.com. You can also follow Sugar Me Right on Facebook and Shannon on Twitter.