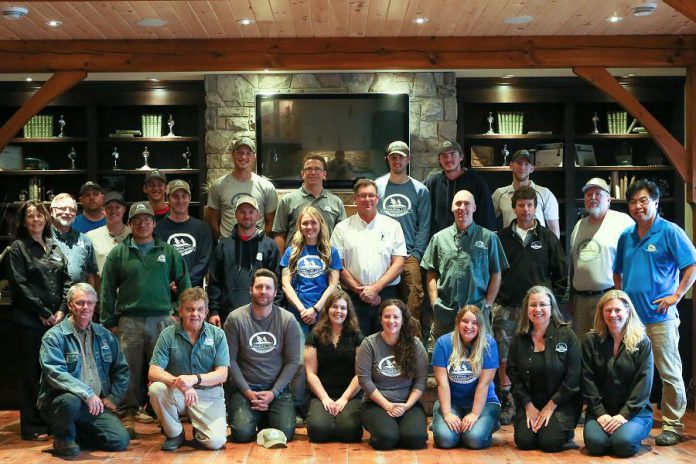 The old adage "Home is Where the Heart Is" might as well be a slogan for Kawartha Lakes Construction (KLC). With three decades of experience building and renovating homes and cottages in the Kawarthas region, the team of professionals at KLC has a keen understanding of the meaning of the word "home".
"We're about building relationships," says Christine Watts, Design Manager and Senior Designer at KLC and a member of the Women's Business Network of Peterborough.
Relationships that start as soon as a potential client makes that first call: 75 per cent of KLC's client base is made up of either repeat business or referrals from other happy clients.
The team at KLC takes it from there, helping narrow the vision for the project down. Is it a renovation the client is considering or is it a new build or an addition? What kind of space are they hoping to create: cozy and tidy or spacious and open? How much do they want to spend? They also ask the client to scrapbook ideas they like from Houzz, Pinterest, or magazines and to share the scrapbook with the KLC team.
The questions can seem overwhelming, but the team at KLC says that upfront work is crucial to the process. One of the first people a client will see is Christine, who joined the team in 2003 so that KLC could offer a full suite of services, from design concepts to completed construction.
"Before we even sit down to make the first design, whether it's a room renovation or a new build, we have a detailed questionnaire that helps anchor our client's thoughts and identify exactly what they want," she says.
The questionnaire takes the client room by room through the home, identifying the type of living the client enjoys (for example, formal or informal), their hobbies, their must-haves and their nice-to-haves, how many cooks there are in the kitchen, and how many people living in the home.
The end result is a better understanding of what the client wants, but Christine says the process has another surprising result.
VIDEO: Design/Build. Home Builder. Home Renovator.

"The client is also educated on a number of levels," she says. "It can help with budgeting, and to bring their expectations in line with what's legal to build, what's possible, and what's in the budget.
"It helps us to understand the client, their style, what they're trying to do, to begin to develop that relationship."
After the initial relationship building, Christine gets to work on the "jigsaw puzzle." She takes all the information, the wish lists, her own background in construction, the budget the client has helped to draw, and the legal piece, and matches them together into a design framed by the relationship KLC has built with the client.
"We are absolutely dedicated to making sure clients are happy through the process as well as at the end," Christine says. "We want to make sure we are delivering what will improve the life of the client."
About 80 per cent of the projects KLC works on are large-scale renovations and remodelling. Christine says people are choosing to renovate rather than build in today's economic climate — whether it's a cottage property, a lakefront home, or a century building in the middle of the city.
As people sell homes and retire to the area, they often have a little extra money from the home sale to put into renovation.
"Clients find it more economical to renovate something they have," Chrisitine explains. "They like where they are and just want to improve what they have."
The trends in design these days include open concepts and lots of glass to let the outdoors in, she says. Energy efficiency is also important to clients so Christine spends a large amount of her time working on specifics of heating and cooling of the home.
She expects her job to become even more challenging as homes become smaller and the task of bringing in fresh air to the home, and exhausting the stale air out, heightens. And rules change frequently. For example, as of July 2017, new homes and garages have to include wiring for any future electric car plug-ins.
"It can be very overwhelming for clients who have not been through this process before," she says, adding that the KLC team is committed to a process that ensures clients are educated of the details through extensive upfront planning, including the use of three-dimensional drawing software that allows a client to tour a room before a design is finalized.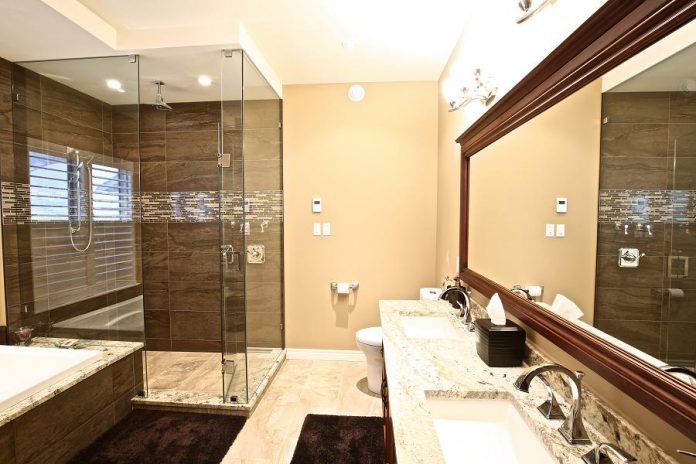 "Sometimes it's difficult to feel what the room's going to be like from a drawing on a piece of paper," Christine says. "We want to make sure the client is well informed.
"We are building and renovating homes, taking the process right from the first inkling a client has through to completed construction. To do that successfully, to have a product we're proud of and the client loves, we're also building relationships.
When you hire us, you hire a team of professionals committed to your dream."
Kawartha Lakes Construction is located at 3359 Lakefield Road in Lakefield and serves the Peterborough, Lakefield, and Kawartha Lakes area. For more information, call 705-652-5241 (toll free at 1-800-951-8062), email info@kawarthalakesconstruction.com, or visit www.kawarthalakesconstruction.com. You can also connect with KLC on Facebook, LinkedIn, Houzz, and Twitter.