Maureen Tavener has the moves — whether it's raising chickens, waltzing across the ballroom, or closing real estate deals.
"I've done it all," laughs the Brockville native who was once featured as an up-and-coming star in a Hollywood magazine, and who owned and operated the Mardi Gras Dance Club in Peterborough in the 1970s.
Now she's not only a trained dance instructor, retired professional dancer, wife, mother, restaurateur, and former chicken farmer, she's also a veteran realtor with RE/MAX Eastern Realty Inc. Brokerage specializing in all facets of real estate including business and commercial.
Maureen lets the glint in her eye sparkle when you raise a questioning eyebrow at her multi-faceted life.
"You've gotta have variety," she says with a wink. "It's the spice of life."
Always a confident leader, Maureen has a long history of raising eyebrows.
In the 1970s, when she was president of the predecessor of the Women's Business Network (the Women's Advertising and Sales Association), she attended a national conference in Calgary.
"Back then, men and women were still quite separated when it came to business," she says. "There was a club for men, and a club for women."
This conference — like the dance floor she was so used to — brought both men and women together. And, like in the ballroom, Maureen was a leader: she was the one you'd have seen in the airport, dressed all in white to match the authentic white cowboy hat that she'd received at the conference. And proudly carrying the Texas mickey she'd won.
Maureen is never the wallflower.
"Life is there for the taking," she says with her signature smile and unique ability to leave you sure there's another surprise around the corner. "It's what you make it."
As a young woman, Maureen says she always thought dancing would be the focus of her life. She studied dance in Ottawa at one of the best — Arthur Murray Dance Studios — where she learned poise and elegance and mastered the art of adjusting her 'step' to just about any move her partner made.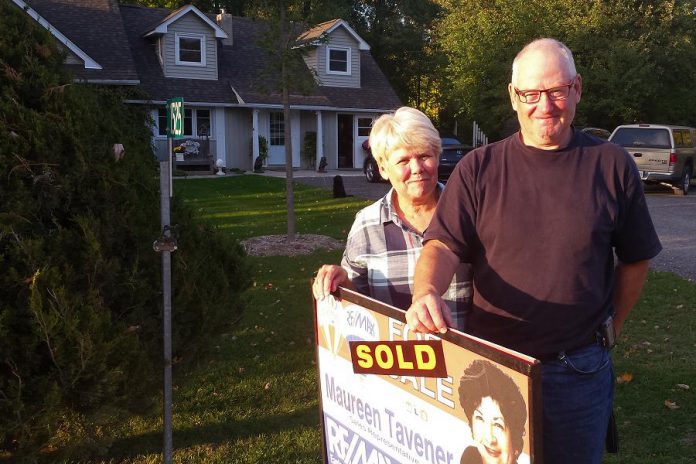 It's also where Maureen learned the art of buying and selling, she says — the footwork of real estate. A good realtor, Maureen says, leads you through the purchase or sale like a masterful dance partner, anticipating your needs, adjusting to your step, and closing the gap at exactly the right time.
In real estate, whether you are buying or selling, the key is understanding what the client needs, and creating a perfect match, she says. Her early years on ballroom floors prepared her to gracefully maneuver the business world.
And sometimes, you need a bit of an attitude etiher on the dance floor or at the business table. Maureen admits she's hardly short on attitude: after all, it was attitude that led her to embark on this lifelong real estate career.
"The agent that sold my husband and I our first home kept talking to my husband," she recalls. "I just said 'That's not gonna fly. I'll become an agent myself."
The rest is a rather uniquely colourful history. While Maureen bought and sold businesses, she and her husband also forayed into several other professional arenas.
"When we were raising chickens, I'd spend some time up in a feed bin," Maureen laughs. "I'd be almost white with the dust, and then I'd go inside, put on a suit, and go to work. It's been quite a life!"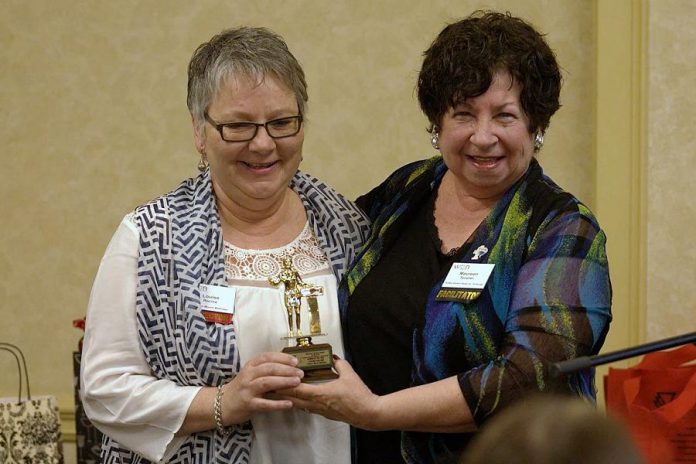 When it wasn't chickens or dance students, it was storage units or a restaurant Maureen and her husband owned and managed.
These days, Maureen does most of her business from the comfort of her car which is home to a little of everything: duct tape, hammers, extra shoes. Whatever she needs to make one of the myriad adjustments she has become well known to master in the world of real estate.
Because like the young dancer who could walk into any room of men and choreograph a performance, Maureen is still the master of the perfect match.

You can contact Maureen Tavener at RE/MAX Eastern Realty Inc., Brokerage (34 Bridge Street in Lakefiled) at 705-652-3367 or by email at maureent@nexicom.net (or her assistant at sold@trytel.net). You can visit her website at www.maureentavener.com or connect with her on LinkedIn.