A model of innovation, collaboration and engagement: Catia Skinner's dynamic presence as the CEO of Kawartha Entertainment Group Inc. (KEGI), as well as The Venue and marketing agency Mega Experience, reflects her passion for Peterborough and community.
She's both highly competent and driven, while at the same time welcoming, gentle, friendly, and open. She is a recipient of the Greater Peterborough Chamber of Commerce "4 Under 40 award" and is a Newcomer Entrepreneur of the Year award nominee for the Chamber's 2017 Business Excellence Awards.
Perfect traits, one might say, for the woman behind one of the city's most rapidly growing event spaces.
Aptly named, The Venue is a multipurpose space that hosts conferences and conventions, weddings, business meetings, galas and other fundraisers, concerts, art shows, and sports events.
With a full kitchen, a dedicated chef, a capacity of more than 900, complete onsite catering for 340 in a sit-down dinner, and concert-quality sound equipment, The Venue also features three uniquely connected spaces: the Lobby Bar, Main Hall, and Balcony Lounge.
"Each space can be used individually," Catia explains, depending on the atmosphere the client is creating and the number of guests. "The good thing about our space is that we can change it to be whatever a client needs."
That's because The Venue is uniquely set up on two levels, complete with stage and dance floor. Its versatility is one of its main selling features.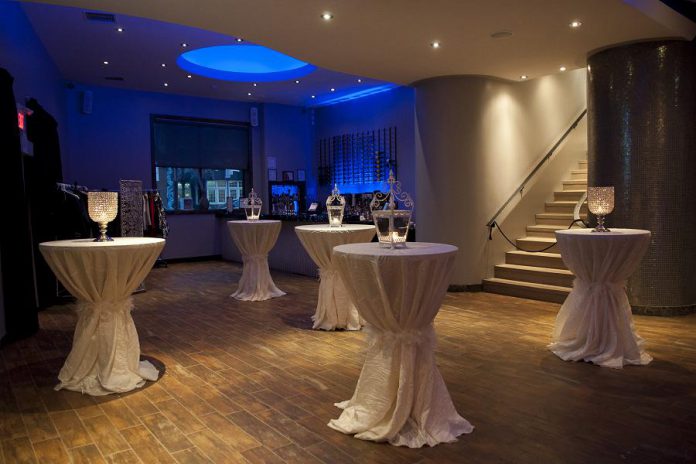 The Venue building is owned by MAS Capital Investments Inc., or, in other words, Catia's husband, Michael. You may know him as the previous CEO of Operitel Corporation, Conservative Candidate of Record in the 2015 federal election; you may also know him as a property manager and relentless volunteer in the area.
When it comes to The Venue, Catia explains that flexibility and versatility are its foundations.
"We work very closely with customers to understand what they are looking for," she says. "Our strength is our experienced staff who know how to ask the questions, to share our own experiences, to offer suggestions and options, and to make the client's vision come to life."
The goal, always, is to sit down with the client, face-to-face, to determine exactly what that vision looks like, because Catia is also practical. The evidence for that can be seen in the other company she heads, Mega Experience.
Mega (as she informally calls the full-service brand experience marketing company of which she is co-owner and director) assumes all the marketing for The Venue, under Catia's direction. Strategic? Definitely. Practical? Obviously. What better way to position a set of companies than to pair an event space with a marketing company?
And not just any marketing company. Mega Experience is based on a model of "experiential marketing" from Mega Experience in Catia's home country of Brazil. While the two companies are linked in philosophy and collaboration, Mega Experience Canada operates entirely self-sufficiently in Peterborough.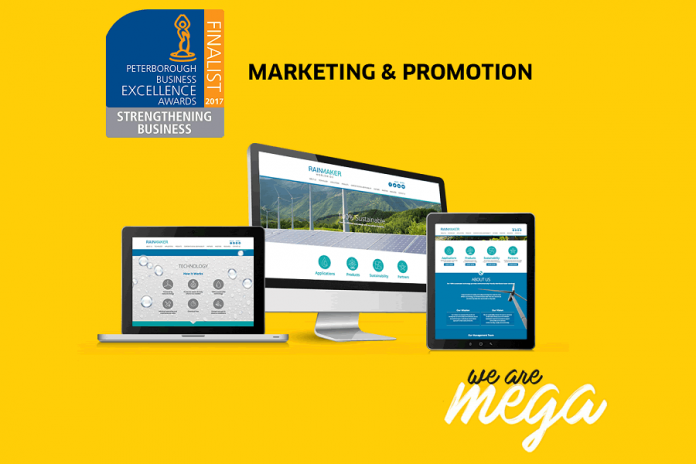 Catia explains the motivation behind Mega Experience.
"I had this passion to help clients with their complete marketing needs, to incorporate strategic planning into all marketing, and to do experiential marketing, focused on the five senses where we catch people's eyes, their tastes, their ears — their emotion — to sell them on an idea, concept, or brand.
"It's not just about making a pretty design. It's about making something meaningful for the client. I like to see the 'Wow Factor.'"
The result is creating meaningful experiences for customers, clients, and communities in Peterborough and the Kawarthas.
There's much more to come from both The Venue and Mega Experience, according to Catia:
The Venue will continue to refine its branding, positioning itself in front of its corporate audience. Central to that are the relationships The Venue is building with its customers and the entire community, partly through the avenues opened by social media managed by Mega Experience.
While The Venue is almost fully booked on weekends, there's the potential for hosting more weekday events. Catia says that often when an event is over, the client books immediately for the following year. Strategically speaking, that leaves weekdays for new business, and Catia is honing in on that audience.
There are also more opportunities for corporate involvement in and support of the community. KEGI considers requests for sponsorship on an annual basis and supports every cause it can. When additional requests for help come in throughout the year, Catia seriously considers them, in conjunction with a review board, to provide support whenever she can. She also sits on several not-for-profit boards and committees, including the New Canadians Centre, Peterborough Pregnancy Support Services, and Bears' Lair. Catia has also been a past board member of three years with the Women's Business Network in the roles of Strategic Planning and Director at Large.
Going forward, Catia says both The Venue and Mega Experience will continue to stay focused on the local community.
"I want to see The Venue and Mega grow," she says. "I want to see us doing something that is meaningful for Peterborough, growing more, and being even more engaged in the community. The whole vision for us is for the Peterborough community."
The Venue is located at 286 George Street in downtown Peterborough. For event inquiries, call 705-876-0008 or email events@kegi.ca. For band bookings, email concerts@kegi.ca. For more information and to find out what's happening at The Venue, you can visit www.venueptbo.com or connect with The Venue on Facebook, Twitter, and Instagram.
Mega Experience Canada is located at 270 George Street North in downtown Peterborough. For more information, call 705-243-6989, email contact@megaexperience.ca, or visit www.megaexperience.ca. You can also connect with Mega Experience on Facebook, Twitter, and Instagram.