Imagine not having language to use as a communication tool. Imagine if whatever communication tools you had could be as easily misunderstood as understood. And, imagine if one person, one special being, had an uncanny knack at deciphering what you meant.
That's the story of Karen Laws and her canine friends.
"I used to watch other people training dogs," Karen says. "They'd beat the dog to get it to do what they wanted. I remember as a kid thinking there's got to be a better way."
She got her first Labrador Retriever when she was 11 and she trained him to walk beside her off-leash, never once with a whip.
"Sometimes, you don't know what you don't know until you go away from it and gain perspective," she says. "I didn't realize when I was training dogs just how much I understood about dog communications.
"I can think like a dog better than I can think like a person. It was a surprise to me that people didn't think like I did."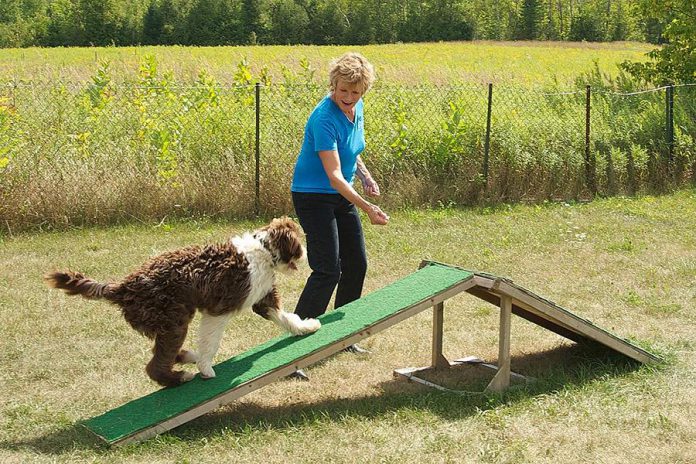 While Karen enjoyed her career as a field biologist, training dogs has always been her passion. She focussed on training Labrador Retrievers for field competition, and she was good at it. She had that uncanny ability to understand the animals that set her apart from other trainers. She was also a woman in a male-dominated industry.
"There weren't many women training field dogs for competition in Canada," Karen says, admitting that some of the men in the industry were surprised at her success using trust and respect rather than physical training methods. "I spent every spare minute working with my dogs."
Every spare minute for 20 years. Then, after moving back to Peterborough for a promotion with the Ministry of Natural Resources, Karen turned her passion into a business — training dogs on behalf of their owners. The demand was so strong that she often put in an 18-hour day.
When she retired from her day job, it's hardly any surprise that Karen went full speed into her training business — adding an interesting twist. Instead of just training dogs, she began to train trainers.
VIDEO: Karen Laws – The Ontario Dog Trainer

Then a new revelation: Karen says she would train a client's dog with ease, but would find the clients also needed some education.
Now, Karen studies dog owners as much, or more, than she studies their dogs. Her unwritten business motto? Fix the people first. Her strategy is to train the trainers to do the same, filling what she calls a "huge gap" in the dog-training industry.
So from 2006, when Karen took her training business to people's homes, to today, when she owns and operates a boarding school for dogs in Bethany (along with a robust nationally recognized train-the-trainer business with partners in Ottawa and Halifax), Karen has a few words of wisdom for people planning to start their own business.
"First of all, I don't offer anything for free anymore," she affirms. "Secondly, I bought a portable classroom and my income tripled in less than one year. It was the best thing I ever did."
"And think five years out from the beginning," she adds. "I got some advice to 'just do it', and that's true. Just do it — but while you're just doing it, think about where you want to be in five years."
And for dog owners, Karen also has a few tips, including learning to think like the dog thinks. Dogs and humans live together in different worlds, so it's important to find a way to understand a dog's world.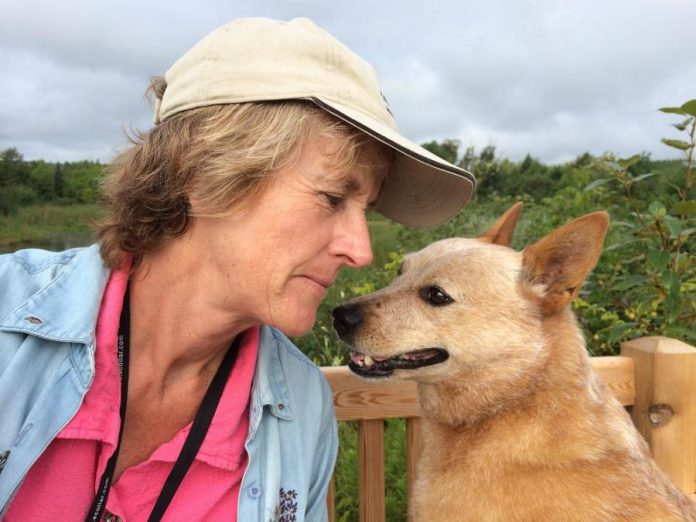 "Dogs see with their noses," Karen explains. "They are not verbal creatures. Sound to a dog has the meaning that we choose to give it."
Respecting the dog and its personal space is an important part of building a strong bond of trust with your dog, she adds.
"Maintain calm energy and park egos at the door when working with your dog, and be consistent."
Consistency, calmness, and crystal-clear communication using body language rather than with voice — along with respect for the dog — are the keys, she says.
Oh, and Karen has one more tip that follows from the others: when you are walking your dog, be with the dog … leave your cell phone at home or in your pocket.
Ontario Dog Trainer is located at 814 Lifford Road in Bethany. For more information, call Karen at 705-277-1503 (mobile: 705-761-2159) or visit ontariodogtrainer.com. You can also follow with Ontario Dog Trainer on Facebook, Instagram, and Twitter and connect with Karen on LinkedIn.