On Thursday, September 21st, The Theatre on King (TTOK) in downtown Peterborough not only launches its fall season, but produces the first show of the 2017-2018 theatrical season with a celebration of the wit and wisdom of American novelist and short story writer F. Scott Fitzgerald.
Director Ryan Kerr presents Two Short One Acts by F. Scott Fitzgerald featuring "Porcelain and Pink" and "Mr. Icky".
Published together in his 1922 anthology Tales From the Jazz Age, "Porcelain and Pink" and "Mr. Icky" were both written during the peak creative period of F. Scott Fitzgerald's career when he was living in New York and primarily submitting short stories to be published in magazines as a way to pay for his and his wife Zelda's extravagant lifestyle.
Tales From the Jazz Age, published the same year as his novel The Beautiful and Damned but three years prior to The Great Gatsby, consisted of 11 stories and plays which, for the exception of a few notable pieces, had been previously published.
First appearing in a literary magazine called The Small Set in 1920, "Porcelain and Pink" caused a minor stir in New York's publishing industry upon its publication for, what at that time, was considered too risqué for readers.
A farcical comedy of family dynamics, flirtation, and mistaken identity, "Porcelain and Pink" is hardly a play as much as a well-written burlesque sketch. By today's standards, the material in the sketch is so tame I can say I've seen old Benny Hill sketches that are far more salacious.
Still, "Porcelain and Pink" holds its charm as presented by Samantha Mansfied as the playful bather Julie, Robyn Smith as her proper (to the point of being prudish) sister Lois, and Chris Jardin as the male suitor who comes calling. There is little drama to be told, with the exception of playful banter between the two sisters as they vie for time in the bathroom.
However, at a time when the bathroom was not spoken of in polite company, a play featuring one as the backdrop — let alone one that includes a woman in the bathtub conversing about nudity and her body — was shocking to readers.
Samantha Mansfield owns this piece as Julie, who strips down for an on-stage bubble bath as she sings, taunts, and flirts her way through this light sketch. It's a quick and breezy opening to a show which shifts moods with the second piece, "Mr. Icky".
The stronger piece of the night, "Mr. Icky" is hard to decipher as a narrative, but the themes and emotions within the piece carry the audience through. Fitzgerald's attempt at absurdist theatre, many of the best jokes are actually in the stage directions themselves — as director Ryan Kerr explained to me after the performance — which the audience never see but become their own kind of joke on the director and the actors.
"Mr. Icky" revolves around the title character, played by Ken Bolton, who at the end of his life finds himself filled with wisdom, but unable to connect intellectually with his children or the modern age. "Mr. Icky" is also filled with themes Fitzgerald would revisit later in The Great Gatsby, including the shallowness of the wealthy, the ignorance of youth, and the fragility of loyalty.
New to the Peterborough stage, Ken Bolton could be one of the most exciting new additions to local theatre. As Mr. Icky, he gives a masterful performance filled with both whimsy and pathos as he putters with his pots and fails at communicating with his two daughters.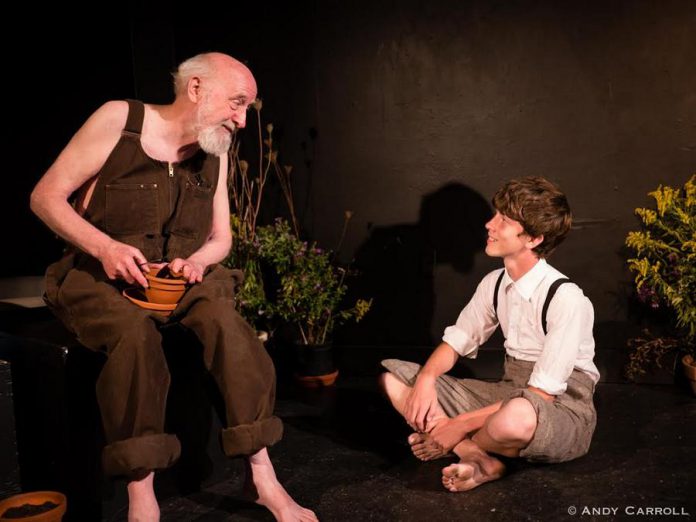 In the role of his oldest daughter, Ulsa, is the charming Angela Sorenson who has left the humble lifestyle of her father in an attempt to climb the social ladder. Meanwhile his younger daughter Charles, played by Samuelle Weatherdon, seeks to create her own adventures and, despite her youth, shows open hostility to her father. Despite his years of wisdom and sensibility, Mr. Icky is losing his children to the exciting seduction to the modern age.
Also appearing in "Mr. Icky" is Simon Turner who finally finds the perfect role for his intellectual over-the-top performance style. In the role of Ulsa's fiancé Rodney Devine, Simon has a huge presence in the piece, and the juxtaposition created between Rodney and Mr. Icky is the source for much of the comedic tension.
Fourteen-year-old actor George Knechtel also gives a strong performance as Mr. Icky's companion Peter. Although there is no explanation of the relationship between Mr. Icky and Peter, George gives a soulful performance that matches that of Ken's portrayal of the wise Mr. Icky.
However, the final scenes between Mr. Icky and Peter are up for interpretation.
What is interesting about "Mr. Icky" is that the story is basically an age-old look at the disconnection created by the generation gap between parents and children. It's a story that repeats itself era after era, and is as true today as when Fitzgerald wrote it in 1922.
The production also has some surreal final moments made possible by the imaginative costuming and props created by Kate Story, and some dramatic lighting design by Ryan Kerr.
"Mr. Icky" is an interesting piece that is both whimsical and extremely somber. The final moments of the show are haunting and powerful.
TTOK's night of F. Scott Fitzgerald is a nice way to start your evening with a little bit of culture and creative theatre. A little on the short side, the evening is definitely compact, but is consistent to the type of theatre that patrons of TTOK have come to expect, and what keeps them coming back again and again.
It's a nice showcase for some familiar performers and a few new ones I hope to see more of as the theatre season continues.
Two Short One Acts by F. Scott Fitzgerald opens on Thursday, September 21st and runs until Saturday, September 23rd at The Theatre on King (159 King St., Suite 120, Peterborough). Admission is $10 (or pay what you can) and performances begin at 8 p.m.