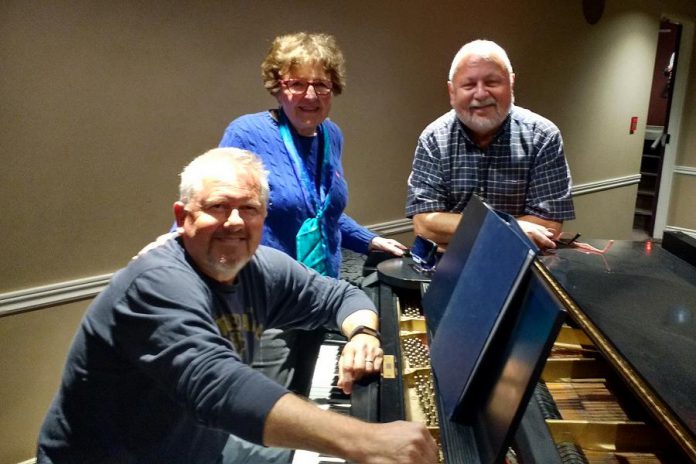 On October 28th and 29th, the creative team of Beth McMaster, Len Lifchus, Pat Hooper, and Danny Bronson are reviving a beloved theatre event of the past to help raise funds for Showplace Performance Centre in downtown Peterborough.
The foursome is bringing together over two dozen of Peterborough's favourite performers for "Tonic @ Twenty", a revival of Beth's popular "Spring Tonic" variety fundraisers for Showplace that closes out the non-profit organization's 20th anniversary year.
Originating in the early 2000s, Spring Tonic was a yearly musical revue written by Beth that featured a large cast of Peterborough performers. The shows would follow a theme and were very popular with audiences, selling out year after year.
The final Spring Tonic was performed in 2009, but is being brought back to the stage once again to help Showplace out.
"Showplace has a deficit in their operating budget right now but everybody has been working hard to turn it around," Beth says. "There have already been some significant changes to help that, and we are hoping to help supplement it by doing this fundraiser."
"All the performers have been giving their time for free, and we have almost no budget," says Len, who is directing the show. "We also have seven incredible sponsors — one for each decade. The show has been written in a decade format, and Beth has written an interesting twist."
"We are starting the show when this building was built 70 years ago in 1947 as the Odeon Theatre," Beth explains. "Tonic At Twenty follows the history of the building."
Originally built in 1947 as the Odeon Theatre, the building now housing Showplace briefly became Trent Cinemas in the 1990s before being acquired by the Showplace Board of Directors in 1995. Largely due to the efforts of volunteers and a successful capital fundraising campaign, the building was totally gutted and reconstructed based on a design by architectural firm Lett/Smith, and reopened as Showplace Performance Centre on October 5, 1996.
The storyline of "Tonic @ Twenty" follows Megan Murphy and Brian MacDonald, who play a director and a musical director casting a show at Showplace, with Danny Bronson and his band present on stage as the musical accompaniment. The musical acts are the performers auditioning for the show, and include music from many of the shows and acts that have appeared at Showplace over the years, as well as the films appearing at the Odeon prior to that.
Meanwhile, a comedic subplot of the show features actor Robert Ainsworth as a rival director who is trying to organize his own Canada 150 show opposite Tonic @ Twenty.
"Rob Ainsworth is wonderful on stage," says Beth. "He has been writing as well. He's been dropping things into the script and helping me."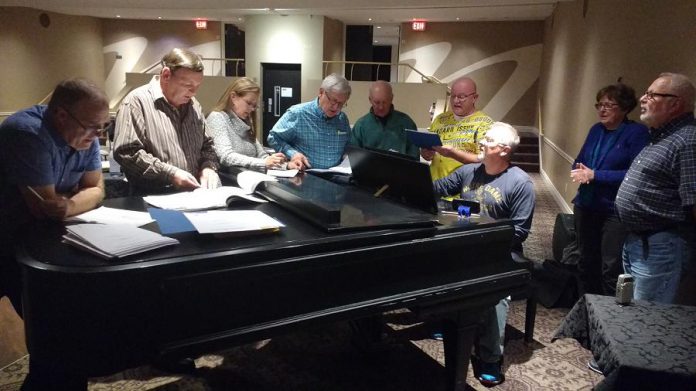 Along with Megan Murphy, Brian MacDonald, and Robert Ainsworth is an incredible cast of Peterborough favourites including Paul Crough, Darcy Mundle, Wayne Robinson, Lisa Devan, Kate Suhr, Roy Braun, Matt Diamond, Connie Burton, Dick Plant, Terry Guiel, Gillian and Paul Wilson, Karen Ruth Brown, Tim Rowat, and The Citiots.
The show also features dance production numbers by dancers from Move N' Groove Dance Studio under the direction of Julie Fallis, and a few other surprise guests — which the production team is being very tight lipped about.
"I've worked with almost everybody in the show, with perhaps the exception of Matt Diamond," says Danny, who acts as the shows musical director. "Many of the performers are ones who have been involved with the original Tonic."
Also included in the show will be a sneak peek of St. James Players' upcoming production of Mary Poppins, featuring Gillian Harknett as the title character and Warren Sweeting as Bert the Chimney Sweep.
"We always liked to promote an upcoming show in Tonic, so this time we're promoting Mary Poppins," Len says.
"St. James Players is bringing one of their musical numbers to our show, so Mary and Bert are going to be on our stage."
But as Len notes, despite the immense cast, the turnaround to produce a Tonic show is very fast.
"This show does not have multiple weeks of rehearsals," Len explains. "It is put together professionally, but very quickly. We have two choral rehearsals with our core group of singers, and then on the Sunday of show week I stage the show. Then Julie Fallis comes in with her dancers, and then it just magically comes together.
"It's interesting because one might think it's stressful, but it's actually a lot of fun. We don't get too fancy. It's kept simple because we want people to watch what's happening on the stage and just sit back and enjoy it."
A fun night with an incredible line-up of performers, Tonic @ Twenty is sure to be a fun night out, and a great way to support the non-profit Showplace. Tonic @ Twenty takes place on Saturday, October 28th at 8 p.m., with a second matinee performance on Sunday, October 29th at 2 p.m.
Tickets are $25 and available at Showplace Performance Centre (290 George St. N., Peterborough), by phone at 705-742-7469, or online at www.showplace.org.
"Tonic @ Twenty" is made possible with support by the following sponsors: McColl Turner; Monkman, Gracie and Johnston; McWilliams Moving and Storage; Guardian Pharmacy – High Street Apothecary; Liftlock Group; Investors' Group – Debbie Carslake and John Mazziotti; and Best Western Otonabee. kawarthaNOW.com is a media sponsor of the event.