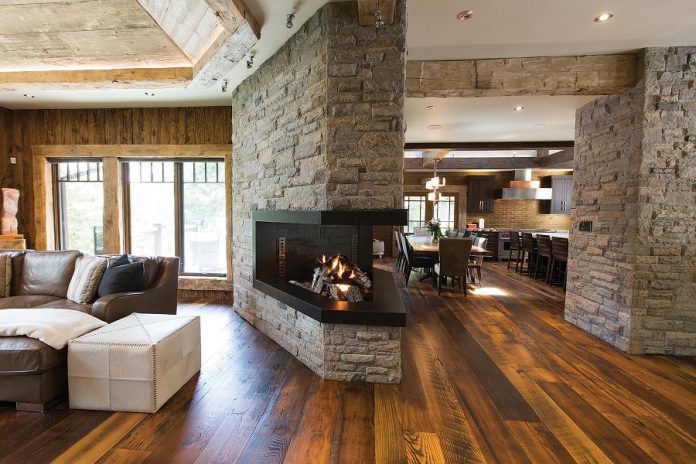 With the popularity of home design and decorating shows, consumers are getting more educated and particular about what they are looking for in a new home. No matter the project, no matter the size, Lindsay-based Gilbert + Burke can create a sanctuary that is wholly personal to you — and one that reflects your lifestyle and personality.
The design-build firm, recognized for its eco-friendly and energy-smart signature designs, extensive remodels, and luxury custom home and cottage construction in the Muskoka, Kawarthas, and Greater Toronto Area regions, works with homeowners to transform their dreams of a new or remodeled space into one they can truly call "home sweet home."
Gilbert + Burke's extensive portfolio — created from their award-winning cast of designers, artisans, and craftsmen — includes elegant architectural detailing, to-die-for interiors, and luxury amenities sure enough to make your neighbours envious.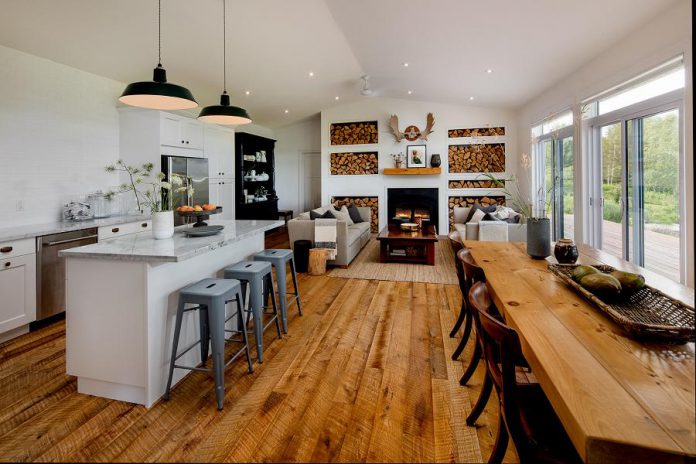 Cathy Burke, the company's vice-president and chief financial officer, says the firm's hands-on design and construction team prides itself on developing strong client relationships built on trust and integrity, from design concepts to completed construction, to create a space that everyone walks away happy with.
"We understand that the decision to build a home is one of the biggest investments and most important decisions our clients will make in their lifetimes," says Burke. "We work with our clients to guide and educate them to make informed decisions and selections regarding their new space."
Each project has many details and moving parts, with one choice impacting another, explains Burke. Clients have to consider a number of factors such as lifestyle goals, overall budget, legal and municipal considerations, construction realities and design.
"We bring true passion and excitement to each job," she says. "Clients will notice this enthusiasm from our first meeting straight throughout the home building or remodeling process until the final walk through."
The first step? The Gilbert + Burke team meets with the client for an in-depth consultation to discuss their lifestyle goals, preliminary ideas, budgets and plans for their space, and in return, the team provides a high-level budget.
Are you looking to have a custom home built from an empty plot of land? Is your current layout just not suiting your family's needs? Do you simply want to revamp your kitchen or bathroom?
"Before beginning the actual design work, we work with our clients to get a clear idea of their needs and desires for the project, beginning with reviewing their answers to our design questionnaire," Burke says. "Through this, clients also see the difference between wanting a dream space versus what the reality is, whether it's the budget or the legal aspects."
Every space begins with a design
Gilbert + Burke can design a beautiful space with the perfect blend of artistry, natural materials, and sound design foundations.
Design services range from construction drawings to permit drawings to interior design.
Want to add a wall to a space or change the decoration in your living room with real furniture products? You got it. Based on a client's functional needs, aesthetic preferences, and budget requirements, the team uses three-dimensional drawing software that illustrates the design idea and allows the client to virtually walk through their home before even approving any specs or designs.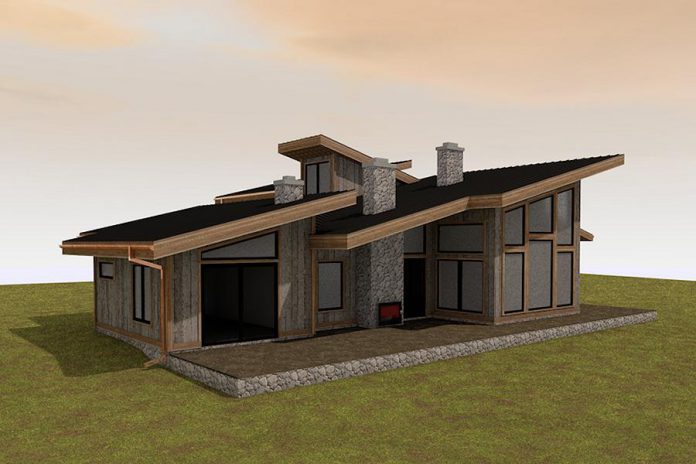 Clients are also encouraged to create Houzz and Pinterest scrapbooks and browse design magazines or design shows for inspiration.
"All of this helps us to get a sense of what the client's style is," Burke explains. "I often accompany them to suppliers to make final selections on finish items."
"Aligning a client's vision with that of the experienced designers and builders truly will make the owner's space one of a kind," she adds.
Together with the client, the team finalizes the floor plans and exterior of the home, designs the building structure, interiors, lighting and electrical systems, HVAC, and selects all products, materials and finishes.
While there is nothing wrong with trendy designs, Burke says it's more important to focus on a timeless design for your home to ensure your space looks classy and elegant for years to come.
Certain materials go in and out of style, but natural materials like hardwood floors, stone counters, oak furniture, and brick embellishments continue to serve as the backbone of any design. If you want to use trendier, more modern materials, save them for throw pillows and rugs. as these items can easily be replaced when styles change.
Reno at a Keene historic farmhouse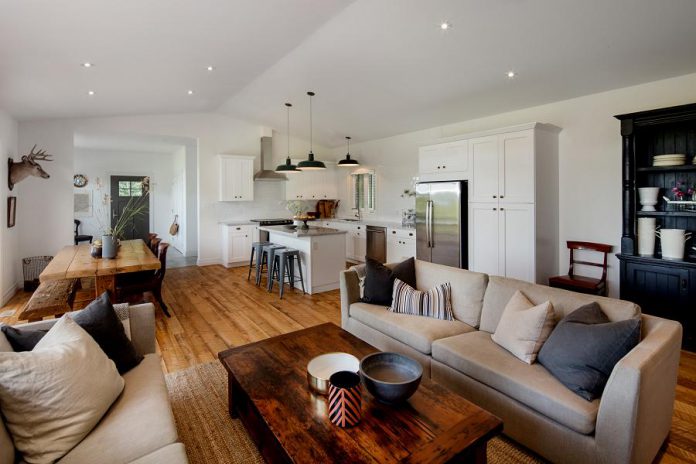 Gilbert + Burke recently worked with a family to remodel their 100-year-old farmhouse retreat in Keene, keeping the space chic and simple and blending old and new design elements.
Instead of tearing down the original farmhouse, the space was updated to add a large new wing and master bedroom suite to the structure. Burke says the most important aspect of the design plan was to accommodate beautiful views of the lake.
A casual, organic interior space was created that mirrored the natural environment outside. The owners favoured a hybrid mix of materials throughout the home — rough-hewn wood, simple cabinetry, marble, linen, and a palette of white with a touch of grey and green.
Decorative elements like the floor-to-ceiling wood wall, the over-sized barn lighting above the kitchen island, and the rotating display of seasonal foliage were sparse, but impactful.
Flawless communication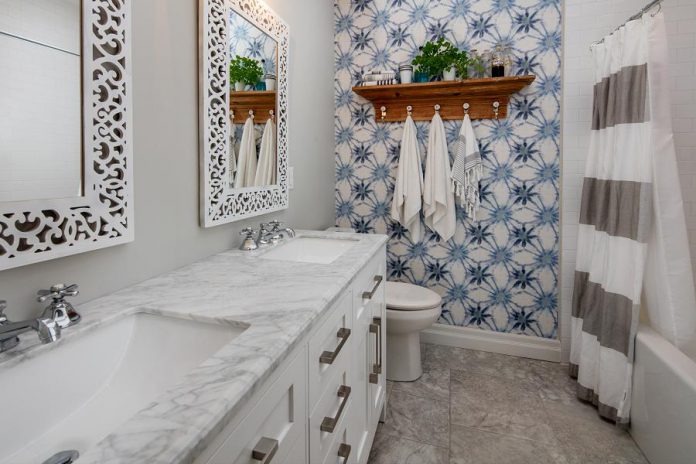 "Once we have worked through the design phase with our clients, they know exactly what is going on with their house," says Burke. "They have their finishes selected and a detailed schedule of the project and timelines. We have the trades lined up and, at that point, it's just a matter of executing in an organized fashion."
She says the firm works very hard to ensure clients are involved in the day-to-day aspects of the project, from the design drafts to site plans.
"We are very organized and pro-active with communication and letting clients know exactly where things are at."
Gilbert + Burke's secure online project management software allows clients, designers, and trades to access scheduling information, material selection data, project updates, photos, and direct email and notifications on the project.
"This is particularly beneficial for clients who live in another town or region," Burke points out. "They can log in at any time and see what the status of their home is."
Gilbert + Burke is located at 17 William Street North in Lindsay, with offices in Huntsville and Orillia. For more information or to schedule an appointment, call 705-328-9431, email info@gilbertburke.ca, or visit www.gilbertburke.ca. You can also connect with them on Facebook.